Tiny museum seeks to revive interest in forgotten artist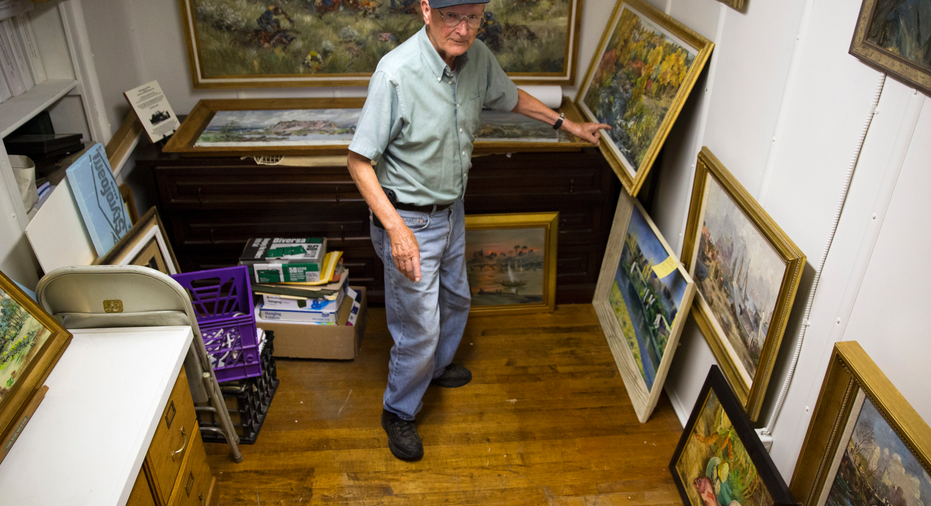 An Idaho-born landscape painter who traveled the world on the strength of his sales, had one-man shows in New York and commissioned a studio by famed architect Frank Lloyd Wright is mostly forgotten now.
Except by a southern Idaho historical society that owns 600 of Archie Teater's oil-on-canvas paintings and is working to revive interest in his art.
Paintings by Teater, who died in 1978, once sold for thousands of dollars each.
"They've lost their value because not a lot of people have heard of him," said Mike Owsley, president of the Hagerman Valley Historical Society.
The society is raising money to replace its 1,200-square-foot (111-square-meter) museum in the tiny town of Hagerman with a building more than three times that size. It held an event earlier this summer at a nearby artist's studio designed for Teater by Wright - the only building in Idaho designed by America's best-known architect.
The society also is loaning about 20 of Teater's paintings for an exhibit at the Sun Valley Center for the Arts in Ketchum in December and January, a time when the tony resort area and top skiing destination is sure to have national and international visitors.
Paintings by dead artists typically increase in value due to limited supply, but the prolific Teater created at least 4,000 works, with some estimates adding thousands more.
"Wherever he was, he had to paint," said Lester Taylor, a Harvard-trained economist who became a lifelong fan and collector after attending a painting demonstration by Teater in 1957 at Grand Teton National Park. He's collected some 200 of Teater's paintings and written a book about the artist's life and work.
Teater donated about 1,200 of his paintings to a fund for disabled children. Ultimately, about 1,600 of them were acquired by the Idaho Community Foundation in the mid-1990s with the plan of selling them singly to raise money for disabled children in the region.
But in 2003, the foundation started putting large quantities of the paintings on the market. Prices plummeted.
"Paintings that had sold for several thousand dollars were available to the public for a few hundred dollars," Taylor said.
The paintings that didn't sell got sent to the historical society in rural Hagerman, where Teater grew up after being born in Boise in 1901. Society officials said they expected to receive some small number of paintings - not the 600 they unboxed. That includes about 450 from what's called the international collection from Teater's travels abroad.
A few of the paintings are at the society's Hagerman museum, which opens for three hours on Friday, Saturday and Sunday afternoons. The rest are stored in a Twin Falls bank vault.
Courtney Gilbert, curator of visual arts for the Sun Valley Center for the Arts, viewed the paintings and plans to do so again this fall to make final selections for the exhibit this winter.
Teater is known for his impressionistic Western landscapes, particularly those involving the Grand Tetons in Wyoming. But Gilbert discovered the paintings also include portraits, still lifes, cityscapes, history scenes that include George Custer and his 7th Cavalry at the Battle of the Little Big Horn, a few fantastical heaven-and-hell-type scenes, and renderings of architecture.
"This lovely painting of the Guggenheim Museum in New York was a complete surprise to me," Gilbert said.
Generally, experts say, a move toward modernism and abstractionism along with Teater's failure to make more of an effort to market his work outside Jackson Hole, where he had a gallery, account for his forgotten status.
Demand now is mostly limited to people who met him. The society let one painting go - a portrait Teater made of a young local girl who is now an adult and who received the painting after making a $1,000 donation.
Taylor said he occasionally finds the artist's work in online auctions. For two decades he's been trying to find a painting Teater did of St. Phillip's in the Hills Episcopal Church near Taylor's winter home in Tucson, Arizona.
He predicted Teater will return to his former status.
"He's too good," said Taylor, who expects to one day donate a portion of his collection to the Hagerman Valley Historical Society. "What he painted - eventually it's going to become of a great deal of interest."