Time to Sell General Electric Stock? 3 Things You Need to Know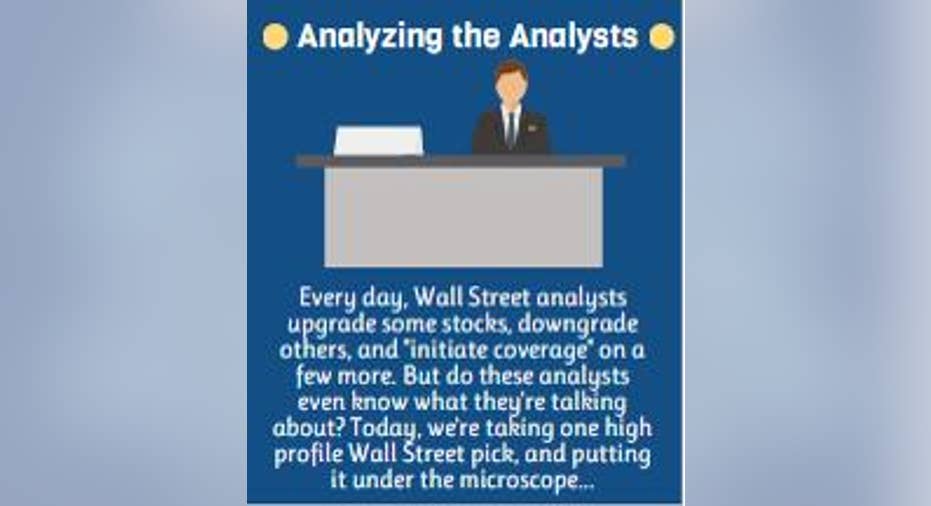 In 12 months, General Electric stock has gained 11% -- and outperformed the S&P by 14%. Add in a tidy 3% dividend yield, and investors who held onto the stock for the past year have been treated to a respectable 14% profit, outperforming the S&P by 17%.
That's not half bad performance for a gigantic company like GE. With annual revenue verging on $118 billion already, it's hard to imagine GE getting much bigger, and it's certainly difficult to envision the company growing its sales by big double-digit margins over the long term.
Perhaps that's the reason why this morning, investment megabanker JPMorgan said it's time to sell the stock. Here's what you need to know about that call.
GE reports. You decide (if it's too expensive). Image source: GE.
Thing No. 1: JPMorgan -- we're back!
Technically speaking, JPMorgan's new underweight rating on General Electric stock is not a downgrade -- but it sure feels like it. Both of these companies are icons of American industry, and you'd probably assume that they're well acquainted with one another. But as it turns out, JP hasn't officially covered GE stock in more than a year. As StreetInsider.com explains, JP "suspended" coverage of GE back in April of 2015 (at which time it was still rating the stock neutral).
It hasn't looked at the stock since -- until today.
Thing No. 2: They're back, and they're not happy
And so what has JPMorgan found now that it's looking at General Electric stock again? Well, for one thing, JP finds GE stock overpriced at $30 a share (JP thinks the stock is worth closer to $25).
In a write-up recapped on TheFly.com this morning, JP blasts GE for its "weak" quality of earnings, calls its valuation "premium" despite the low quality of earnings, and criticizes other analysts for posting "stubbornly high" predictions of future earnings at the industrial behemoth.
But what does that all mean?
Thing No. 3: GE by the numbers
Let's start with earnings quality. According to data from S&P Global Market Intelligence, General Electric reported $7.6 billion worth of net income over the past year. The company's cash flow statement, however, clearly shows that actual free cash flow at GE was only $7 billion.
These are disconcerting numbers. Valued on earnings, GE's $276.5 billion market capitalization, divided by its $7.6 billion in net income, yields an already a startlingly high P/E ratio of 36.4. Value the stock on the actual cash profits it's producing, though, and that valuation multiple spikes to 39.5. These are incredibly high valuations to be assigning a stock that, as S&P Global confirms, is only expected to grow earnings at about 11% annually over the next five years -- and that last quarter, actually lost $0.01 a share.
(Note: You may have heard that GE earned $0.21 per share last quarter, but that was actually the company's self-defined "GE Industrial Operating + Verticals EPS" number. GAAP profits were in fact negative $0.01 per share -- another reason JPMorgan seems to be questioning both the "quality" of GE's earnings, and the likelihood that earnings will grow at 11%.)
The most important thing
Is JPMorgan right to be taking GE to task for its earnings quality? Investors can certainly disagree on which earnings number is the "right" one to focus on: "industrial operating verticals" at $0.21 per share, earnings "from continuing operations" at $0.02 per share, or GAAP net profit -- the one that shows GE operating at a loss.
Personally, I'm not a fan of shifting goalposts, though, so when I look at GE, I always drill right down and focus on free cash flow -- year in and year out. By that measure, I look at GE costing nearly 40 times free cash flow, paying its 3% dividend, and growing (hopefully, eventually) at 11%, and conclude that the stock looks horribly expensive. For that reason, I'm with JPMorgan on this one.
The article Time to Sell General Electric Stock? 3 Things You Need to Know originally appeared on Fool.com.
Fool contributorRich Smithdoes not own shares of, nor is he short, any company named above. You can find him onMotley Fool CAPS, publicly pontificating under the handleTMFDitty, where he's currently ranked No. 291 out of more than 75,000 rated members.The Motley Fool owns shares of General Electric Company. Try any of our Foolish newsletter services free for 30 days. We Fools may not all hold the same opinions, but we all believe that considering a diverse range of insights makes us better investors. The Motley Fool has a disclosure policy.
Copyright 1995 - 2016 The Motley Fool, LLC. All rights reserved. The Motley Fool has a disclosure policy.