Time to Get Greedy With Welltower Stock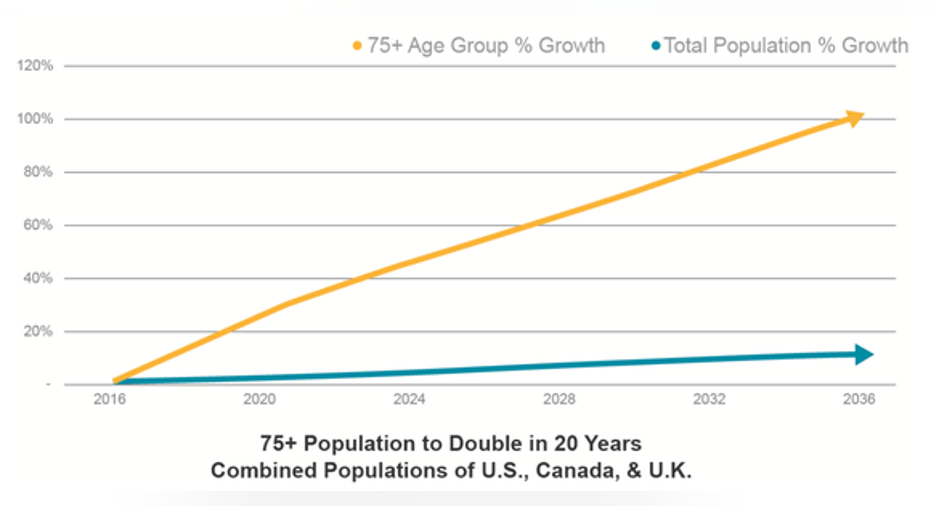 Image source: Getty Images.
Healthcare REIT giant Welltower (NYSE: HCN) has performed well so far in 2016, up by 12.4% year to date. Despite the strong return, though, there could be more room to the upside over the months, years, and decades to come. Here's why Welltower will thrive in the years ahead, and why now is still a good time to buy.
The demographic and industry trends are encouraging
I'm a fan of REITs of all varieties, but I can't think of a more compelling long-term opportunity than healthcare real estate -- especially when it comes to an industry leader like Welltower. There are three reasons I say this: demographics, cost increases, and acquisition opportunities.
First of all, the majority of Welltower's portfolio is made up of senior housing properties. The rest consists of long-term care and outpatient medical facilities, both of which serve a disproportionately high number of senior citizens. In the U.S., U.K., and Canada, Welltower's three markets, the 75-and-older population is projected to double between now and 2050 -- about 10 times the growth rate of the overall population.
Image source: Welltower corporate presentation.
Second, healthcare costs have been rising at a rate faster than inflation for some time. If this continues, it means healthcare facilities' income will grow, and property owners can collect more rent. And, property values will rise, since commercial properties get most of their value from their ability to generate income.
U.S. Health Care Inflation Rate data by YCharts.
Finally, the healthcare real estate market is extremely fragmented. The market size is estimated to be about $1 trillion in the U.S. alone, and Welltower, the largest healthcare REIT, has just 2.6% of it. So, not only will the market grow rapidly because of the demographic trends, but there are lots of opportunities to hunt for attractive acquisitions among the existing inventory.
High-quality properties
Another reason to like Welltower is the quality of its product. Simply put, Welltower acquires properties that are newer than the competition and are located in affluent areas.
As an example, the average age of Welltower's U.S. senior housing properties is 13 years old -- newer than the peer average of 18 years. These properties are located in areas where the median housing value is more than double that of competitors' properties, and where the median household income is 51% higher. This leads to higher income per unit, as well as better occupancy and revenue growth.
Dividend and performance history
While past performance doesn't guarantee future results, it can be a good indicator of things to come -- especially when it comes to dividends.
Since 1971, Welltower has increased its dividend almost every year, at an average rate of 5.8% per year. So, not only does the stock pay a generous 4.5% dividend yield, but it grows at a rate that should more than keep up with inflation over the years.
Image source: Welltower corporate presentation.
As far as total returns go (dividends plus share price appreciation), Welltower has averaged a 15.8% annual return in its 45-year history. This is a remarkable level of performance to sustain over four and a half decades. To put this in perspective, consider that a $10,000 investment in Welltower in 1971 would be worth a staggering $7.4 million today.
As I mentioned, there is no guarantee this will continue, but 45 years and counting is a pretty good record of beating the market.
A strong balance sheet
Impressively, Welltower has been able to maintain that level of performance without sacrificing fiscal responsibility.
Just 40% of its total capital raised since 2010 is in the form of debt, and the company has investment-grade credit ratings (Baa1/BBB/BBB+). And, just 30% of the company's overall enterprise value is made up of debt as of the end of the second quarter. Think of it this way-if you own a rental property worth $200,000, and you only finance $60,000 of it, you're on pretty solid financial footing, right?
Because of this low leverage, Welltower has an interest coverage ratio of 4.2-to-one. In other words, for every $4.20 in earnings, just one dollar goes toward paying the company's debts. If real estate prices drop sharply or a major tenant were to go bankrupt, the odds of Welltower falling into serious financial trouble are slim, since the company isn't overly leveraged on its properties.
The company has access to all of the capital it needs to pursue acquisitions, and as of the end of the second quarter, there is $2.7 billion available out of the $3 billion unsecured credit line.
Still a good value
Obviously Welltower isn't as compelling of a bargain as it was when it was trading in the sub-$55 range in February. However, the stock is still a good value, especially when you compare it to other REITs.
Welltower projects that its funds from operations (FFO -- the "earnings" of REITs) will fall within the range of $4.50-$4.60 for this year. Based on the current share price as of this writing, this translates to a P/FFO multiple of 16.8. Compare this with retail leader Realty Income's P/FFO of 23.5 or apartment REIT AvalonBay's multiple of 21.4.
Additionally, when you consider Welltower's long-term return potential that I discussed earlier, an "earnings" multiple of 16.8 looks like a bargain.
The right way to invest
I know I sound pretty bullish on Welltower, but only if you have a long time horizon when you invest. While I wouldn't call Welltower a high-volatility stock, its share price has plunged sharply at times in the past (look at February in the first chart) -- and probably will again in the future.
For this reason, I would only recommend Welltower if you have at least five years to hold your shares. Furthermore, because I think Welltower's earning power will steadily grow over time, and there may be opportunities to pick up shares even cheaper going forward, I'd suggest dollar-cost averaging into a position by investing a set dollar amount at regular intervals.
To sum it up, the whole point of investing in a stock like Welltower is for its long-term potential for growth and income. It's entirely possible that short-term headwinds could make your investment go down in the short term, but in a few decades, I'm confident you'll be glad you added this great company to your portfolio.
A secret billion-dollar stock opportunity The world's biggest tech company forgot to show you something, but a few Wall Street analysts and the Fool didn't miss a beat: There's a small company that's powering their brand-new gadgets and the coming revolution in technology. And we think its stock price has nearly unlimited room to run for early, in-the-know investors! To be one of them, just click here.
Matthew Frankel owns shares of Welltower. The Motley Fool recommends Welltower. Try any of our Foolish newsletter services free for 30 days. We Fools may not all hold the same opinions, but we all believe that considering a diverse range of insights makes us better investors. The Motley Fool has a disclosure policy.