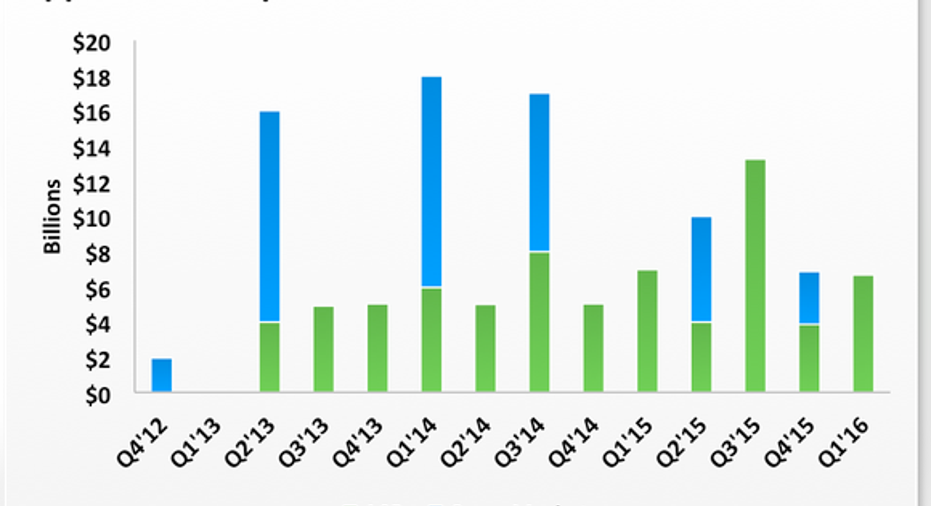 Tim Cook at WWDC 2015. Image source: Apple.
Apple is a whole lot different under Tim Cook than it was under Steve Jobs, in more ways than one.
One of the more prominent ways, which is particularly relevant for shareholders, is how Cook values investors' role as stakeholders. Jobs always viewed shareholders with measured disdain, considering them a necessary evil for any public company. On the other hand, Cook very much values their opinion on corporate matters. For instance, Cook has solicited and listened to feedback from major shareholders like Carl Icahn (who has since exited his position) while constructing the company's capital return strategy.
That also includes making somewhat regular media appearances to defend the iPhone maker's business and future innovation. (Can you imagine Jobs talking to Jim Cramer on Mad Money?) But talk is cheap, and actions speak louder than words.
Word on the StreetThat's the message that Bernstein analyst Toni Sacconaghi has for investors. In a recent research note, Sacconaghi points out that Cook's numerous media appearances over the years, many of which are intended to reassure investors, have not correlated with share performance in any meaningful way.
In contrast, Apple's buyback activity has been quite telling. Citing the old saying, "Do what they do, not what they say," Sacconaghi finds a strong correlation between large repurchase activity and outperformance. More specifically, when Apple has repurchased more than $14 billion worth of shares in a single quarter (three times to date), shares have gained on average 20% in the following four months, and 27% in the following seven months.
For perspective, here's Apple's repurchase activity since the capital return kicked off a few years back.
Data source: SEC filings and conference calls. Calendar quarters shown. ASR = accelerated share repurchase program.
When the repurchase activity has been less than $14 billion in the quarter, Apple shares have lost on average 4% in the following four months, and 6% in the following seven months.
This isn't particularly surprising, but it's nice to have some empirical evidence to really drive the point home. Naturally, Apple increases its buyback activity when shares are lower, since the company can retire an even greater number of shares for the same dollar amount, while doing so at increasingly compelling valuation multiples. This is just like what any other investor would do -- the whole "buy low" bit.
It's that time againIt then stands to reason that as Apple shares are trading near two-year lows, the company should potentially consider another accelerated share repurchase (ASR) program. The last ASR was just $3 billion. As you can see in the chart above, Apple typically has two to three quarters of relatively modest repurchase activity, followed by a repurchasing spree.
It's about that time, Tim.
The article Tim Cook's Talk Is Cheap originally appeared on Fool.com.
Evan Niu, CFA owns shares of Apple. The Motley Fool owns shares of and recommends Apple. Try any of our Foolish newsletter services free for 30 days. We Fools may not all hold the same opinions, but we all believe that considering a diverse range of insights makes us better investors. The Motley Fool has a disclosure policy.
Copyright 1995 - 2016 The Motley Fool, LLC. All rights reserved. The Motley Fool has a disclosure policy.