Tile Shop Hldgs, Inc. Continues Delivering Big Sales, Profit Growth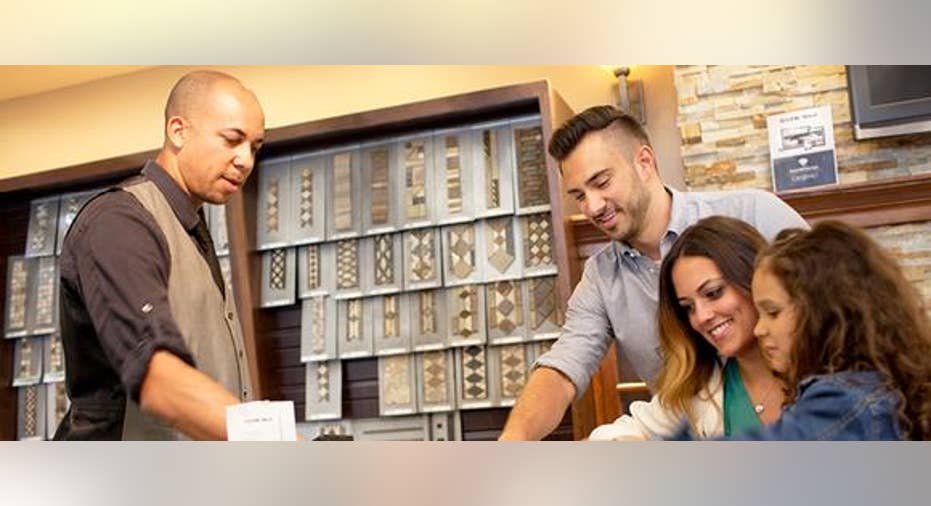 Retaining its best employees is a key driver for Tile Shop's success, according to its CEO. Image source: Tile Shop.
What a difference a year makes.
Not to give CEO Chris Homeister all the credit, but there's no getting around it: Since he took over the company at the start of 2015,Tile Shop Holdings has simply crushed it. Sales have sharply rebounded, expense management has significantly improved, and the balance sheet is better than it's been in years.
Let's take a closer look at how the company did in the first quarter of 2016.
The numbers
| Metric | Q1 2016 | Q1 2015 | Change |
| --- | --- | --- | --- |
| Revenue | $84.7 | $72.9 | 16% |
| Net income | $6.8 | $3.7 | 84% |
| Gross margin % | 70.5% | 69.9% | 60 BPS |
| Earnings per share | $0.13 | $0.07 | 86% |
| Comparable-store sales | 13.2% | 4.5% | 870 BPS |
Revenue and net income in millions. Source: Tile Shop Holdings.
Keys to the quarterTile shop's excellent quarter was seen both in its strong sales growth and its excellent cost control.
Sales to professionals are growing fast. Image source: Tile Shop.
Revenue increased 16%, but selling, general, and administrative expense increased only 9.5%, while the steady reduction in debt over the past year significantly reduced interest expense. As a percentage of sales, SG&A expense was 56.6% last quarter, versus 69.9% in Q1 of 2015 -- a significantly improved performance that was a key driver behind the jump in profit and free cash flow. Add in the slight increase in gross margin, and operating income of $11.8 million was up 63% from the year-ago quarter.
Homeister said the company produced $21 million in free cash flow, allowing it to pay down $15 million in debt, while also adding $6 million in cash to the balance sheet from the beginning of the year. Tile Shop's $36 million in debt and $16 million in cash represent a $34 million reduction in debt, and a doubling of its cash position over the past 12 months. The company also has slightly more inventory than it did one year ago, though total inventory is down from last year based on a reduction in redundant products and undersold SKUs.
One of the keys behind the operating efficiency improvements is the company's expansion plan. In 2016 the company plans to open nine to 12 stores, and it's focusing on existing markets for now. The idea is that by expanding in existing markets, the company can expand where there's already some brand awareness and also leverage existing "economies of scale" for marketing and advertising, labor, and product distribution.
Image source: Tile Shop.
Homeister also commented on two key things that are playing a role in driving sales growth: talent retention, and growing sales to tile and remodeling professionals.
Tile shop recently rolled out its second new retail management position in the past year, adding a senior assistant store manager position last quarter. This title is being awarded to key assistant managers who have completed requisite training programs while also being high sales producers. In essence, this method is creating a bench of skilled future store managers, while probably also helping to support the continued rollout of the market manager position created in 2015. These steps are playing a role in continued increases in the average tenure of both store-level sales and management personnel.
Homeister also said the company's ongoing efforts to grow sales with professionals is paying off, and that sales to pros outpaced overall sales growth last quarter, driven by direct marketing, in-store events, pro-specific products, and the steadily improving quality and tenure of store associates.
Looking aheadTile Shop plans to open nine to 12 total stores this year, with the majority of them planned in the second half of 2016, unchanged from the beginning of the year. However, management raised its full-year guidance for revenue to a range of $320 million to $329 million and forecasts comps growth in the mid- to high single digits. The company also increased its profit guidance from a range of $0.37 to $0.43 per share to a new range of $0.40 to $0.45 for the full year.
While it's arguable that the company should be taking advantage of what is clearly a strong market for home improvement spending and focus on growth, Homeister and team are taking a much more conservative route and de-leveraging, while also making investments in store-level operations and high-quality employees. This approach may not be producing the sexy 20%-plus top line growth some investors want, but it will almost certainly mean the company is better prepared if the remodeling market does soften unexpectedly. Yes, Tile Shop is a growth business, but Homeister clearly recognizes that it's a growth company operating in a cyclical industry.
Long-term investors should keep that in mind and be glad the company has a CEO who's playing the long game.
The article Tile Shop Hldgs, Inc. Continues Delivering Big Sales, Profit Growth originally appeared on Fool.com.
Jason Hall owns shares of Tile Shop Holdings. The Motley Fool owns shares of and recommends Tile Shop Holdings. Try any of our Foolish newsletter services free for 30 days. We Fools may not all hold the same opinions, but we all believe that considering a diverse range of insights makes us better investors. The Motley Fool has a disclosure policy.
Copyright 1995 - 2016 The Motley Fool, LLC. All rights reserved. The Motley Fool has a disclosure policy.