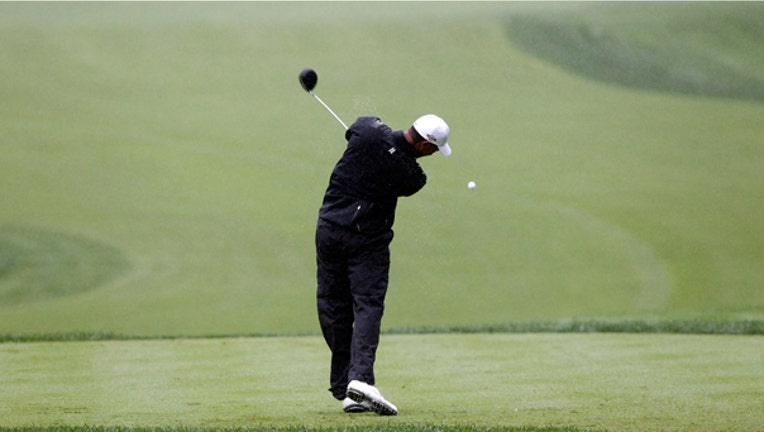 Tiger Woods and LeBron James were once the darlings of the sports world, with legions of devoted fans and a long line of sponsors willing to pay serious money for the two stars to be mentioned in the same sentence as their brands.
After events in Tiger's private life landed him on the cover of tabloids and LeBron's botched handling of his decision to leave his hometown Cleveland Cavaliers led many to call him selfish, each athlete's image has clearly been significantly altered. That begs the question: Which superstar has an easier path back to marketing success and restoring their profitability?
It's not 100% clear which athlete has the clearer road to recovery, but it is apparent that Tiger's stock has fallen much further than LeBron's and that winning and returning to dominance is likely to cure at least some of what ails each of their images.
"Regardless of degree of damage, they've both done damage to their brands. They were both two of America's sweethearts from a corporate" sponsorship point of view, said Kevin Adler, founder and president of Engage Marketing, a Chicago sports and entertainment marketing firm.
Tiger in Decline
For Tiger, his now well-documented marriage infidelities and this week's announcement of a divorce from Elin Nordegren have shattered the wholesome image that marketers like Gatorade and Procter & Gamble (NYSE:PG) once found irresistible. They also raised serious moral questions in the public's mind about Tiger as a person. His subsequent struggles on the golf course have removed the aura of invincibility that had been created by his decade of dominance.
According to Sports Illustrated, Tiger's 2010 income from salary, winnings and endorsements is projected to tumble 30% from 2008 to $90.51 million. While that's still good enough for the top spot on the mag's ranking of the top-earning athletes, it's also a reflection of AT&T (NYSE:T), Accenture (NYSE:CAN) and other sponsors dumping him in the wake of the scandal.
"He is never going to have the same earnings power as an endorser as before. I think his image in some ways is forever tarnished from the point of view of a brand that wants to associate with him," said Marshall Glickman, CEO of G2 Strategic and former president of the Portland Trail Blazers.
Underscoring that sentiment, Tiger's all-important Q Score, which measures the consumer appeal of celebrities, brands and companies, has taken a serious hit. His positive Q Score had been a 44 among sports fans in 2009 -- "Michael Jordan levels," says Henry Schafer, executive vice president of Q Scores -- meaning  44% of all sports fans considered him one of their favorite personalities. After the scandal, Tiger's positive Q-Score tumbled to 30, while his negative score more than doubled from 15 to 39.
"It's signaling to the marketing and advertising world he's damaged goods and you've got to be careful to associate with that image right now," said Schafer.
LeBron With the Easier Path?
It's less clear how much damage LeBron's public-relations sins have done to his ability to secure mega endorsement deals, but experts say the aftermath is not likely to be nearly as severe as it has been for Tiger. After all, none of his sponsors have abandoned him in the wake of  "The Decision," the nationally-televised program that left many criticizing LeBron and Walt Disney's (NYSE:DIS) ESPN, which secured the rights to the program.
Q-Score doesn't have any research on LeBron's score after his PR blunders, but Schafer estimates his positive Q-Score will drop 15% to 20% among sports fans after having registered an NBA-high 34 coming into the summer. While alarming to sponsors like Nike (NYSE:NKE), the expected declines aren't as severe as Tiger's.
Some marketing experts believe LeBron has the easier path to recovery because he did far less damage to LeBron the person than Tiger did to his own persona.
"LeBron is clearly going to get boos in the three or four cities he spurned going to. But I think over the course of time the American public and sports fans have a great ability to forgive and forget and acknowledge incredible performances," said Cliff Kaplan, president of Van Wagner Sports and Entertainment and a former NBA exec.
LeBron's problems may also largely be solved by winning an NBA title, something that has proved to be elusive thus far in his career but now appears to be well within his grasp given his star-studded Miami Heat.
However, winning won't solve everything. Schafer notes that NBA superstar Kobe Bryant has only been able to recoup about 60% of his lost Q Score in the seven years since being accused of sexual assault -- and that's despite having won back-to-back NBA titles over that span.
Many in the marketing business chalk up LeBron's woes to bad advice from the team that surrounds him and apparently saw nothing wrong with the bungled free agency decision.
"If I were going to tell LeBron one thing, I would say, 'You've got to dump these guys before they kill you.' He wouldn't be the first guy to die because of his handler," said Rob Frankel, a marketing guru. "He completely blew his exit. If handled properly, he could still be playing down south and every Florida game would have been watched by people in Ohio saying, 'That's our guy.' Now they're all rooting against him."
Tiger's Return to Dominance?
Others argue that Tiger has an easier comeback trail, despite how much his star has fallen. They point to the fact that Tiger doesn't need to rely on any teammates to return to dominance and unlike LeBron, he's already proven to be able to "win the big one" and established himself as one of golf's all-time greats.
"Handled and managed properly and presented to the public properly, I think he could come back within the next year and just about be back on top. Hell, Clinton could come back and he did a lot worse," said Frankel, alluding to President Bill Clinton's current popularity despite his scandals a decade ago. "I think many other people struggle with similar issues of balance in their life. Because Tiger is maturing as an adult, I think the public is a lot more forgiving."
Tiger offered some hope to those in this camp on Thursday by playing by far his best round of the year in his very first tournament since his divorce.