This Wireless Carrier Has the Happiest Customers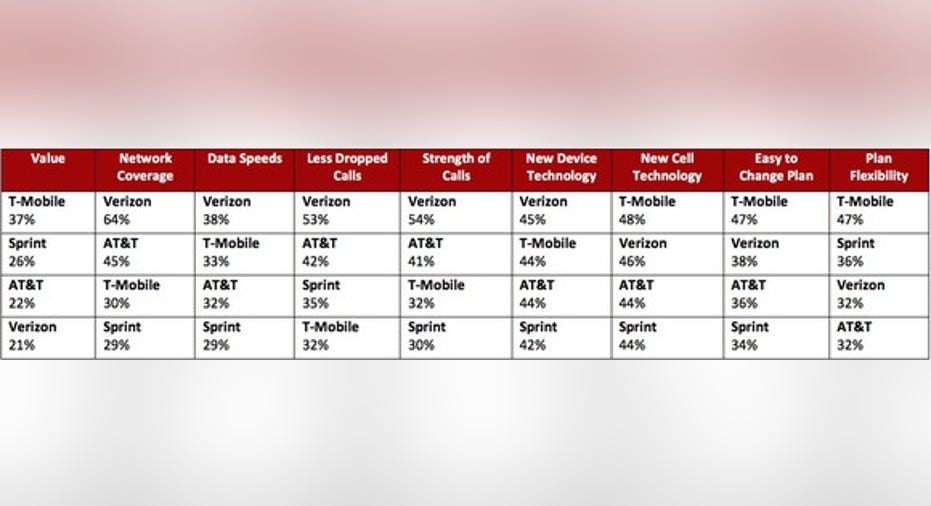 Over the past few years, a lot of the advertising in the wireless space has involved the major players going back and forth over either network quality or price.
In recent months, however -- even though Verizon has clung to that tactic with its "better matters" campaign -- the two upstarts in the space, T-Mobile and Sprint , have pushed the idea that rough network parity has been achieved. Sprint has even started using Paul Marcarelli, the man who asked "can you hear me now?" for Verizon for years, in its latest commercials. In those ads he pushes the notion that the difference between the best network and the worst is only 1%.
Verizon and maybe AT&T might dispute those numbers, but it's clear based on a new study from Market Force Information that having the best network is not the only criteria for having satisfied customers. In fact, the survey of 8,600 consumers showed that value plays a big role in keeping people happy.
Which carriers have the happiest customers?
Market Force asked survey participants to rate their satisfaction with their primary wireless carrier and its services, as well as their likelihood to refer that brand to others. Those results were averaged to create what the research company calls the "Composite Loyalty Index."
The survey showed that of the four major full-service carriers, T-Mobile had the highest score, just beating second-place Verizon. And, as you might expect, T-Mobile CEO John Legere took to social media to celebrate the win tweeting "No surprise here...guess who's at the top. The #uncarrier. #WeWontStop."
Image source: Market Force.
Perhaps most interestingly the research found that satisfaction levels are actually higher among people using non-contract carriers. In that category Consumer Cellular came in first followed by Cricket, StraightTalk, Metro PCS, Boost Mobile, TracFone, Virgin Mobile and U.S. Cellular .
Image source: Market Force.
Why are non-contract companies better-liked?
It's important to note that many of the major non-contract brands are actually owned by the four major carriers. AT&T owns Cricket and Consumer Cellular operates on its network. T-Mobile owns Metro PCS while Sprint owns Boost Mobile. Market Force found that 62% of wireless customers have a contract, 33% do not,and 5% use pre-paid phones.
"We were intrigued to find that, for the most part, consumers are more delighted with non-contract wireless providers than with traditional, full-service carriers," said Market Force Chief Strategy Officer Cheryl Flink. "This could be attributed to the fact that wireless users believe non-contract carriers provide a better perceived value to their customers based on factors like price, coverage, and flexibility to change plans."
What sets the full-service carriers apart?
Image Source: Market Force.
Market Force found that T-Mobile customer are happiest with the value offered by the company as well as ease of changing plans and access to new cell phone technologies. The survey showed that those factors could outweigh the categories generally associated with network quality because T-Mobile actually came in last for frequency of dropped calls.
Verizon easily led the network coverage category and Sprint came in at or near the bottom for every category.
These results show that good customer service, clear plans, and decent pricing can cover up for deficiencies in other areas. Consumers don't all forgive T-Mobile for not having as good a network as Verizon, but enough do to put it at the top of the overall rankings. That suggests that T-Mobile should grow as it improves its network and Verizon would do the same if it worked on being a little easier for consumers to work with.
The article This Wireless Carrier Has the Happiest Customers originally appeared on Fool.com.
Daniel Kline has no position in any stocks mentioned. He can hear you now. The Motley Fool owns shares of and recommends Verizon Communications. Try any of our Foolish newsletter services free for 30 days. We Fools may not all hold the same opinions, but we all believe that considering a diverse range of insights makes us better investors. The Motley Fool has a disclosure policy.
Copyright 1995 - 2016 The Motley Fool, LLC. All rights reserved. The Motley Fool has a disclosure policy.