This Market Could be Fitbit Inc's Biggest Opportunity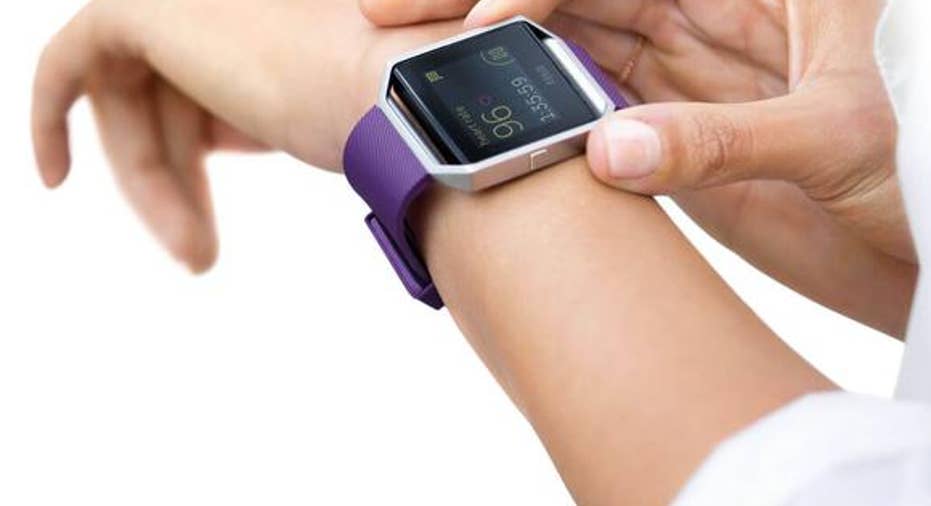 Fitbit released its first smartwatch, the Blaze, in March. Source: Fitbit.
At first glance, Fitbit may seem like a standard consumer electronics company, albeit one which places an emphasis on wellness. Yet the wearable giant's fitness trackers are enjoying rising demand from a seemingly unlikely source: enterprise customers.
In 2015, Fitbit added over 1,000 new enterprise customers.Although this remains a modest driver of Fitbit's business overall, it represents a tremendous opportunity for the firm. With competition in the fitness wearables market intensifying,establishing a foothold with corporate buyers could reward shareholders in the long-run.
Less than 10% of revenueFitbit counts several Fortune 500 firms as its customers, including Wendy's and Marathon Petroleum. Collectively, its corporate customers have purchased hundreds of thousands of Fitbit's fitness trackers, which they dole out to their employees as a way to boost morale and reduce healthcare costs. Last fall, Target announced that it would purchase as many as 335,000 trackers for its employees, perhaps the most ambitious use of Fitbit's products to date.Enterprise customers use Fitbit's trackers in much the same way as traditional consumers but Fitbit also provides software, designed to facilitate companywide competitions, which allows firms to view their employees' data.
Unfortunately, Fitbit doesn't break out its corporate revenue on a regular basis. During Fitbit's most recent earnings call, CEO James Park revealed that corporate customers accounted for less than 10% of the company's sales. Most of that comes from its actual trackers. In its 10-K, Fitbit noted that "revenue from the corporate wellness software and services was less than 1% of revenue."
Still, Park is optimistic about this aspect of Fitbit's business. He provided more color during the company's February earnings call.
Better margins, less competitionFitbit's corporate wellness business has two particularly attractive aspects: margins are better, and the company faces fewer competitors. Fitbit CFO Bill Zerella emphasized both factors during the February earnings call.
When Fitbit wins a corporation over, it captures tens of thousands of device sales in one fell swoop. And it doesn't have to compete as fiercely on a direct consumer-by-consumer basis, reducing the need to be as aggressive with discounting or promotions.
Expensive smartwatches could have a difficult time competingIts corporate business also appears less likely to fall prey to a smartwatch-fueled decline.
According to research firm IDC, Fitbit was the largest seller of wearable devices in the fourth quarter last year, shipping 8.1 million units. Apple came in second place, as it shipped 4.1 million Apple Watches in the fourth quarter of 2015.
Source: IDC.
Persistent fears of a coming smartwatch revolution have haunted Fitbit throughout its relatively short history as a publicly traded company. Apple has repeatedly emphasized the fitness capabilities of the Apple Watch in its marketing, as the company's smartwatch is capable of tracking its user's heart rate and activity level. The Apple Watch lacks the multi-day battery life and advanced workout tips offered by some of Fitbit's trackers, but it's generally been viewed as Fitbit's most fearsome rival, particularly in the long-run. It's a safe bet to assume that, over time, Apple will roll out second- and third-generation models with more advanced fitness features.
Eventually, Apple could take a significant chunk of Fitbit's consumer market, but it's hard to imagine the Cupertino tech giant capturing Fitbit's enterprise segment. In time, the Apple Watch may offer some useful enterprise features and win some corporate buyers of its own. But it's unlikely that a company such as Target would be willing to purchase upwards of 300,000 Apple Watches for its minimum wage associates. A $60 Fitbit tracker is a far easier sell than a $300 Apple Watch.
Of course, Fitbit's corporate wellness business remains unproven. It's seeing strong momentum, but it's unclear if it will last, or if companies will remain repeat Fitbit customers over the coming years. Still, it's clearly one of Fitbit's most attractive opportunities, and a segment that should be watched closely by Fitbit investors.
The article This Market Could be Fitbit Inc's Biggest Opportunity originally appeared on Fool.com.
Sam Mattera has no position in any stocks mentioned. The Motley Fool owns shares of and recommends Apple. Try any of our Foolish newsletter services free for 30 days. We Fools may not all hold the same opinions, but we all believe that considering a diverse range of insights makes us better investors. The Motley Fool has a disclosure policy.
Copyright 1995 - 2016 The Motley Fool, LLC. All rights reserved. The Motley Fool has a disclosure policy.