This Landmark Cannabis Bill Is Great News for Marijuana Stocks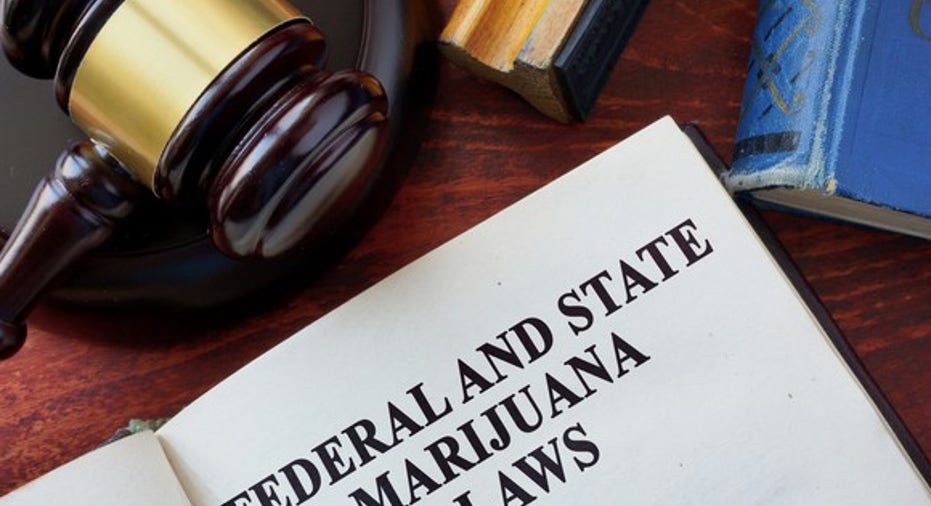 Investors would probably struggle to find an industry that's growing at a faster and more consistent pace than legal marijuana.
Last year alone, according to cannabis research firm ArcView, North American legal pot sales jumped 34% to $6.9 billion. ArcView estimates that legal sales could top $22 billion by 2021, with investment firm Cowen & Co. expecting legal sales to hit $50 billion by 2026. Regardless of what estimate you choose to believe, the legal marijuana industry is growing by between 20% and 30% a year. That type of consistent long-term growth is certainly appealing to investors.
Image source: Pixabay.
The sky could be the limit -- if not for these issues
Of course, the marijuana industry continues to face a laundry list of risks.
For instance, the U.S. federal government continues to categorize cannabis as a Schedule I substance, thus denying marijuana companies the ability to take normal corporate tax deductions, and in many cases ensuring they have little to no access to basic banking services. Since financial institutions report to the Federal Deposit Insurance Corporation (FDIC), and the FDIC is a federally created entity, dealing with cannabis businesses could be construed as money laundering.
There are also a number of political risks. In February, White House press secretary Sean Spicer announced that the Trump administration would depart from the lax policies of the preceding administration and step up enforcement on federal laws on recreational pot.It's unclear just how rigorous this federal enforcement might be, but newly appointed Attorney General Jeff Sessions might arguably be the most ardent opponent of marijuana's expansion in the country, so you can imagine the concern within the industry.
The lack of a clear line in the sand between federal and state laws, and even legal cannabis laws within some states, can also create issues and lead to business uncertainty. While the sky could be the limit for marijuana stocks, they've been largely held back by a number of adverse factors.
Image source: Getty Images.
This landmark Colorado bill could be big for marijuana stocks
However, a benchmark bill that was passed in the Colorado Senate last week by a landslide 35-0 vote looks to put an end to one of the industry's greatest recreational pot uncertainties (at least within Colorado).
The bill (HB17-1221), known as the Grey and Black Market Marijuana Enforcement Efforts, will make it illegal for marijuana growing cooperatives to exist in Colorado. In co-ops, one individual is designated as the farmer while users share in the costs of electricity, water, and fertilizer needed to grow marijuana. This is allowed in Colorado, as the law's language allows adults over the age of 21 to assist someone else in growing pot.
Growing recreational cannabis as a cooperative makes it far less costly since only the individual farmer designated to grow pays tax, allowing some Coloradans to avoid up to a 30% retail tax on pot, depending on the jurisdiction. Lawmakers viewed this loophole as just another way for the black market to thrive, and believe this bill to outlaw co-ops will close that loophole.
This bill also provides nearly $6 million a year of marijuana tax revenue to law enforcement agencies, which will be used to investigate illegal growing operations within the state.
Image source: Getty Images.
Additionally, Gov. John Hickenlooper has plans to pass a separate bill limiting the number of medical cannabis plants that can be grown in a resident's home to 12. This would require medical users who are authorized to grow more than 12 plants to do so in a commercial or agricultural setting, or to buy from a medical marijuana dispensary. In other words, the tax-free ride is ending at 12 plants for medical patients.
Though a tougher regulatory environment might not seem like a good thing for the industry, it's actually great news for legal businesses and marijuana stocks. By more precisely defining the legality of who can grow recreational pot, Colorado is laying the groundwork for its legal businesses to thrive. Since Colorado is such a marijuana pioneer, other states may soon follow its lead.
U.S. pot stocks still need a federal "push"
While Colorado's bill is a great step in the right direction for marijuana stocks in the U.S., they still need some help from the federal government to be a viable investment opportunity,and it's unclear when that might happen.
Last summer, the U.S. Drug Enforcement Agency (DEA) had the opportunity to consider rescheduling or descheduling pot and it chose to do neither despite two petitions. The DEA claimed that there wasn't enough benefit-versus-risk data available to change its scheduling, nor the proper oversight to allow a drug like cannabis to be prescribed by physicians. Given how long it takes for petitions of this nature to make their way to the DEA, we could be looking at years before the U.S. government considers rescheduling once again.
On the other hand, our neighbors to the north (Canada) could be on the precipice of legalizing recreational cannabis. If new legislation is passed and Canada does indeed allow adults to purchase pot legally, then some of its largest grow farms could become instant winners. A few names that come to mind are Canopy Growth Corp. (NASDAQOTH: TWMJF), Aphria (NASDAQOTH: APHQF), and Aurora Cannabis (NASDAQOTH: ACBFF).
Image source: Getty Images.
Perhaps what's most interesting is that if the U.S. government ever did change its tune on marijuana, these three Canadian pot stocks would likely be the biggest beneficiaries of all, since they're all busy expanding their grow operations to meet heightened demand.
For example, Aurora Cannabis is currently in the process of constructing its Aurora Sky project, which is a technologically advanced 800,000-square-foot growing space that could easily be used meet recreational weed demand for Canada and/or the United States. Inclusive of a recent acquisition of a 40,000-square-foot facility, Aurora's grow capacity will soon jump from less than 100,000 square feet to nearly 900,000!
Aphria has also been expanding organically, while Canopy Growth's acquisition of Mettrum has allowed its growing capacity to expand quickly.
As U.S. states work out the kinks with their marijuana laws, we may begin to see these more developed and centralized Canadian marijuana stocks benefit. Of course, we really need to see a change of heart on Capitol Hill if real progress is to be made within the pot industry and with marijuana stocks as a whole.
10 stocks we like better than AURORA CANNABIS IN COM NPVWhen investing geniuses David and Tom Gardner have a stock tip, it can pay to listen. After all, the newsletter they have run for over a decade, Motley Fool Stock Advisor, has tripled the market.*
David and Tom just revealed what they believe are the 10 best stocks for investors to buy right now and AURORA CANNABIS IN COM NPV wasn't one of them! That's right -- they think these 10 stocks are even better buys.
Click here to learn about these picks!
*Stock Advisor returns as of April 3, 2017
Sean Williams has no position in any stocks mentioned. The Motley Fool has no position in any of the stocks mentioned. The Motley Fool has a disclosure policy.