This Just In: iRobot Downgraded, but Intuitive Surgical Going Up?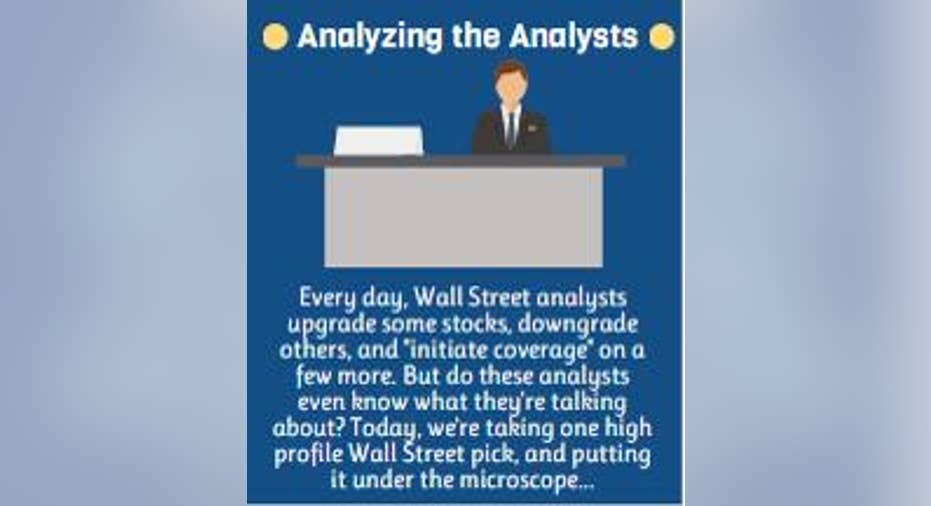 As 2016 gets under way, robotics stocks are hot, hot, hot -- or not. This morning, two Wall Street analysts returned from their holiday weekends with new ratings in hand for two of the best-known "robotics" stocks on the planet: iRobot and Intuitive Surgical . One of them they like, and the other they don't ...
But which is which?
iRobotLet's start off with iRobot, the subject of a downgrade from neutral by Piper Jaffray.
According to Piper, it's actually "upbeat" about iRobot as a long-term investment -- just a bit worried that the stock has "run up" too fast. Over the past two months, as stock markets generally have taken a tumble, iRobot shares have gained more than 10%. But as StreetInsider.com explained this morning, this has Piper worried that there's "limited upside to Q4 estimates and 2016 guidance" to support the stock's high price.
Currently, iRobot is "de-emphasizing investments in Defense & Security and Telepresence," says Piper, which should restrict the company's ability to grow quickly in these areas. At the same time, analysts who follow the stock are pricing in growth rates "at the upper end of recent annual growth rates (14% versus 10-14% over the past 3 years)" -- suggesting that even if iRobot's home robots division takes up the slack, there's little room for the stock to grow.
Should you worry?Is Piper Jaffray right about that? At a valuation of 30 times earnings, but "only" a 19% growth rate, the stock does look pretty pricey. What's more, according to our records on Motley Fool CAPS, Piper ranks in the top quintile of investors we track.
On the other hand, the analyst's record for accuracy leaves much to be desired. Over the past decades, its record of 46% accuracy on its recommendations implies Piper is actually more likely to be wrong than right about iRobot.
What might Piper be getting wrong about iRobot? Here's a thought: According to data from S&P Capital IQ, iRobot generated positive free cash flow of $48.5 million over the past 12 months -- 42% more cash profit than it reported as GAAP "net income." Crediting the stock for its more than $212 million in cash, and debt-free balance sheet, that works out to an enterprise value-to-free-cash-flow ratio of just 16.9 on the stock.
Weighed against a 19% projected growth rate, that suggests there's a significant chance that iRobot will outperform expectations despite Piper Jaffray's downgrade. The upshot for investors: I wouldn't sell iRobot just yet.
Intuitive SurgicalOur next robotics candidate today is Intuitive Surgical, and this one's a bit trickier. Here, the recommendation comes from investment banker Morgan Stanley, which according to StreetInsiderupgraded the stock all the way from underweight to overweight this morning.
Problem is, not only did StreetInsider.com give no details on why Morgan Stanley reversed course on Intuitive Surgical this morning, but we also have no good data on Morgan Stanley's historical performance on CAPS. (We did at one time, but for whatever reason, our data stream on this one has dried up).
Lacking any record of success that we can credit to the analyst, therefore, we're going to have to work this one out on our own ... but that shouldn't be too hard. Let's get started.
Priced at 38 times earnings, and pegged for a 14% long-term growth rate on Yahoo! Finance, Intuitive Surgical initially looks overpriced, and not a good candidate for upgrading -- certainly not all the way from sell to buy. There are, however, two strong points in Intuitive's favor.
First, Intuitive Surgical's market cap overstates the stock's price, inasmuch as the stock boasts a balance sheet swept free of debt, and overflowing with $1.7 billion in cash. Second, Intuitive's cash flow statement shows that cash continues to flow into the firm's coffers. Trailing free cash flow for the past 12 months comes to $556 million, which like iRobot, is actually a bit ahead of reported net income.
The upshot for investorsYet even so, and even after giving Intuitive Surgical the benefit of every doubt I can find, the best valuation I can work up for the stock is still more than 33.5 times free cash flow. While not quite as bad as the stock's 38 P/E ratio, that still seems too much to pay for a 14% grower.
In the end, therefore, it appears I'm going to have to disagree with Wall Street's ratings twice today. iRobot, downgraded, looks to me like a fine candidate for buying. Intuitive Surgical -- even with Morgan Stanley's endorsement -- looks too expensive to buy.
The article This Just In: iRobot Downgraded, but Intuitive Surgical Going Up? originally appeared on Fool.com.
Fool contributorRich Smithdoes not own shares of, nor is he short, any company named above. You can find him onMotley Fool CAPS, publicly pontificating under the handleTMFDitty, where he's currently ranked No. 298 out of more than 75,000 rated members.The Motley Fool owns shares of and recommends Intuitive Surgical and iRobot. Want to know why? Try any of our Foolish newsletter services free for 30 days. We Fools may not all hold the same opinions, but we all believe that considering a diverse range of insights makes us better investors. The Motley Fool has a disclosure policy.
Copyright 1995 - 2016 The Motley Fool, LLC. All rights reserved. The Motley Fool has a disclosure policy.