This Is Why IBM's Revenue Fell Short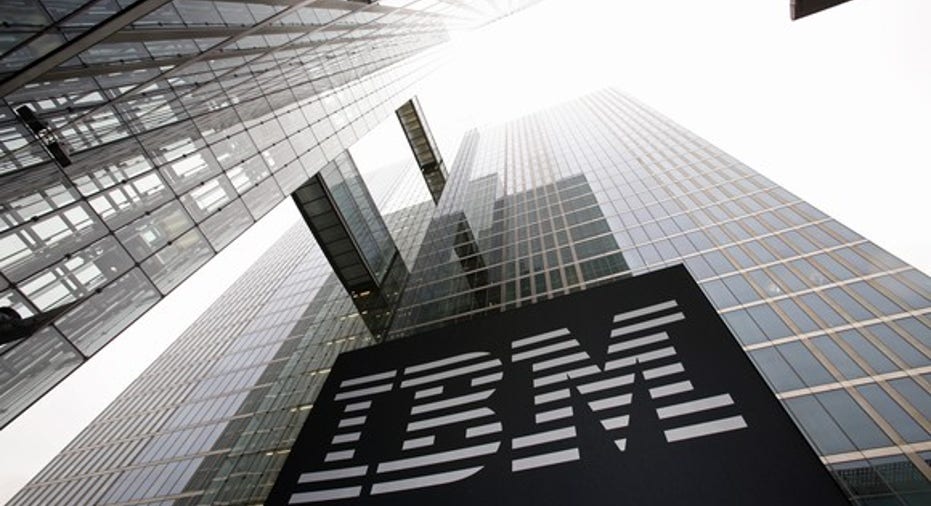 With a 2.8% drop in revenue during the first quarter, International Business Machines (NYSE: IBM) has now reported declining revenue for 20 consecutive quarters, or half a decade. Analysts were expecting revenue to slump by a smaller 1.6%, and the miss sent shares of IBM reeling. IBM stock tumbled around 5% the day after the earnings report, knocking nearly $8 billion off the company's market capitalization.
The size of the revenue decline was the big surprise, but IBM had a simple explanation for the shortfall.
Image source: IBM.
Trouble closing deals
During IBM's conference call, CFO Martin Schroeter explained that the company had some major services deals that failed to close during the first quarter. "We are running the hearts and lungs of our clients' businesses. And so obviously, when you run hearts and lungs, you're not running toward a 90-day schedule," he said.
Schroeter assured investors that these delays had nothing to do with competition:
He also explained that the delays were not driven by the macroeconomic environment, stating, "And so the signings delays weren't -- were not at all macro-driven. This is -- these are deep, deep partnerships with our clients that require careful planning, careful execution, and they're not going to move on a 90-day cycle."
Despite the weak revenue, IBM reiterated its full-year earnings guidance. In response to an analyst question about that guidance, Schroeter said that the quarter played out "pretty much as we expected," except for the delays signing a few service deals. IBM's revenue would have still declined had those deals been signed during the first quarter, but it would have been much closer to expectations.
A better second half
Those delayed service deals should close at some point down the road, but one major tailwind during the second half of the year will be the upcoming mainframe refresh. It's been nine quarters since IBM last launched a major new mainframe iteration, the z13 in January 2015. The next iteration will come late in the year, according to Schroeter, providing a boost to the systems business.
IBM typically sees a massive sales spike when a new mainframe is released, driven by existing customers upgrading to the new model. Sales then trail off, producing growth for a while before settling into a decline. During the first quarter of 2015, which featured the launch of the z13, mainframe sales soared 130% year over year, driving a 30% increase in overall hardware sales.
This dynamic should boost IBM's revenue during the fourth quarter, assuming the new mainframe doesn't launch too late in the year. Along with higher revenue, the launch will also drive gross profit higher, and costs will decline as major development spending will then be in the rearview mirror.
This boost in mainframe revenue will be fleeting, so it likely won't return IBM to sustained revenue growth. The company's growth businesses, which now account for 42% of total revenue, will need to get bigger for that to happen. Schroeter couldn't provide a timeline for when this inflection point would occur, and it may still be a while even with those growth businesses expanding at a double-digit rate.
With IBM still expecting to produce at least $13.80 in adjusted EPS this year, up from $13.59 in 2016, the speed bump hit in the first quarter doesn't look like a major issue. Investors only have so much patience, though, and after five years of revenue declines, that patience may be wearing thin.
10 stocks we like better than IBMWhen investing geniuses David and Tom Gardner have a stock tip, it can pay to listen. After all, the newsletter they have run for over a decade, Motley Fool Stock Advisor, has tripled the market.*
David and Tom just revealed what they believe are the 10 best stocks for investors to buy right now... and IBM wasn't one of them! That's right -- they think these 10 stocks are even better buys.
Click here to learn about these picks!
*Stock Advisor returns as of April 3, 2017
Timothy Green owns shares of IBM. The Motley Fool has no position in any of the stocks mentioned. The Motley Fool has a disclosure policy.