This Is the Best Indicator Yet That Macau's Recovery Is Real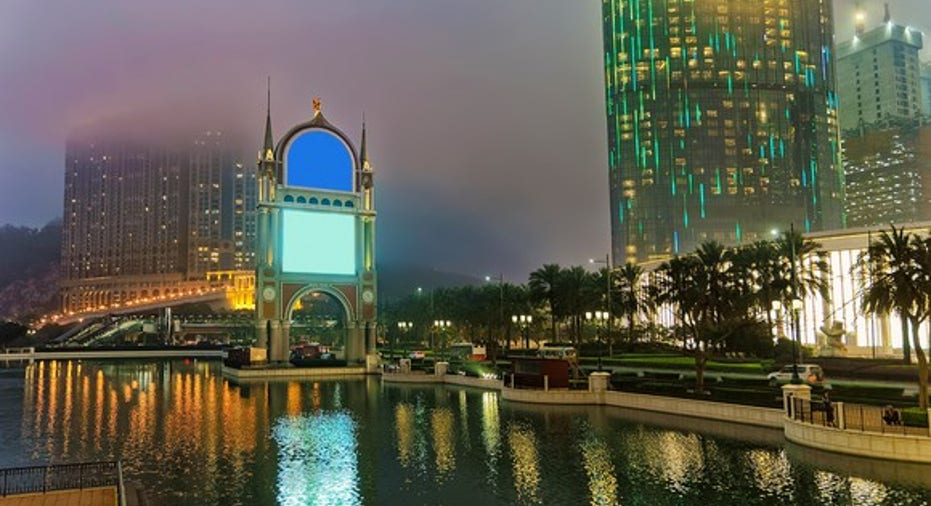 February may have marked the sixth straight month that Macau has posted higher gaming revenues than the year before, but it's seemingly the first time that the gains are proving the recovery the small Chinese gambling enclave is experiencing is real.
Without any external factors pushing the revenues in one direction or another, the fortunes of the casino operators there are looking a lot brighter.
Image source: Getty Images.
Hitting a hot hand
The 22.9 billion patacas Macau achieved last month, an 18% increase from a year ago, was the region's highest level since January 2015 when 23.7 billion patacas were brought in (patacas are the local currency of Macau). Last month's rise was also the single largest monthly percentage gain since February 2014 when gaming revenues rose over 40%.
While revenues have been climbing since last August when Wynn Resorts (NASDAQ: WYNN) opened its new Palace in the Cotai district, an event that seemed to lure VIP gamblers back to the gambling peninsula after largely staying away for two and a half years, it always appeared there was something else going on at the same time to artificially inflate the figures or mask the true direction the market would take.
Data source: Macau Gaming Inspection & Coordination Bureau. Chart by author.
In September Las Vegas Sands (NYSE: LVS) opened its Parisian resort in Cotai, while October started off with the country's National Day Golden Week holiday, a time that typically draws in more visitors than usual. November also saw a big gain, but it was driven by those same VIP gamblerscoming to town and not the mass market audience that Chinese gambling regulators have been pushing the casinos to attract. Non-gambling entertainment was the motivating force behind the design of the Palace, which featured more luxury retail shopping venues, and the Parisian, whose scale-size Eiffel Tower is a prominent tourist attraction.
December's gains, however, were substantially below those of November and suggested the recovery was running out of steam, something only reinforced when Macau posted just a 3% gain in January.
Intent on stirring the pot
Perhaps playing a role was the fact that Beijing was starting to pay more attention to the enclave again, first arresting a group of Crown Resorts employees for reportedly violating the country's laws on how you can market casinos on the mainland, and then by changing the laws on how much money could be withdrawn at any one time from an ATM on Macau. InJanuary it announced an effort to fingerprint all foreigners coming to the country. The dropoff in gaming revenues was seen as possibly related to VIPs getting cold feet about being in the spotlight again.
Image source: Sands Parisian.
Certainly the quarterly numbers the casinos were reporting, while better than they had been, were disappointing. Sands, for instance, generates 59% of its revenues from Macau, and though fourth quarter net revenues rose 7.4% and net income was 5.6% higher, GAAP operating income fell for the period due to higher depreciation and amortization expenses along with asset impairment charges. The results were also below analyst estimates.
Wynn Resorts, which derives almost 64% of its revenues and 62% of its adjusted property EBITDA from Macau, was having a hard time just because its new casino is sitting in a massive construction zone. And although the Palace did better than many expected, it essentially cannibalized gaming revenues from its existing Wynn Macau resort. The new casino also needed to undergo a major remodeling as it was found to be deficient in its casino space and dining areas.
MGM Resorts (NYSE: MGM) was apparently worried enough about its own new casino opening in a weak market that it pushed back the debut of the MGM Cotai a second time, with it scheduled to open its doors now in the second half of 2017.
A change in direction
So the casino operators have to be heartened by February's gaming revenue totals. There were no casinos opening to attract gamblers wanting to check out the new digs and no new government actions that might serve to scare them away. The month was basically a stand-alone testament to the attraction of the venues themselves and the push to make Macau into a Las Vegas-type destination for the masses with plenty of non-gaming activities to entertain people from the mainland.
In the next few years Macau is going to face new pressure from Japan's casino gambling market, one that could rival the Chinese enclave in size. It has to be reassuring to the operators that the region looks like it's getting its footing once more, though we'll know for sure when it posts the new March numbers.
Still, it's an indication of just how far Macau had fallen that half a year into a recovery and the situation was still fragile enough to cause doubt about the direction the recovery would take. February's results should finally help dispel those doubts.
10 stocks we like better than Wynn ResortsWhen investing geniuses David and Tom Gardner have a stock tip, it can pay to listen. After all, the newsletter they have run for over a decade, Motley Fool Stock Advisor, has tripled the market.*
David and Tom just revealed what they believe are the 10 best stocks for investors to buy right now... and Wynn Resorts wasn't one of them! That's right -- they think these 10 stocks are even better buys.
Click here to learn about these picks!
*Stock Advisor returns as of February 6, 2017
Rich Duprey has no position in any stocks mentioned. The Motley Fool has no position in any of the stocks mentioned. The Motley Fool has a disclosure policy.