This Industry Had Plenty of Winners (and 1 Big Loser) in 2016. Will 2017 Be Another Strong Year?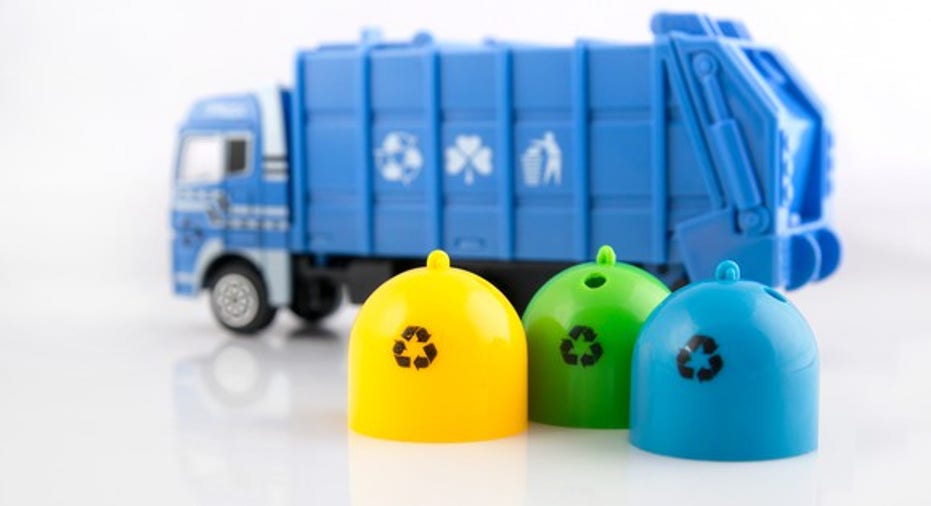 It was a good year for waste management companiesWaste Management(NYSE: WM),Republic Services(NYSE: RSG), andClean Harbors (NYSE: CLH). All three saw their stock prices rise between 32% and 36% for the year. And it was an absolutely stellar year forCasella Waste Systems(NASDAQ: CWST), which saw its stock more than double in price. Compared to an 11.2% gain for the S&P 500, those results should have investors singing a happy tune.
But that rising tide of trash didn't lift all boats. Medical waste disposer Stericycle (NASDAQ: SRCL) disappointed investors, dropping 34.6% after disappointing earnings reports weighed down the stock. However, that could mean it's poised for a rally in 2017. Let's look at where the industry is headed and see how these companies are likely to fare.
2016 was a good year for big trash haulers like Waste Management and Republic Services. Image source: Getty Images.
Solid waste, solid earnings
Three of the companies -- Waste Management, Republic Services, and Casella Waste Management -- rely on fairly typical refuse hauling, recycling, and landfill management for the bulk of their income. The primary reason for their stock price increases was a solid earnings report from each. That's good, because it means their gains weren't completely speculative.
Take, for example, the final earnings report each company released in 2016 -- for the third quarter of 2016 -- which they all released in November. Waste Management grew adjusted net income by 11.6%year over year. Republic Services' adjusted net income grew by 15.1% year over year. And Casella's grew an incredible 233.6%year over year, prompting its president, Edwin Johnson, to declare on the company's Q3 earnings call, "[T]his was the best quarter on both an EBITDA and net income from continuing operations basis in 10 years." Adjusted EPS was also up for all three companies.
More important than the actual numbers themselves were the reasons behind the numbers. Throughout 2016, Casella grewincome and margins and reduced its debt load and its operating costs.Waste Management reduced customer churn throughout the year and has been reconfiguring its underperforming recycling contracts to better account for recent price declines for recycled materials. Republic Services has been rewriting its renewing contracts under more favorable terms.These efforts are likely to continue throughout 2017 to the benefit of the companies.
Also, it's worth noting that aside from some operations in New York and Pennsylvania, Casella's operations are in areas that aren't served by Republic Services, so that's one fewer competitor for each company. It also makes one wonder whether a merger wouldn't be out of the question.
Niche market
Clean Harbors is a bit different from the other companies mentioned here. Unlike those more traditional trash haulers, Clean Harbors performs specialty waste removal and cleanup work. That includeshazardous waste management, emergency spill response, and industrial cleaning and maintenance.Through its Safety-Kleen subsidiary, Clean Harbors is also the largest rerefiner and recycler of used oil in North America.
But just because it serves a niche market doesn't mean it's a small company. It brought in $3.3 billion in revenue in 2015.Clean Harbors currently sports a $3.1 billion market cap, much larger than Casella's $470 million, but much smaller than either Waste Management's $31.1 billion or Republic Services' $19.7 billion. Still, on Clean Harbors' website, it boasts that "a majority of the Fortune 500 companies" are among its clients, a testament to its leading position in the industry.
Clean Harbors' stock performed about as well as Republic's or Waste Management's in 2016, which is a bit surprising.In the second quarter, the company narrowed its guidance to the lower end of its range, and in the third quarter, it lowered its guidance.Management blamed softness in key markets, limited growth opportunities, constrained customer spending, and reduced volumes. However, after Donald Trump won the presidential election, the company's stock soared, possibly due to enthusiasm about the oil and gas industry, which Clean Harbors serves.
The biggest loser
Stericycle, which deals primarily with medical waste, was the big loser in the industry. Primarily, this was because of pricing pressure, particularly in its industrial hazardous waste disposal business, which held down profits.As a result, the company lowered its earnings guidance not once, but twice, with its stock price taking a hit each time.For 2017, the company is projecting even lower earnings per share, despite having repurchased 265,000 shares of stock during the third quarter.
That's not to say there weren't bright spots in the year for Stericycle. The company churned out an impressive amount of cash in 2016, which it used to repurchase shares, pay down some of its (sizable) debt load, and close several small acquisitions.The company's recently acquired Shred-It document shredding business, although not integrating as quickly as management had hoped,contributed to top-line growth.
Altogether, though, until Stericycle can pull out of its slump and digest its Shred-It acquisition, things will likely stay rocky for the company.
Investor takeaway
2017 looks to be a "more of the same" year for these companies, which, for most of them, is a good thing. Troubled Stericycle is the one exception, but interested investors should keep an eye on it as a possible turnaround play.
It's worth noting that Trump's recent executive order regarding regulations could impact this industry in unexpected ways. The executive order declared that "for every one new regulation issued, at least two prior regulations [shall] be identified for elimination."However, some regulations -- particularly environmental regulations -- bring business to waste management companies. Depending on which regulations are targeted for elimination, this order could cause these companies to lose business in the coming years.
But overall, the trash business is looking anything but trashy in 2017.
10 stocks we like better than StericycleWhen investing geniuses David and Tom Gardner have a stock tip, it can pay to listen. After all, the newsletter they have run for over a decade, Motley Fool Stock Advisor, has tripled the market.*
David and Tom just revealed what they believe are the 10 best stocks for investors to buy right now...and Stericycle wasn't one of them! That's right -- they think these 10 stocks are even better buys.
Click here to learn about these picks!
*Stock Advisor returns as of February 6, 2017.
John Bromels owns shares of Waste Management. The Motley Fool owns shares of Clean Harbors and Waste Management. The Motley Fool recommends Republic Services and Stericycle. The Motley Fool has a disclosure policy.