This Healthcare ETF Was Last Week's Top Performer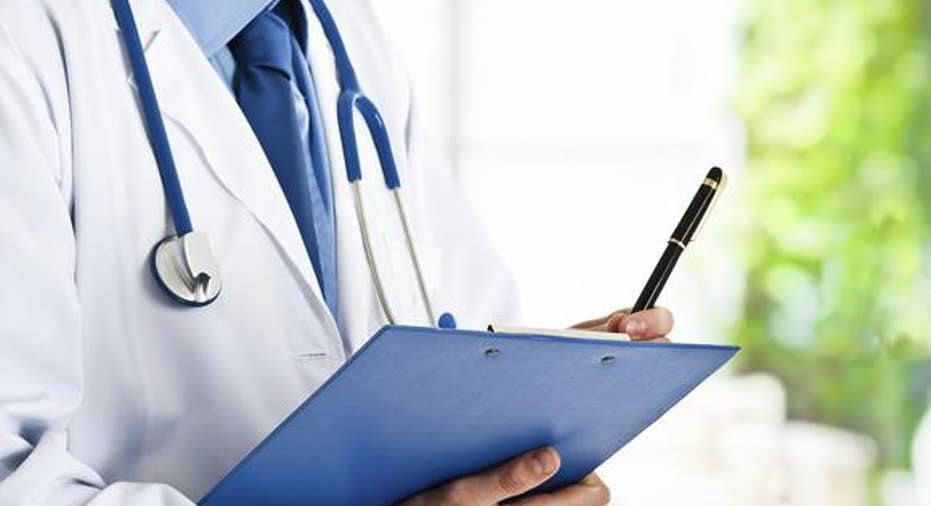 PHOTO CREDIT UNSPLASH VIA PIXABAY.
It was a good week to be an investor, with the S&P 500cranking out a 1.69% gain. Healthcare investors as a group made out well, too, as the vast majority of exchange-traded funds that invest in the space ended the week higher. One ETF in particular -- theiShares Dow Jones US Healthcare Provider -- was up a nudge more than 2% during the week, which was good enough to claim the title of best-performing healthcare ETF.
So what's unique about this fund that allowed it to outperform this week?Here's a brief look at what investors get when they put their money to work here.
IHF key statistics
| | |
| --- | --- |
| Inception Year | 2006 |
| Number of Holdings | 49 |
| Net Assets | $676 million |
| Average P/E Ratio | 20.5 |
| Yield | 0.21% |
| Expense Ratio | 0.44% |
DATA SOURCE: ISHARES.
Here's a closer look at this fund's industry exposure.
IMAGE SOURCE: ISHARES.
And here's a glance at the fund's top holdings.
| Company | Symbol | % Assets |
| --- | --- | --- |
| UnitedHealth Group | UNH | 13.00 |
| Express Scripts Holding Company | ESRX | 6.86 |
| Anthem | ANTM | 6.35 |
| Aetna | AET | 6.30 |
| Cigna | CI | 5.82 |
| HCA Holdings | HCA | 5.02 |
| Humana | HUM | 4.67 |
| DaVita Healthcare Partners | DVA | 3.21 |
| Laboratory Corporation of American | LH | 3.20 |
| Centene | CNC | 3.19 |
The overwhelming majority of this fund's assets are concentrated in giant health insurance companies, which tend to be on the more stable end of the healthcare spectrum. That fact tends to keep the volatility of the fund low, as evidenced by the fact that its beta is only 0.62 when compared with the S&P 500.
What went right this week?Even though the fund outpaced the returns of the index this week, the majority of its top holdings actually underperformed the market during the period. In fact, only one of the fund's top 10 holdings, Cigna , managed to put up a weekly performance that outpaced the index.
Cigna's stock jumped a strong 4.74% during the week, but there doesn't seem to be any particular reason behind the strong move. In fact, the only thing of any substance to come out this week was that a researcher at Leerink Partners lowered first-quarter earnings-per-share estimates. The analyst now believes the company will earn $2.18 for the quarter, down slightly from a prior guess of $2.20. Yet despite the small downward revision, shares still rallied.
That outcome could be owed to the fact that shares of Cigna have fallen considerably over the past year and have badly trailed the market. In fact, shares are currently down more than 19% from their 52-week highs.
There's also the pending $54 billion merger with Anthem , which looks to be on track to close in the second half of the year. If the deal closes, Cigna shareholders will receive $103.40 in cash and 0.5152 shares of Anthem's stock for every share they own. At the time of the announcement, Cigna's stock sat at $188.00, which is considerably above the $136.65 Cigna's stock closed at during the week.
It's possible that confidence that the deal will close on schedule continued to climb this week, hence the huge move.
What now?This is the fourth time this year that IHF has been the week's top-performing healthcare ETF. Perhaps that's not so surprising, considering the healthcare sector had a rough first quarter, as the IHF tends to hold up best when other healthcare stocks lunge. For that reason, I continue to believe that this ETF is a great choice for investors looking for a lower-risk way to invest in the healthcare sector.
The article This Healthcare ETF Was Last Week's Top Performer originally appeared on Fool.com.
Brian Feroldi has no position in any stocks mentioned. The Motley Fool owns shares of and recommends Express Scripts. The Motley Fool owns shares of DaVita,. The Motley Fool recommends Anthem and UnitedHealth Group. Try any of our Foolish newsletter services free for 30 days. We Fools may not all hold the same opinions, but we all believe that considering a diverse range of insights makes us better investors. The Motley Fool has a disclosure policy.
Copyright 1995 - 2016 The Motley Fool, LLC. All rights reserved. The Motley Fool has a disclosure policy.