This Has Been the Primary Catalyst Pushing Inovio Pharmaceuticals, Inc. Up 46% in 2016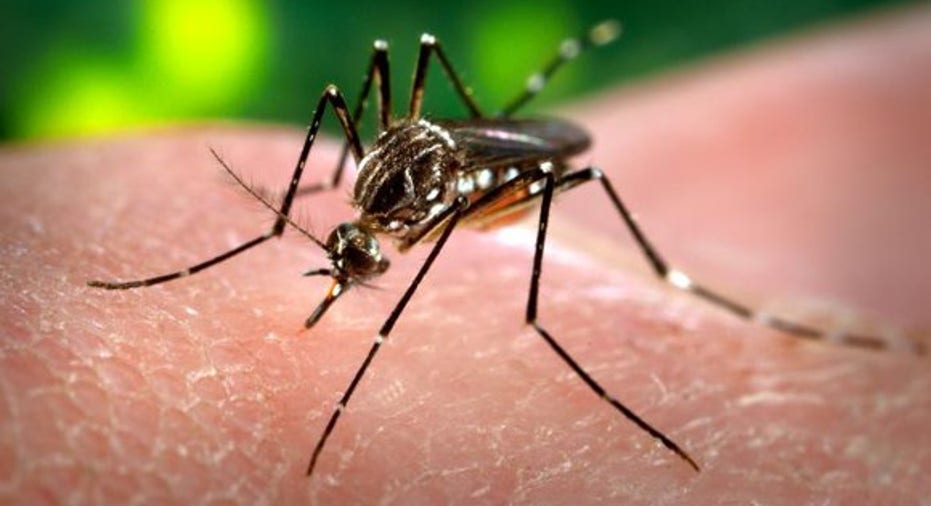 Image source: Centers for Disease Control and Prevention.
What: Shares of Inovio Pharmaceuticals , a clinical-stage biotech company focused on developing DNA-based vaccines to fight cancer and infectious diseases, rocketed 46% higher in the first-half of 2016 according to data from S&P Global Market Intelligence. The primary catalyst pushing Inovio higher is none other than the Zika virus scare.
So what: Earlier this year, Inovio and GeneOne Life Science announced that they were going to collaborate on a DNA-based vaccine using the Brazilian strain of Zika. Because Inovio's drug development platform is DNA-based, it's able to kick out clinical-trial-worthy candidates at a much faster pace than that of traditional drugmakers.
With more than 1 million people infected in Brazil and the disease spreading further into South and Central America, the world is watching Zika with concern. Zika has been associated with rising instances of microcephaly in newborns and Guillain-Barre syndrome in adults. As of now, there are no approved treatments for the disease.
However, a few days ago we learned that researchers at Beth Israel Deaconess Medical Center, Walter Reed Army Institute of Research, and Harvard University had conducted two vaccine tests -- one with a purified inactivated virus, and the other with a DNA-based vaccine -- and achieved 100% effectiveness in protecting against the Zika virus strain in mice.
These findings piggyback on the recent news that Inovio and GeneOne were approved to begin phase 1 human clinical testing with their DNA-based vaccine. If Inovio were to somehow beat its peers to market, the perception is that government orders for the vaccine could be enormous, and it would give Inovio highly sought after recurring revenue, which is something it doesn't have right now. It currently relies on milestone payments, grants, and common stock offerings to fund its operations.
Image source: Getty Images.
Now what: Although the promise of a Zika virus vaccine has driven Inovio higher, I wouldn't place too much emphasis on a potential vaccine. Vaccine sales can often be lumpy because they rely on governments from around the globe to stock up. There's also the potential that Zika is contained well before a vaccine is ready due to cooperation from global health agencies. This isn't to say that Inovio and GeneOne can't produce a workable and profitable Zika vaccine, but bidding up the share price of infectious disease drug producers tackling the next "pandemic" has proven dangerous more often than not.
Instead, as I opined recently, I would pay attention to Inovio's cancer immunotherapy pipeline, which is where the company's real long-term potential lies. The centerpiece of this pipeline is VGX-3100 as a treatment for cervical dysplasia. In midstage studies, Inovio's treatment provided statistically superior disease regression and human papillomavirus type 16 and 18 clearance relative to the placebo.
INO-3112, which is being developed in collaboration with MedImmune, a subsidiary of AstraZeneca, is another experimental vaccine worth watching. INO-3112 is actually VGX-3100 with a DNA-based immune activator encoded for IL-12, and it's being tested in both cervical cancer and head and neck cancer. Given that AstraZeneca fell behind many of its peers in oncology, its collaboration with Inovio, and the potential to use INO-3112 in combination with its own existing immunotherapies, could prove to be important.
All told, I don't think the Zika scare justifies the run-up of Inovio's stock. The vastness of Inovio's pipeline is certainly intriguing, but I'd like to see its cancer immunotherapy data doing the talking from here on out.
The article This Has Been the Primary Catalyst Pushing Inovio Pharmaceuticals, Inc. Up 46% in 2016 originally appeared on Fool.com.
Sean Williamshas no material interest in any companies mentioned in this article. You can follow him on CAPS under the screen nameTMFUltraLong, and check him out on Twitter, where he goes by the handle@TMFUltraLong.The Motley Fool has no position in any of the stocks mentioned. Try any of our Foolish newsletter servicesfree for 30 days. We Fools may not all hold the same opinions, but we all believe thatconsidering a diverse range of insightsmakes us better investors. The Motley Fool has adisclosure policy.
Copyright 1995 - 2016 The Motley Fool, LLC. All rights reserved. The Motley Fool has a disclosure policy.