This Dirt Cheap Stock Could be Investors' Best Way to Bet on Virtual Reality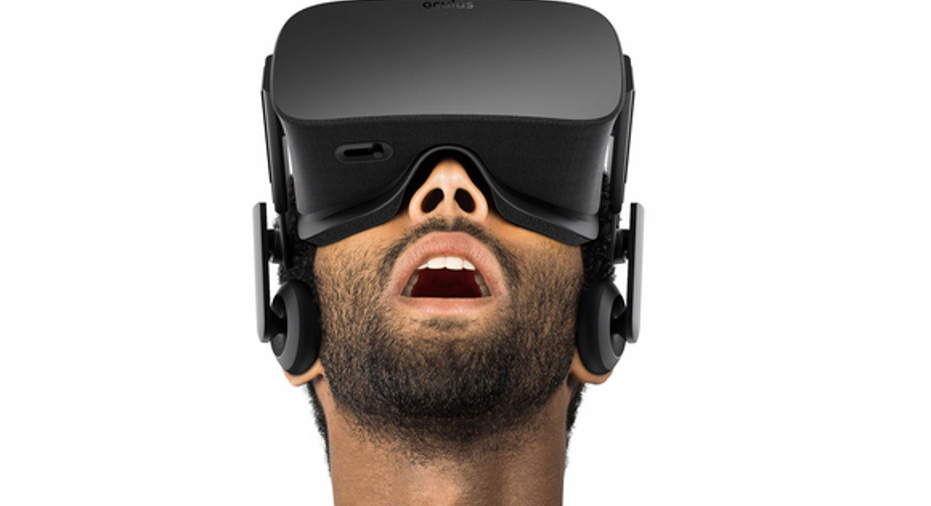 Facebook's Oculus Rift VR headset. Image source: Facebook.
Demand for virtual reality is expected to surge in the years ahead.Research firm IDC expects that more than 110 million VR headsets will be sold in 2020, up from 9.6 million headsets in 2016.
Investors looking to add exposure to the trend have a number of stocks to choose from, including both NVIDIA and Facebook . But while those companies may offer attractive upside, their shares certainly aren't cheap, trading for about 40- and 69-times trailing earnings, respectively.
Those investors looking for more of a bargain might consider AMD (NASDAQ: AMD). The computing giant seems likely to play a large role in the market for VR experiences, as its graphics cards could power many VR-capable PCs in the years ahead.
An inexpensive stock
Admittedly, AMD isn't profitable. Last quarter, it lost $109 million. AMD's management believes the firm will become profitable in the second half of the year on an adjusted basis, but will remain unprofitable under generally accepted accounting principles for some time. That means AMD has no trailing -- or even forward -- price-to-earnings ratio. Still, it compares favorably to Facebook and NVIDIA based on many other metrics.
AMD's trailing price-to-sales ratio, for example, hovers around 1, compared to 5-times for NVIDIA and more than 16-times for Facebook. Its enterprise value to trailing revenue is likewise considerably lower: about 1.5-times for AMD, 4-times for NVIDIA, and 15-times for Facebook. That's not to say Facebook and NVIDIA are unreasonably expensive: both businesses are booming. NVIDIA's revenue rose 13% on an annual basis last quarter; Facebook's surged 52%. But at current levels, investors are certainly paying for that growth.
AMD's business, in contrast, is less attractive. In addition to losing money, sales were actually down over 19% last quarter.
But if demand were to rebound, shares could catapult higher. Last year, the company set its long-term earnings per share target at around $0.50. If the market were to value AMD as highly as NVIDIA, shares could have 300% upside. Even with a modest 15-times multiple, AMD could still rally 50% from current levels.
VR for the masses
But where is the rebound in AMD's business going to come from? VR offers an interesting avenue for AMD's growth.
There are several ways consumers can experience VR today, including low-tech budget options such as Google Cardboard. But more immersive, compelling experiences require the use of high-end VR headsets, most notably Facebook's Oculus Rift. The social network's gaming device isn't a stand-alone gadget; rather, it must be used in conjunction with a powerful PC equipped with an expensive graphics card.
AMD's share of the graphics card market has fallen precipitously in recent years, yet it maintains its long-standing duopoly with NVIDIA. If you want to use the Oculus Rift, you'll need a PC equipped with a graphics card from one of the two companies. For VR,NVIDIA's lineup was widely seen as more attractive, as its 2015 flagship graphics cards outperformed AMD's similarly priced models. AMD's offerings were more competitive at the low- and mid-segments of the market, but didn't offer enough power for compelling VR experiences.
But later this month AMD will refresh its lineup, launching a new graphics card that could become the preferred solution for affordable, VR-capable machines.
AMD's RX 480 retails for just $199. It's not as powerful as NVIDIA's competing GTX 1070, but it costs about half as much. And it's still good enough to drive the Oculus Rift. Today, a PC capable of handling the Oculus Rift retails for around $1,000. The RX 480 should drive that figure down to around $700-$800. And many gamers who already have fully functional PCs could purchase it as an inexpensive upgrade, making their PCs VR-capable in the process.
There are of course other problems to contend with. The Oculus Rift by itself still retails for around $600, and content remains relatively scarce. But with the RX 480X, AMD is doing its part to help bring VR to the masses.
NVIDIA could also introduce a less expensive card in an attempt to counter AMD's offering; but for the time being, the RX 480X is compelling. Look for AMD's share of the graphics card market to rise in the quarters ahead. If VR enters the mainstream, AMD's business should benefit.
The article This Dirt Cheap Stock Could be Investors' Best Way to Bet on Virtual Reality originally appeared on Fool.com.
Suzanne Frey, an executive at Alphabet, is a member of The Motley Fool's board of directors. Sam Mattera has no position in any stocks mentioned. The Motley Fool owns shares of and recommends Alphabet (A shares), Alphabet (C shares), Facebook, and Nvidia. Try any of our Foolish newsletter services free for 30 days. We Fools may not all hold the same opinions, but we all believe that considering a diverse range of insights makes us better investors. The Motley Fool has a disclosure policy.
Copyright 1995 - 2016 The Motley Fool, LLC. All rights reserved. The Motley Fool has a disclosure policy.