This Big Bank Had the Best First-Quarter Earnings Report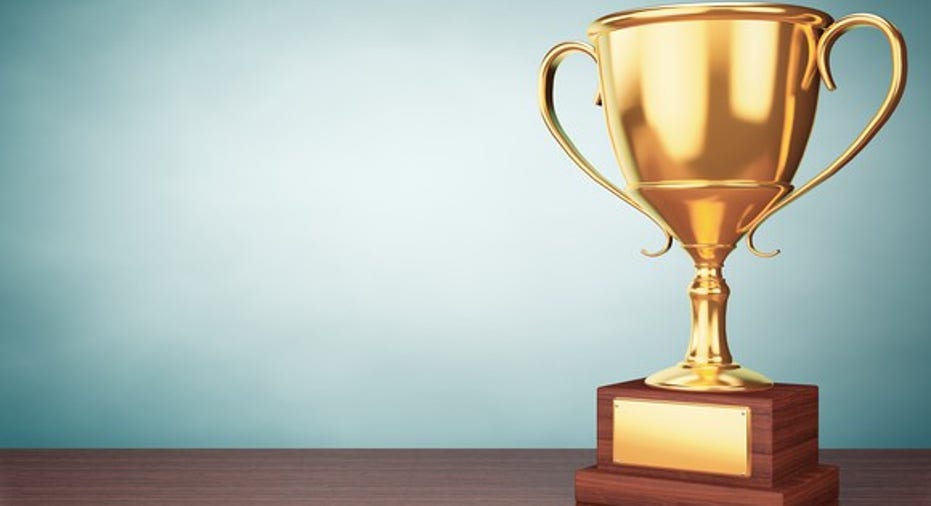 All four of the nation's mega banks have now reported first-quarter earnings, which allows investors to compare their performances through the three months that ended March 31. It was a good quarter for banks, fueled by higher interest rates and income from their trading operations, but none could match Bank of America's (NYSE: BAC) performance.
Net income at the nation's second largest bank by assets surged 40% in the first quarter compared to the year-ago period. And for the third time in four quarters, its return on tangible common equity came in above 10%, an important threshold in the bank industry.
| Bank | Year-Over-Year Change in Net Income (1Q17) | Return on Tangible Common Equity (1Q17) |
| --- | --- | --- |
| Bank of America (NYSE: BAC) | 40% | 10.3% |
| JPMorgan Chase (NYSE: JPM) | 17% | 13% |
| Citigroup (NYSE: C) | 17% | 8.2% |
| Wells Fargo (NYSE: WFC) | 0% | 13.9% |
Data source: Quarterly earnings releases.
The atypically large increase in Bank of America's bottom line was a function of three things:
First, the North Carolina-based bank was able to set aside less money this year in anticipation of future loan losses, reducing its provision expense by $162 million.
Second, the Federal Reserve's decision to increase the fed funds rate by 25 basis points last December equated to just under $600 million worth of additional net interest income, just as Bank of America had previously predicted.
Third, lower uncertainty and volatility in the capital markets translated into a 23% gain in trading revenue at the universal bank.
This isn't to say that Bank of America doesn't still have room to improve. Its return on tangible common equity proves that it does, as both JPMorgan Chase and Wells Fargo report meaningfully higher numbers. Wells Fargo leads the way with a 13.9% return on tangible common equity, followed by JPMorgan Chase at 13%.
Image source: Getty Images.
At the same time, as Bank of America's CFO Paul Donofrio emphasized on the North Carolina-based bank's conference call, it's nevertheless on track to meet two of its three main performance targets on an annualized basis by the end of this year.
"Many of you have been waiting patiently for us to approach our long-term targets," said Donofrio. "I hope you noted that if one allocates annual retirement-eligible incentives and seasonally elevated payroll tax throughout the year, we are basically at our return targets this quarter. We know we have more work to do to be consistently achieving all our targets, but we have more confidence than ever that responsible growth will get us there."
In sum, while JPMorgan Chase and Citigroup also saw their earnings surge in the first quarter, no other big bank made as much forward progress as Bank of America did to start out 2017.
10 stocks we like better than Bank of AmericaWhen investing geniuses David and Tom Gardner have a stock tip, it can pay to listen. After all, the newsletter they have run for over a decade, Motley Fool Stock Advisor, has tripled the market.*
David and Tom just revealed what they believe are the 10 best stocks for investors to buy right now... and Bank of America wasn't one of them! That's right -- they think these 10 stocks are even better buys.
Click here to learn about these picks!
*Stock Advisor returns as of April 3, 2017
John Maxfield owns shares of Bank of America and Wells Fargo. The Motley Fool has no position in any of the stocks mentioned. The Motley Fool has a disclosure policy.