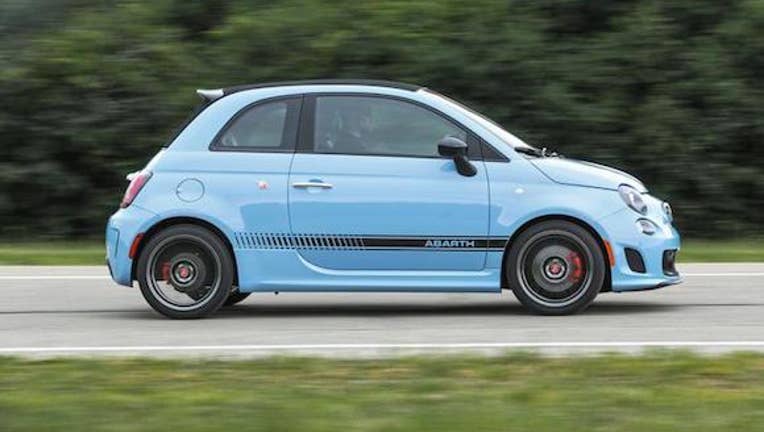 Image source: Fiat.
The automotive industry has been less than receptive to rumors that Apple is building its own electric car.
Last year, General Motors icon Bob Lutz said, "Apple has no experience. There's no reason to assume Apple will do a better job than General Motors, Ford, Volkswagen, Toyota, or Hyundai. I think this is going to be a gigantic money pit."
Tesla Motors'outspoken CEO Elon Musk has offered both positive and negative feelings about Apple's foray into autos, saying that Apple's entry will "expand the industry" but also noting that when Tesla fires an engineer they go to Apple. "If you don't make it at Tesla, you go work at Apple. I'm not kidding," he said in the past.
The disdain some automakers have for Apple became more apparent recently with comments fromFiat ChryslerCEO Sergio Marchionne. At the recent Geneva auto show, Marchionne said this about Apple's car plans:
I highly doubtMarchionne is just looking out for Apple's best interests. It's more likely thatFiat Chrysler simply isn't too keen on the idea of more competition in the already-competitive automotive space.
Sticks and stonesThis, of course, will do little to dissuade Apple. It's likely the automakers are just a bit paranoid of what a full-fledged Apple Car might look like (though I doubt Tesla is very worried considering its lead in the electric vehicle space).
I'll admit I've had my doubts about Apple being able to pull off its so-called Project Titan car. I wrote about my skepticismlast year, but even I'm starting to come around.
Despite some news over the past few months that Apple lost some Project Titan executives to other companies, Apple appears to be on course for its 2019 or 2020 car release date.
The latest Apple car news is that the company is leasing a former Pepsi factory that Silicon Valley Business Journal says could be used for electric vehicle research.That factory adds to about three or four other locations that are speculated to be research and development sites for Apple's car.
Of course, Apple's been quiet about its possible car plans, but even its CEO Tim Cook is commenting a bit more about it these days. At its annual shareholder meeting last month, an investor asked Cook about an Apple Car. Cook responded by saying, "Do you remember when you were a kid and Christmas Eve was so exciting? You weren't sure what was going on downstairs? Well, it's going to be Christmas Eve for a while."
That's probably not the answer the investor, or any of us, wanted, but it's still a much more positive picture than the automakers are painting about Apple's plans -- and it's probably much more accurate, too.
The article This Automaker Thinks Apple's Car Project Is an Illness originally appeared on Fool.com.
Chris Neiger has no position in any stocks mentioned. The Motley Fool owns shares of and recommends Apple, Ford, and Tesla Motors. The Motley Fool recommends General Motors. Try any of our Foolish newsletter services free for 30 days. We Fools may not all hold the same opinions, but we all believe that considering a diverse range of insights makes us better investors. The Motley Fool has a disclosure policy.
Copyright 1995 - 2016 The Motley Fool, LLC. All rights reserved. The Motley Fool has a disclosure policy.