This Airline Stock Nearly Doubled in 2016: Now It's Overvalued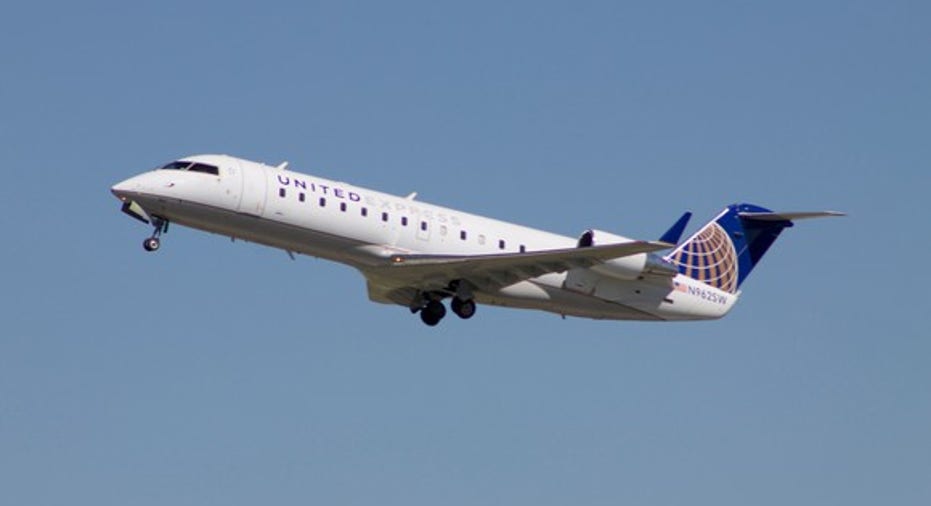 After posting strong gains for several years, many airline stocks ran into trouble last year. That wasn't the case for top regional airline operator SkyWest (NASDAQ: SKYW), though. Shares of SkyWest soared 92% during 2016, according to data from S&P Global Market Intelligence.
SkyWest 2016 Stock Performance, data by YCharts.
SkyWest stock's massive gains were powered by improving profitability. The company has been adding lots of desirable Embraer (NYSE: ERJ) E175 jets to its fleet since 2014, driving strong earnings growth.
However, this tailwind will start to fade in 2017. Meanwhile, SkyWest -- along with the rest of the regional airline industry -- faces a long-term threat from the growing U.S. pilot shortage. As a result, SkyWest stock may give back some of its gains in the coming years.
The Embraer 175 drives an earnings turnaround
SkyWest operates most of its planes under fixed-fee agreements with major airlines like United Continental (NYSE: UAL). These carriers have been eager to shrink their 50-seat regional jet fleets in favor of two-class jets: particularly Embraer's E175. The E175 has lower unit costs than 50-seat jets while being significantly more comfortable for passengers.
Just a few years ago, SkyWest relied on these inefficient 50-seat jets for the vast majority of its revenue. As a result, the company faced severe profit pressure. It posted adjusted net income of less than $7 million in 2014.
However, SkyWest began a major fleet transition that year, adding the Embraer E175 to its fleet. By the end of 2016, it had 86 E175s and it plans to add another 18 this year. These E175s are the most profitable planes in SkyWest's fleet.
Meanwhile, SkyWest has gradually reduced the size of its 50-seat jet fleet. This drove a stunning improvement in profitability over the past two years. Adjusted net income surged to more than $100 million in 2015, and it probably increased by another 35% or more in 2016.
SkyWest still has significant 50-seat jet exposure
While SkyWest has been gradually retiring 50-seat jets from its fleet, it still operates more than 350 of them. This could change quickly. Last month, SkyWest announced plans to retire most or all of the CRJ200 50-seat jets currently flying with its ExpressJet subsidiary by the end of 2017. As a result, it expects to incur a $440 million-$490 million writedown during Q4 2016.
SkyWest subsidiary ExpressJet will retire most of its CRJ200s this year. Image source: The Motley Fool.
Additionally, ExpressJet has about 150 50-seat Embraer jets currently flying for United Continental under contracts that expire by year's end. United will probably opt to extend some of those contracts by a year or two, but it wants to shrink its 50-seat jet fleet drastically by 2019.
Downsizing the 50-seat jet business will reduce SkyWest's long-term risk. In any case, much of the company's 50-seat jet flying isn't profitable. That said, if United chooses to shrink its 50-seat fleet quickly over the next couple of years, SkyWest could face operational headwinds as it tries to right-size its cost structure.
Pilot pay is an even bigger risk
While the rapid retirement of 50-seat airplanes could make SkyWest's results volatile for the next few years, cost pressure from rising pilot pay is an even bigger long-term risk.
The U.S. airline industry faces a severe long-term pilot shortage. Regional airlines are feeling the effects first, because they pay their pilots far less than do the major airlines. This is especially true for new hires.
In the short run, SkyWest can offset attrition by shrinking its fleet. But in the long run, pilot wages will need to rise for SkyWest to attract and retain qualified pilots. This could erode SkyWest's profit margin, as most of its planes are tied up in fixed-fee flying arrangements that essentially cap the company's revenue.
SkyWest stock has flown too high
SkyWest stock currently trades for about 12 times forward earnings. That may not seem very high in light of the company's rapid earnings growth over the past two years.
Indeed, earnings could continue rising at a strong clip in 2017. However, the growing obsolescence of SkyWest's 50-seat jet fleet and the virtually inevitable pilot pay increases on the horizon could make any earnings growth short-lived.
The regional airline industry is in the midst of a long-term restructuring. As the strongest player in the industry, SkyWest is likely to survive. However, investors are currently valuing SkyWest as if the company will emerge from this turmoil completely unscathed. That may be too much to ask.
10 stocks we like better than SkyWest When investing geniuses David and Tom Gardner have a stock tip, it can pay to listen. After all, the newsletter they have run for over a decade, Motley Fool Stock Advisor, has tripled the market.*
David and Tom just revealed what they believe are the 10 best stocks for investors to buy right now... and SkyWest wasn't one of them! That's right -- they think these 10 stocks are even better buys.
Click here to learn about these picks!
*Stock Advisor returns as of January 4, 2017
Adam Levine-Weinberg owns shares of Embraer-Empresa Brasileira. The Motley Fool recommends Embraer-Empresa Brasileira. The Motley Fool has a disclosure policy.