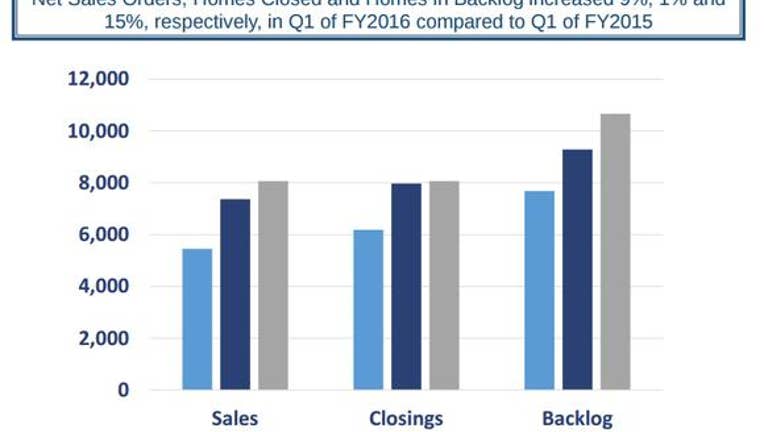 Source: Pixabay
Homebuilders have done well since the Great Recession. TheSPDR S&P Homebuilders (ETF)has rallied more than 150% from its 2009 lows while many individual home builder stocks have performed even better than the index, having doubled or tripled over the same time period.
A big reason for this strong advance is, as one might imagine, improving fundamentals. Home values have steadily increased from 2009 to 2015. Housing starts have more than doubled from their 2009 levels to over 1 million units on a seasonally adjusted annual basis in 2015.With mortgage rates low and unemployment below 5%, those numbers could get even better if the economy is willing. Among the homebuilders that have rallied over the past six years are two exceptionally well-run companies,D.R. HortonandPulteGroupthat also happen to offer attractive dividend yields. Let's take a more in-depth look at each of them.
D.R. Horton
Image source:D.R. Horton investor relations
D.R. Horton has been the #1 builder for 14 consecutive years by closing volume. The companyreported an excellent first quarter, withearnings of $0.42 per share, beating estimates by $0.01 per share, and revenues of $2.36 billion, up 5.4% year-over-year.
Net sales orders rose 9% to 8,064 homes and their dollar value rose even more, by 12% to $2.4 billion. In terms of guidance, management remains focused on increasing revenues and pre-tax profits at a double-digit annual pace while generating positive cash flows.
One reason to like D.R. Horton is the company's growing backlog, which rose 15% year-over-year in the first quarter to
10,665 homes. D.R. Horton's substantial backlog (with a total value of $3.2 billion) provide the company demand visibility into the quarters ahead and can smooth out any moderate demand changes.
Another reason to like the company is the potential for D.R. Horton's dividend to rise substantially. Management raised the dividendto $0.08 per share from $0.0625 per share in fourth quarter of 2015 but has considerably more room to raise the dividend further given D.R. Horton'slow payout ratio of 12.9%.
PulteGroup
Like D.R. Horton, PulteGroup also reported strong quarterly earnings, beating top and bottom line expectations for its most recent quarter. For its fourth quarter,the company earned $0.64 per share on revenue of $2.06 billion, exceeding estimates by $0.15 per share and $210 million.Closings rose 7% year-over-year to 5,662 homes while home revenues climbed 12% to $2 billion. In addition, PulteGroup's backlog ended the year at 6,731, the highest year-end number since 2007.
Given the company's low payout ratio of 21.3% and given the fact that the company has raised its dividend in the fourth quarter for every year since 2013, PulteGroup will likely continue the tradition and raise the dividend once again in 2016.
Investor takeaway
D.R. Hortonand PulteGroup have a history of dividend increases in recent years and both companies are likely to raise their dividends this year given their low payout ratios.Both companies' earnings should grow in 2016, and both are good long term buy-and-holds no matter what the economy might do in the near-term.
The article These Homebuilders Are Likely To Raise Their Dividends This Year originally appeared on Fool.com.
TMFJay22 has no position in any stocks mentioned. The Motley Fool has no position in any of the stocks mentioned. Try any of our Foolish newsletter services free for 30 days. We Fools may not all hold the same opinions, but we all believe that considering a diverse range of insights makes us better investors. The Motley Fool has a disclosure policy.
Copyright 1995 - 2016 The Motley Fool, LLC. All rights reserved. The Motley Fool has a disclosure policy.