These Companies May Not Survive 2016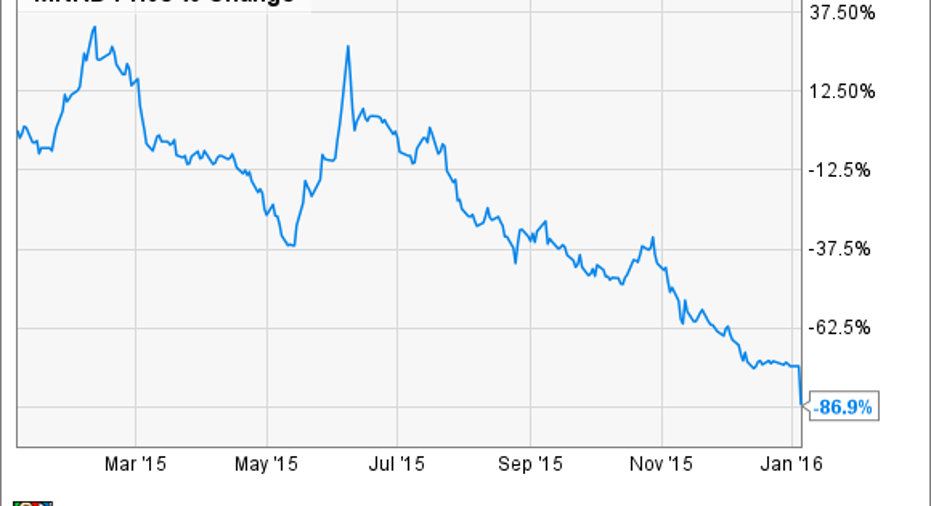 Companies that have been in a downward spiral for a lengthy period can sometimes reverse course in a hurry, generating monstrous gains for brave investors in the process. On the flip side, most stocks that have shed a significant amount of their value have done so for good reason, meaning that investors should keep their distance at all costs.
Our contributors, for example, think that Sears Holdings ,Petrobas, and MannKind Corp. are three struggling companies that may not make it through 2016, implying that their stocks shouldn't be in your portfolio right now. Read on to find out why.
Tim Green:Retailer Sears Holdings has been in a death spiral for years. The company hasn't turned a profit since 2010, and while revenue totaled over $25 billion over the past 12 months, spread across the Sears and Kmart brands, it's difficult to imagine that the company will make a comeback. On a free cash flow basis, Sears lost $1.7 billion in the trailing-12-month period.
Source: Flickr via userNicholas Eckhart.
What makes a turnaround even less likely is that Sears has been selling off its best assets. In 2012, Sears spun offSears Hometown and Outlet StoresandSears Canada,and in 2015 the company spun off some of its valuable real estate into a REIT,Seritage Growth Properties. What's left are two failing retail brands, Sears and Kmart, with no real sign that anything is improving. During the latest quarter, comparable-store sales slumped by 8.6% year over year.
While Sears could likely survive through 2016, a turnaround may not be the ultimate goal. With management stripping the company of its valuable assets, its not inconceivable that Sears as we know it today is eventually wound down, with its assets and brands living on through various spin-offs. Turning around any retail operation is a tall order, and Sears looks like a lost cause at this point. But instead of slowly withering away over the next few years, management may attempt to extract as much value as possible from the dying retailer before putting it out of its misery.
Tyler Crowe:Perhaps saying this company will die completely is a stretch, but from a shareholder's perspective, it's hard to seePetrobasbeing the same company by the end of the year that it is now.
Source: Flickr via userRICHARD COLLINSON.
There are just so many things that set the stage for a major overhaul of this company, starting with its monumental debt profile. Between now and the end of 2017, the company has to find a market where it can refinance more than $11 billion in debt. What makes this so concerning is that back in October the company couldn't find enough buyers to do a $790 million debt sale and any new debt will be junk rated with very high interest rates.
Then there is the issue of the company's ongoing kickback scandal that has uprooted almost the entire executive team and the board of the company, as well as finding its way to high-profile government positions, including Brazil's president (who was previously chairman of the board at Petrobras).
At less than $40 per barrel, there isn't a lot of incentive to start new projects in Brazil's massive offshore reservoirs, and prices that low will make it extremely hard to meet its debt and interest obligations. As a hybrid state-owned, publicly traded company, chances are it will not be left to die. The Brazilian government simply has too much tied up in the company. However, the company is in a lot of trouble and the oil market probably won't do it many favors this year. That may be all it needs to radially transform this company in a way shareholders will not like.
: MannKind Corp.is small-cap biotech that's treading in some rather deep waters, and its ability to continue as a viable operation over the course of 2016 is now in serious question. Besides the 87%-plus drop in the share price over the past 12-months, according toS&P Capital IQ, MannKind is facing a tough road ahead after Sanofi terminated its marketing agreement for the inhaled insulin product Afrezza earlier this week.
MannKind's biggest problem is that it simply can't afford to take on Afrezza's commercialization by itself at this stage. After all, the company is already struggling to repay its debt and to raise capital in order to keep its doors open atcurrentcash burn levels.
Keeping with this theme, management noted on their recent conference call discussing Sanofi's decision to return all rights to Afrezza that the company should exit 2015 with around $60 million in cash. Although the biotech reportedly has another $30 million available under its loan agreement with the Mann Group,MannKind's cash runway still appears to extend to only around the third-quarter of 2016.
So, it's not surprising that MannKind is now looking for another partner to take on Afrezza. However, investors shouldn't hold their breath that a white knight is waiting in the wings to save the struggling biotech. After all, Sanofi is the top dog when it comes to diabetes products, meaning that there's little reason to believe another pharma could somehow turn around Afrezza's disappointing commercial trajectory, or even be willing to attempt to do so. MannKind will therefore need to pull a rabbit out of its hat to make it through 2016.
The article These Companies May Not Survive 2016 originally appeared on Fool.com.
George Budwell has no position in any stocks mentioned. Timothy Green has no position in any stocks mentioned. Tyler Crowe has no position in any stocks mentioned. The Motley Fool has no position in any of the stocks mentioned. Try any of our Foolish newsletter services free for 30 days. We Fools may not all hold the same opinions, but we all believe that considering a diverse range of insights makes us better investors. The Motley Fool has a disclosure policy.
Copyright 1995 - 2016 The Motley Fool, LLC. All rights reserved. The Motley Fool has a disclosure policy.