These 6 Stocks Are Up More Than 500% Over the Past 10 Years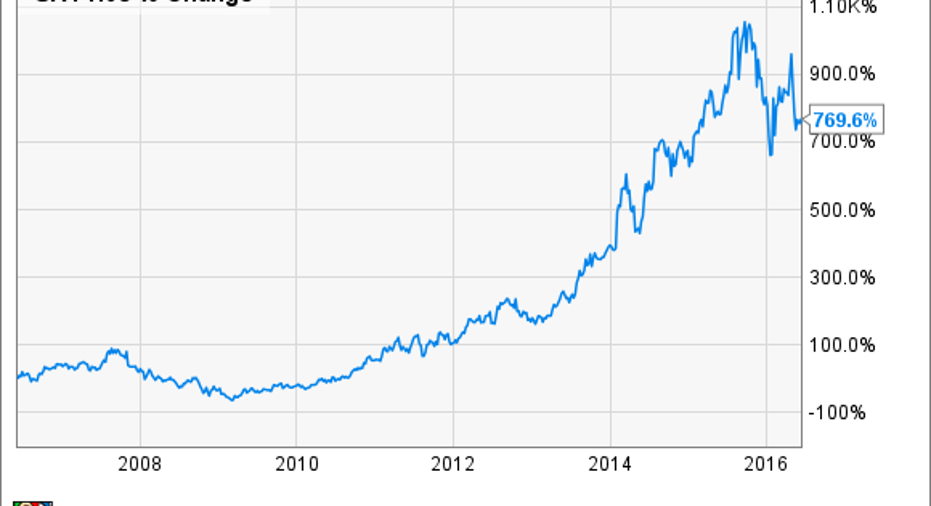 Image source: Netflix.
Since June 2006, the S&P 500 has risen just over 67%. If you bought $100 worth of the SPDR S&P 500 ETF10 years ago, you'd have around $167 today.That's not bad, but investors could've done much better. The following stocks have strongly outperformed the market over the last decade -- all have risen more than 500%.
Activision-Blizzard is up 517%
Since 2006, video game giant Activision-Blizzard has emerged as a veritable entertainment powerhouse. Its annual net revenue has risen nearly 220% over the last 10 years. Activision's first-person shooter franchise, Call of Duty, made its debut in 2003, but the series didn't hit its stride until 2009, when Modern Warfare 2 topped NPD's list of the year's best-selling video games (a spot it has held continuously ever since). Activision has expanded its commitment to the franchise with more lengthy development cycles, and Call of Duty now regularly generates more revenue than many Hollywood blockbusters. In 2011, Activision created the Skylanders franchise, pioneering the toys-to-life category. To date, Skylanders has generated more than $3 billion for Activision.
In 2008, Activision merged with Blizzard, whose online RPG, World of Warcraft, was enjoying increasing popularity. In 2010, World of Warcraftreached its peak, with a massive base of subscribers numbering more than 12 million (each paying the company around $15 per month to play). In recent years, World of Warcraft's popularity has waned, but Blizzard has released a steady stream of other hits, including Diablo III, StarCraft II, and Hearthstone. In 2013, Activision bought out the remaining stake of the company held by Blizzard's former owner, Vivendi.
More recently, Activision acquired mobile gaming specialist King Digital, and is now the largest dedicated video game company in the world, with key franchises and titles across all major platforms.
Chipotle is up 620%
Chipotle has come a long way since January 2006, when it was spun off from fast food giant McDonald's. Back then, Chipotle had existed for more than a decade, but it was still relatively young as a company, with fewer than 500 restaurants spread across just 21 states. Today, Chipotle has more than 2,000 restaurants, including more than a dozen international locations.
There's not much to say about Chipotle's evolution as a business. Its menu hasn't changed much since it entered the public markets. And unlike many of its competitors, it doesn't franchise. It has added a new brand in the form of ShopHouse, but to date, that hasn't added much to Chipotle's financials. Rather, Chipotle's growth has been driven by an almost continuous expansion of its core restaurant concept, and a shifting of consumer preferences toward more organic, freshly prepared food. Over the last 10 years, Chipotle's revenue has risen by more than 600%.
Under Armour is up 769%
Under Armour generated $87.7 million the first quarter of 2006. In the first quarter of 2016, it brought in just over $1 billion -- a more than 10-fold quarterly revenue increase over the last 10 years.
A decade ago, Under Armour was a company that largely depended on men's athletic clothing. Sales of men's apparel generated nearly 60% of Under Armour's revenue in its 2006 first quarter. That business has grown significantly since then, but Under Armour has also expanded into new categories. Sales of women's products should account for nearly one-quarter of Under Armour's revenue this year, and footwear could constitute 20%.
A decade ago, rival Nike was generating about 50 times as much revenue as Under Armour. Nike remains a much larger company, but the gap has narrowed considerably. In the first quarter, Nike generated only 8 times as much revenue as Under Armour.
Amazon is up 2,030%
A decade ago, Amazon was a dramatically different company. By 2006, it had expanded into other product categories, but was still primarily an online book store. Media (books, music, and movies) generated almost 70% of Amazon's revenue in the first quarter of 2006. Last quarter, it contributed less than 22%. Amazon's general merchandise and international sales have surged over the last 10 years, rising about 3,300% and 860%, respectively. In 2006, Amazon had yet to launch any hardware (the first-generation Kindle made its debut in 2007). Today, it's a top seller of tablets and media streamers, and its Echo smart speaker has attracted widespread attention.
Amazon Web Services existed back in 2006, but it was little more than a rounding error for Amazon's business, generating less than 3% of Amazon's revenue in the first quarter. Last quarter, it generated more than $2.5 billionof sales, and could be responsible for as much as one-third of Amazon's valuation.
Netflix is up 2,280%
Back in 2006, Netflix had yet to stream a single movie. There was no House of Cards,no Orange is the New Black. The company's revenue and its earnings were generated almost entirely by its base of domestic subscribers, all of whom relied on it to rent DVDs by mail. In its 2006 first quarter, Netflix generated $224 million from its 4.9 million subscribers. Obviously, both figures have surged over the last decade -- in fact, Netflix added more subscribers last quarter (6.74 million) than it had in total during the first quarter of 2006. Since then, Netflix's subscriber base and its revenue have risen by about 1,563% and 775%, respectively.
Virtually all of that growth has come from its streaming service. Netflix began streaming early in 2007, and has steadily expanded its catalogue and its target markets over time. In 2012, it launched its first original series. This year, it will stream more than 31 different original shows. About one-third of Netflix's streaming subscribers are international, and the ways in which they can access Netflix have expanded. Around the world, broadband penetration has surged, and the emergence of smartphones and streaming set-top boxes have given Netflix new ways to reach customers.
Priceline is up 4,090%
It's hard to beat the return offered by Priceline . The provider of discount travel deals has seen the value of its shares surge over the last decade, as its sales have risen astronomically. In the first quarter of 2006, Priceline generated just $205 million. That rose to $1.5 billion last quarter.
Notably, over the last 10 years, most of Priceline's growth has come from relentless international expansion. In 2006, about 28% of its gross booking dollars came from international buyers (the rest domestic). But that balance has shifted significantly. In the fourth quarter last year, Priceline generated almost 10 times as many gross booking dollars from international travelers as it did domestically. Priceline has made a number of notable acquisitions, including KAYAK, OpenTable and Agoda. But at its core, its business remains fundamentally the same -- connecting travelers with hotels, rental cars, and resorts.
The article These 6 Stocks Are Up More Than 500% Over the Past 10 Years originally appeared on Fool.com.
Sam Mattera has no position in any stocks mentioned. The Motley Fool owns shares of and recommends Activision Blizzard, Amazon.com, Chipotle Mexican Grill, Netflix, Nike, Priceline Group, and Under Armour (A Shares). The Motley Fool owns shares of Under Armour (C Shares). Try any of our Foolish newsletter services free for 30 days. We Fools may not all hold the same opinions, but we all believe that considering a diverse range of insights makes us better investors. The Motley Fool has a disclosure policy.
Copyright 1995 - 2016 The Motley Fool, LLC. All rights reserved. The Motley Fool has a disclosure policy.