These 5 Oil Stocks Were Smoking Hot in December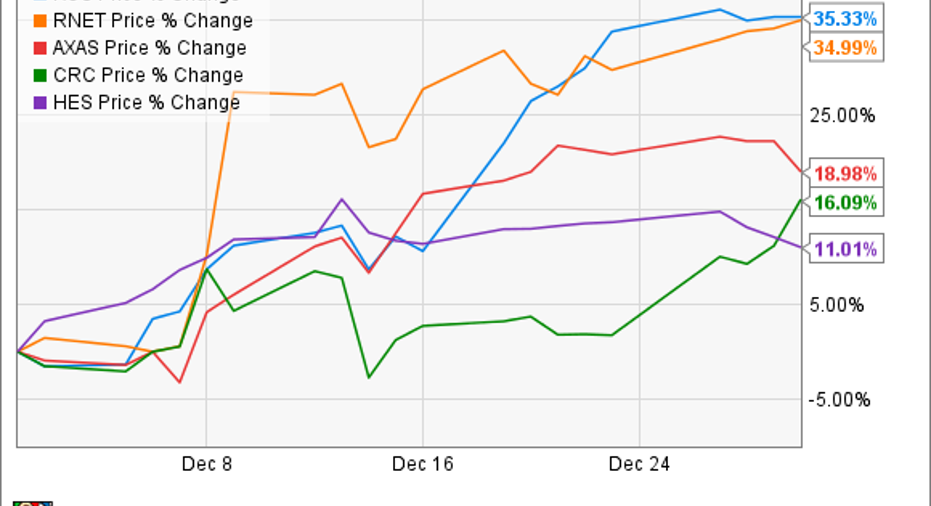 Image source: Getty Images.
What happened
Oil prices ended 2016 on a high note, rising more than 8% for the month of December, capping a year where crude jumped nearly 45%. That rising oil market ignited a rally in several oil stocks last month. However, crude was not always the only catalyst fueling last month's hottest oil stocks, which included Kosmos Energy (NYSE: KOS), RigNet (NASDAQ: RNET), Abraxas Petroleum (NASDAQ: AXAS), California Resources (NYSE: CRC), and Hess (NYSE: HES):
So what
Offshore oil project developer Kosmos Energy actually had two catalysts aside from oil prices fueling its big rally last month. The first was the signing of a strategic joint venture with British oil giant BP (NYSE: BP). Under the terms of the deal, BP will pay Kosmos $916 million to acquire an interest in several deepwater blocks off Mauritania and Senegal. That deal provides Kosmos with cash as well as a deep-pocketed partner to help it develop the Tortue gas field. That deal sparked an analyst upgrade at Citi, which lifted Kosmos from neutral to buy and boosted the price target from $6 to $8.50, citing the BP deal as a "free option" on Kosmos' 2017 exploration program.
Offshore communication service company RigNet also had several company-specific catalysts enhance its oil-driven move last month. The primary drivers were a string of contract wins. The first was a new systems integration and automation contract to provide several services to a new facility in the Middle East. In addition, RigNet announced two contract renewals with existing customers. The last driver was that RigNet amended its credit facility by voluntarily agreeing to lower its borrowing base from $125 million to $75 million in exchange for certain amendments that increased its financial flexibility. These moves suggest that things are slowly getting better for RigNet.
Image source: Hess Corp.
Independent oil and gas producer Hess also had several news-driven catalysts last month. Topping the list was an analyst upgrade from JP Morgan, which moved it from neutral to overweight and raised the price target from $58 to $65. Driving that upgrade was the analyst's belief that Hess can grow faster than current expectations due to its ability to quickly ramp up activity in the Bakken. Another catalyst driving Hess' rally were optimistic comments by CEO John Hess, who now sees oil prices rising to $60-$80 over the next year due to OPEC's production cuts, which will incentivize others to invest in the sector. That said, not all of Hess' news last month was positive. Rating agency Fitch downgraded the company's debt to one notch above junk, citing its negative free cash flow and shrinking size due to asset sales.
Finally, last month's upward moves by both Abraxas Petroleum and California Recourses were purely driven by rising oil prices. With crude ending the year above $50 per barrel, it should give both companies more financial breathing room in the year ahead. California Resources, for example, believes it has reached an inflection point where it can live comfortably within cash flow at current oil prices for the next several years. Meanwhile, Abraxas Petroleum is now in the position where it can start drilling again, with plans to commence its Delaware Basin drilling program as soon as possible in 2017. Those outlooks show just how far both companies have come in the past year, given that each started 2016 in danger of sliding into bankruptcy.
Now what
While rising oil prices helped drive these stocks higher last month, growing optimism was another major catalyst fueling last month's upward moves. Both Kosmos and RigNet announced deals that showed a renewed confidence by customers and partners to invest in the sector. Meanwhile, stabilizing oil prices should do the same for Hess, Abraxas, and California Resources, allowing all three to start growing production once again.
10 stocks we like better than Kosmos Energy When investing geniuses David and Tom Gardner have a stock tip, it can pay to listen. After all, the newsletter they have run for over a decade, Motley Fool Stock Advisor, has tripled the market.*
David and Tom just revealed what they believe are the 10 best stocks for investors to buy right now... and Kosmos Energy wasn't one of them! That's right -- they think these 10 stocks are even better buys.
Click here to learn about these picks!
*Stock Advisor returns as of January 4, 2017
Matt DiLallo owns shares of RigNet. The Motley Fool recommends RigNet. The Motley Fool has a disclosure policy.