These 5 Oil Companies Fell 10% or More in April: Time to Buy?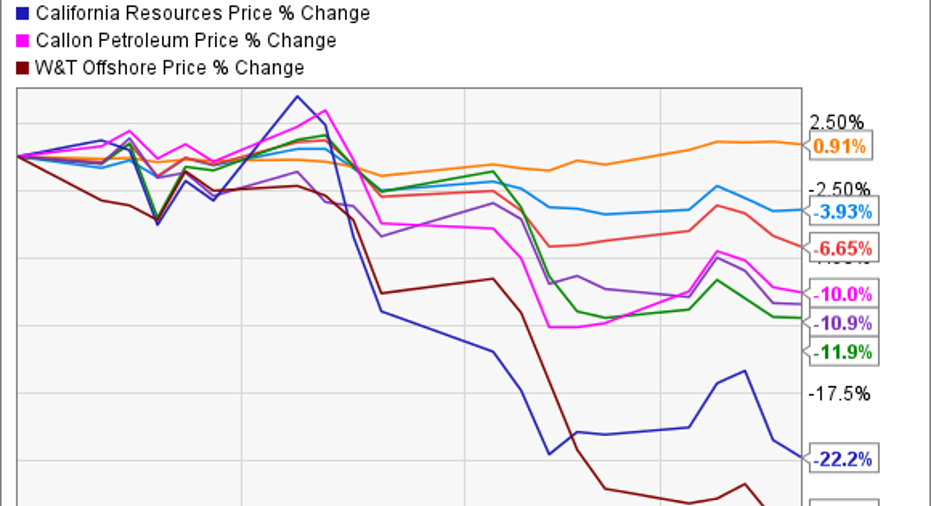 What happened
In April, five smaller oil and gas exploration and production companies fell 10% or more:Laredo Petroleum(NYSE: LPI),WPX Energy(NYSE: WPX),California Resources Corporation(NYSE: CRC),Callon Petroleum (NYSE: CPE), andW&T Offshore(NYSE: WTI).
While it's certainly not unusual for smaller companies to suffer sharp monthly drops -- particularly energy companies in the current weak environment -- it's a good idea to look at the companies in question to see if the causes for the drops represent a change in the investment thesis.
Laredo, Callon, and WPX are all onshore Permian Basin oil and gas drillers, as opposed to California-based California Resources and Gulf of Mexico-based W&T Offshore. Image source: Getty Images.
So what
The performances of these five companies in April were much worse than the S&P 500 (yellow line in the chart below), the oil and gas industry at large (red line), and larger drillers likeConocoPhillips:
W&T Offshore, down 26.4% for the month, had by far the worst performance, on no news other than the retirement of one of the company's vice presidents. W&T, whose operations are focused in the Gulf of Mexico, has far underperformed the vast majority of its industry peers since 2014. So although this particular drop seems unwarranted, there's no clear indication that a significant rise in price is imminent.
California Resources Corporation was spun off fromOccidental Petroleumin 2014, and operates exclusively in the state of California -- not known as a hub of petroleum activity.The company's narrow geographic focus unfortunately limits its ability to follow in the footsteps of other oil and gas exploration and production companies like Conoco and actively manage its assets, selling those that generate lower returns and buying into higher-margin opportunities in Texas and New Mexico. The stock's 22.2% loss in April was on no major news, but it has lost 83.5% of its value since its spinoff, and in the current environment, a turnaround seems unlikely.
Callon, WPX, and Laredo's drops of 10%, 10.9%, and 11.9%, respectively, largely mirrored the overall industry's April declines, but were slightly steeper, probably due to their small size. The largest market cap of the bunch is WPX's, at about $4.8 billion. Compare that to Conoco at about $58.9 billion. All three are onshore producers with traditional shale drilling operations in the massive Permian Basin of Texas and New Mexico. WPX also has operations in the Bakken Shale in North Dakota and the San Juan Basin in Colorado/New Mexico. Like the other two companies, there was no particular news item responsible for their stocks' drops.
Now what
Currently, industry conditions favor larger companies that can use their resources to make portfolio and operational adjustments to maximize profitability and manage debt. All five of these companies have significant debt loads and little cash on hand. And none of them pay dividends to reward shareholders through the current tough times.
If you're looking to invest in an oil and gas exploration and production company, there are plenty of companies that are better-positioned to weather the current industry downturn, and that pay a dividend to reward you in the meantime. You might want to considerApache, which may be one of the best bargains in the oil patch today.
10 stocks we like better than WPX EnergyWhen investing geniuses David and Tom Gardner have a stock tip, it can pay to listen. After all, the newsletter they have run for over a decade, Motley Fool Stock Advisor, has tripled the market.*
David and Tom just revealed what they believe are the 10 best stocks for investors to buy right now... and WPX Energy wasn't one of them! That's right -- they think these 10 stocks are even better buys.
Click here to learn about these picks!
*Stock Advisor returns as of May 1, 2017
John Bromels has no position in any stocks mentioned. The Motley Fool has no position in any of the stocks mentioned. The Motley Fool has a disclosure policy.