These 5 Offshore Drilling Stocks Sank 11% or More Last Month: Here's Why (and What You Should Do)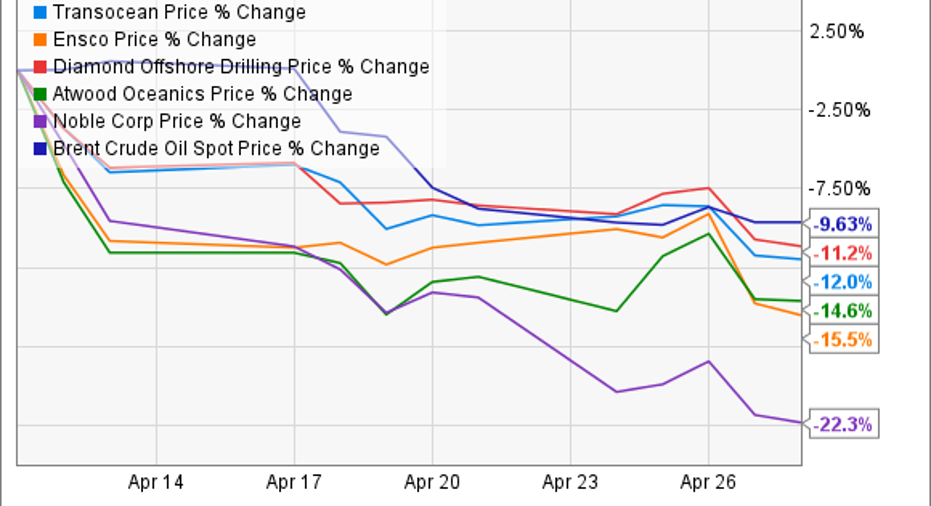 What happened
April was another bad month for offshore drilling stocks. Transocean Ltd. (NYSE: RIG), ENSCO Plc. (NYSE: ESV), Diamond Offshore Drilling Inc. (NYSE: DO), Atwood Oceanic Inc.(NYSE: ATW), and Noble Corporation (NYSE: NE) all held up relatively well through the first third of the month, but then start to fall around April 10.
Those declines never really reversed track, with Transocean, ENSCO, and Diamond Offshore shares each ending the month down nearly 12%, Atwood shares off 15%, and Noble Corp down 21%.
Image source: Getty Images.
So what
It was also another month of oil news moving this part of the market, rather than much of anything material relating to offshore drillers. As the chart below shows, the big declines started near mid-April, and were largely based on rumblings that crude production gains in North America were offsetting the declines in oil reserves:
If that sounds familiar, it's because it is. Offshore drilling stocks saw big declines in March as well, and largely for the same reason -- concerns that a sharp uptick in North American onshore oil production would continue to weigh on oil prices and further extend an offshore downturn that's already the longest and most severe in the industry's history.
Now what
Most offshore drillers reported first-quarter results in early May, with the same sorts of big revenue declines and often losses that have been the norm for nearly two years.
Transocean reported that its revenue fell 20%, and turned in a profit of $0.23 per share -- but only $4 millionwhen adjusted for non-recurring gains. Atwood Oceanics said it lost $29 million on $168 million in revenue, a whopping 43% revenue drop year-over-year. Diamond Offshore saw its profits fall 73% to $0.17 per share. ENSCO reported a net loss of $0.09 per share, compared to a Q1 profit of $0.74 per share a year ago.
And for the most part, the next few quarters are expected to be similarly bad across the offshore drilling industry.
But there's a lot of evidence that the market is starting to improve. For the first time in years, executives are saying that they are starting to get calls from oil and gas producers that are ready to start talks about contracting drilling vessels, and bid activity is ramping up. A number of new drilling contracts were entered into in the first quarter or early in the second quarter.
This has acted as a rising tide, lifting nearly all of these offshore drilling stocks since the start of May:
But if you're considering investing in any of these offshore drillers, it's important to note that the majority of the new contract awards were either extensions of current agreements, or for deals that will not begin until 2018 at the earliest. In other words, there won't be any financial benefit to those contracts for some time to come, and for the most part, they aren't putting idle vessels back to work.
Add it all up, and the offshore drilling industry is still in for a tough year, and before things get better, the global fleet will need to get smaller.
So before you buy, be sure you're prepared to ride out more volatile days and months for your investments ahead, and with the knowledge that conditions still could get worse before they get better, with minimal new work for idle vessels expected to come up for bidding for the rest of the year.
10 stocks we like better than TransoceanWhen investing geniuses David and Tom Gardner have a stock tip, it can pay to listen. After all, the newsletter they have run for over a decade, Motley Fool Stock Advisor, has tripled the market.*
David and Tom just revealed what they believe are the 10 best stocks for investors to buy right now... and Transocean wasn't one of them! That's right -- they think these 10 stocks are even better buys.
Click here to learn about these picks!
*Stock Advisor returns as of May 1, 2017
Jason Hall owns shares of Atwood Oceanics, Diamond Offshore Drilling, Ensco, Noble, and Transocean. The Motley Fool owns shares of and recommends Atwood Oceanics. The Motley Fool has a disclosure policy.