These 3 Chip Companies Are Sitting on a Multibillion-Dollar Opportunity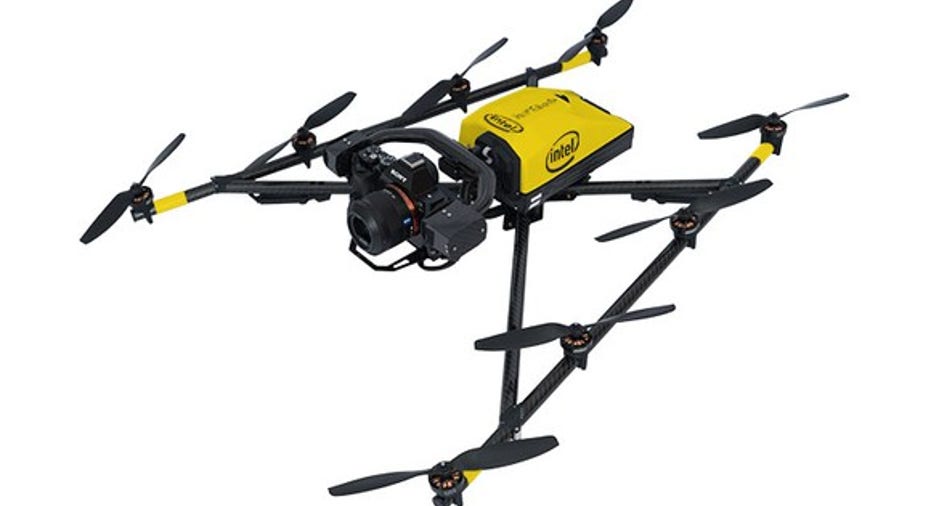 Connected cars, location-based services, and wearable devices will create a multibillion-dollar revenue opportunity for certain semiconductor specialists. Research and Markets forecasts that the global navigation satellite systems (GNSS) chip market will grow at 7.9% a year until 2022, when it will be worth $5.22 billion.
One way to tap this growth is through chipmakers Broadcom (NASDAQ: AVGO), Qualcomm (NASDAQ: QCOM), and Intel (NASDAQ: INTC). Here's how each company is trying to grab a slice of the GNSS pie.
Qualcomm is at the top of the heap
ABI Research puts Qualcomm at the top of the heap in the Global Navigation Satellite System (GNSS) chip market, a space the company has been leading for the past four years. And it is unlikely that it will loosen its grip any time soon as it is now targeting the world's biggest smartphone market with a key partnership.
The smartphone-chip maker teamed up with Baidu (NASDAQ: BIDU) last year to integrate its IZat hardware location platform into its Snapdragon chipset range. Qualcomm is using the Chinese internet giant's location and positioning techniques to provide low-power location-based services on applications such as Baidu Maps.
Both companies are already engaged with multiple smartphone makers in China to roll out handsets based on their technology, which is great news for Qualcomm as Baidu's mapping service is widely used. In fact, it has over 300 million active users in China, and it controls around 70% of the country's search engine market.
TechNavio forecasts that location-based services in China will gain huge popularity over the next three years -- growing at 50%-plus annual rates -- with Baidu being one of the key vendors. What's more, the company is now looking to take its mapping service international by entering 106 new markets, so Qualcomm could piggyback the Chinese company to sell more of its location chips both in China and abroad.
The automotive market presents another big opportunity for the American chipmaker to push its GNSS chips. Earlier this year, Qualcomm launched a new iteration of its connected-car platform based on its GNSS platform that enables advanced location-based systems for vehicle tracking and location fixing.
ReportLinker forecasts that the automotive telematics market will grow at over 29% a year for the next decade, so Qualcomm's early move into this space should reap dividends.
Wearable devices could drive Broadcom
Broadcom is the second-largest purveyor of GNSS chips after Qualcomm, though it has taken a different path to tap the opportunity. It launched a GNSS chip designed especially for mass-market wearable devices three years ago. It has made impressive progress and it is now into the fourth generation of this chipset.
Broadcom's decision to move into wearables early has been a smart one as device sales increased to an estimated 102 million units last year from 79 million units in 2015, according to IDC. The industry will not run out of steam any time soon: IDC expects wearable-device shipments to more than double to 213 million units in 2020.
This rapid growth rate should translate into higher semiconductor sales. Gartner forecasts that the wearables semiconductor market will more than triple to $4.61 billion in 2020 from 2015 levels, painting a bright picture for Broadcom's GNSS business.
More importantly, Broadcom is working on next-generation GNSS technology to maintain its lead in this market. The company is partnering with the European GNSS Agency to bring a new frequency -- known as E5/L5 -- to the market. This frequency will support the existing E1/L1 capability of GPS receivers, leading to faster and more accurate location tracking that can be deployed in complex urban environments for automotive and smartphone applications.
Intel "drones in" on the GNSS market
Intel might not be as big as Broadcom or Qualcomm in GNSS chips, but it has a promising approach to take advantage of this opportunity. The company had bought its way into this market four years ago by acquiring the GNSS business of ST-Ericsson, and it looks like now it is using the technology in drones.
Intel acquired German drone developer Ascending Technologies in January last year, following it up with the launch of its first commercial drone in October 2016. This is a smart move by the company as the commercial drone market in North America is expected to grow at almost 20% annually over the next six years.
Image source: Intel.
The good news is that Intel has already entered into a distribution deal to sell its Falcon 8+ drone system in North America. Therefore, the company could witness stronger shipments of its GNSS chips as the drone system is powered by a high-precision location-tracking system.
Intel doesn't have much scope to sell its GNSS chipsin smartphone space, where Qualcomm andMediaTekare the dominant forces, so it is doing the right thing by focusing on the drone market. In fact, the chipmaker has been aggressively buying its way into this space, with its acquisition of Movidius in October last year being one such move.
Movidius is known for providing low-power computer-vision processing to leading drone manufacturers such as DJI. Additionally, Intel also acquired navigation and mapping-related algorithms from Movidius, indicating that it might be working on a comprehensive system to power drones.
Intel, therefore, could end up becoming an enabler of drone technology going forward, apart from manufacturing drones in-house. This could improve the company's standing in the GNSS chip market as location plays a mission-critical role in powering drones.
10 stocks we like better than QualcommWhen investing geniuses David and Tom Gardner have a stock tip, it can pay to listen. After all, the newsletter they have run for over a decade, Motley Fool Stock Advisor, has tripled the market.*
David and Tom just revealed what they believe are the 10 best stocks for investors to buy right now and Qualcomm wasn't one of them! That's right -- they think these 10 stocks are even better buys.
Click here to learn about these picks!
*Stock Advisor returns as of February 6, 2017
Harsh Chauhan has no position in any stocks mentioned. The Motley Fool owns shares of and recommends Baidu and Qualcomm. The Motley Fool recommends Broadcom and Intel. The Motley Fool has a disclosure policy.