These 3 Biotech Stocks Are Ridiculously Cheap Now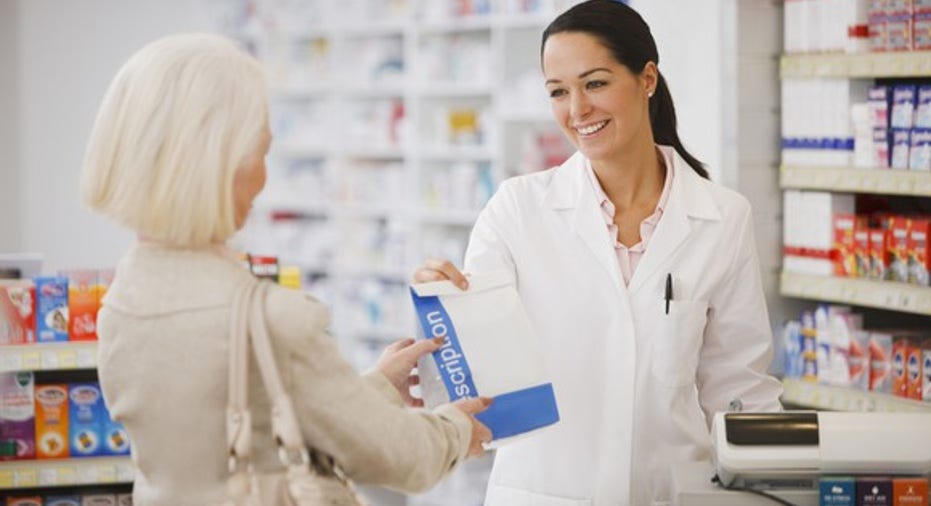 Image source: Getty Images.
The Brexit vote may have sent global markets into a tailspin, but that's no reason to panic. After all, there are still plenty of solid companies to buy at the moment -- especially in biotech.
Right now, for instance, I'm personally looking at picking up shares of Acadia Pharmaceuticals , Gilead Sciences , and Trevena . Here's why.
The Street has a mixed view on Acadia
Perhaps the main reason Acadia's stock has been so volatile over the years is the mixed view among analysts regarding the biotech's newly approved Parkinson's disease drug, Nuplazid. Despite management setting the drug's wholesale price at a noteworthy $23,400 per year, the Street's 2017 sales projections still range from a low of around $20 million to a high in excess of $319 million.
At the center of the debate is the issue of how readily doctors will prescribe the drug because of some outstanding questions about its safety. The FDA, after all, did note in its internal review of the drug's regulatory filing that there was a significantincrease in the number of deaths among the patients taking Nuplazid, compared to the control arm of the drug's pivotal-stage study.
Having said that, Nuplazid is indicated for a devastating central nervous system disorder, and there are no other FDA-approved drugs for its particular indication (Parkinson's disease psychosis). As such, I'm cautiously optimistic that this drug can eventually achieve blockbuster, if not megablockbuster, status, lending credence to the Street's consensus outlook that Acadia's stock could appreciate by over 50% within the next year.
Gilead is just too cheap
Although I haven't been the biggest optimist regarding the sustainability of Gilead's enormous hep C revenues, the biotech's continued downward spiral is making it ridiculously cheap. Specifically, Gilead's shares are now closing in on a forward price to earnings ratio of around 6 after its latest breakdown on the Brexit news -- implying that the market isn't giving the biotech any premium whatsoever for its broad clinical pipeline or healthy free cash flows.
Putting the market's dire outlook aside, I think the biggest reason to buy this stock right now is the growing possibility that Gilead may use this latest biotech plunge to start acquiring either a handful of tuck-in acquisitions, or perhaps go after bigger game, in order to shore up its top line.It's no secret that Gilead has been poking around some mid-sized oncology companies lately, and the biotech does have over $8 billion in cash at the moment.
All told, my view is that Gilead's highly compressed PE ratio -- relative to its peers -- and the company's strong position from which to pursue deals make this stock a great buy for patient investors right now.
Trevena's stock has been getting pummeled, but that may soon change
Trevena's stock hasn't had a good 2016, to put it mildly:
However, this small-cap biotech is possibly setting up for a major rebound with two late-stage trial data readouts scheduled for early 2017. Specifically, Trevena will release top-line data from a pair of pivotal-stage trials for its acute pain medicineoliceridine in the first quarter of next year.
While I'm usually extremely cautious with clinical-stage biotechs like Trevena, this stock looks, to me, like it has the makings of a hidden gem. In a nutshell,oliceridine is targeting a market that was valued at over $11 billion in 2014, and there's a clear need for alternative meds to morphine in the acute pain setting.
What makes this stock a compelling buy, in my view, isoliceridine's impressive mid-stage studies, where it proved to be a more effective and safer pain medicine than morphine. That doesn't guarantee it will generate similar results in its larger, pivotal-stage trials, but there's a growing body of evidence thatoliceridine may indeed be an effective treatment for acute pain. If Trevena does report positive top-line results next results, I wouldn't be surprised to see this stock double from current levels, and apparently the Street shares my sentiment, with a consensus 12-month price of $13.67.
Are any of these three stocks worth buying right now?
Gilead is probably the "safest" of these three picks because of its monstrous free cash flows and diverse product and clinical portfolios. So, I'd have to say yes, Gilead is worth picking up on the Brexit sell-off.
As for Acadia and Trevena, I think these two picks are best suited for investors with a fairly high risk tolerance, given that neither company is producing much in the way of revenue at the moment, and the investing thesis for each company could fold like a house of cards. That's not to say I don't think they're compelling buys at the moment, but investors shouldn't shrug off their substantial risk profiles, regardless of the upside potential.
The article These 3 Biotech Stocks Are Ridiculously Cheap Now originally appeared on Fool.com.
George Budwell has no position in any stocks mentioned. The Motley Fool owns shares of and recommends Gilead Sciences. Try any of our Foolish newsletter services free for 30 days. We Fools may not all hold the same opinions, but we all believe that considering a diverse range of insights makes us better investors. The Motley Fool has a disclosure policy.
Copyright 1995 - 2016 The Motley Fool, LLC. All rights reserved. The Motley Fool has a disclosure policy.