These 2 Stocks Are Up Over 500% Over the Last 5 Years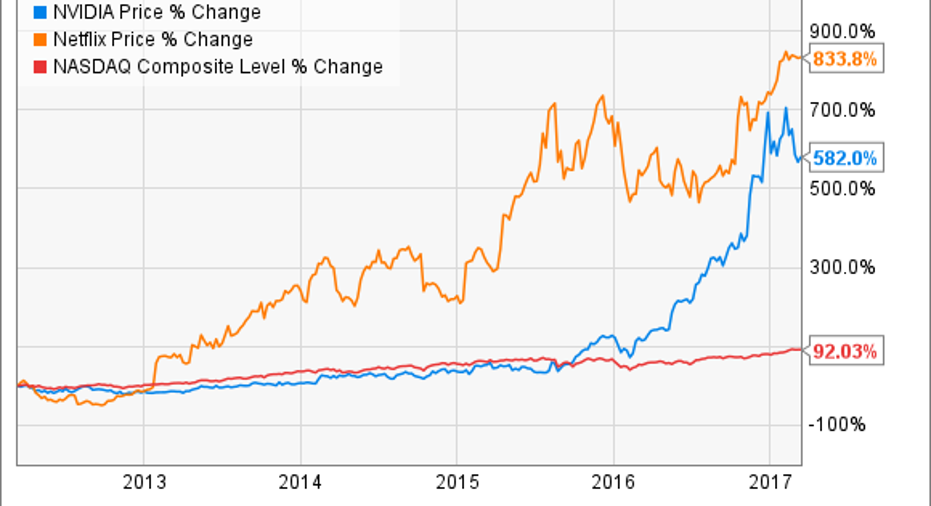 With the average long-run annual return from the stock market hovering near 10% before inflation, a company whose shares soar over 500% is clearly doing something right. It shouldn't necessarily come as a surprise thatNetflix (NASDAQ: NFLX) and NVIDIA (NASDAQ: NVDA) stocks have done exactly that.
Having eviscerated the market in their time as publicly traded companies -- Netflix is up 11,700% since its IPO, and NVIDIA has soared 6,100% -- their more recent performances are really just business as usual for these truly special growth companies.
But what specifically drove the sharp upward moves in both stocks? More important still, can these companies continue their upward trajectory in the year to come after having risen so far already?
Netflix
The world's preeminent streaming company, Netflix has helped usher in some of the most important changes to the streaming industry and proven itself a remarkably adaptable and visionary player along the way.
The company has come so far from its origins that it's easy to forget how innovative Netflix's original DVD-by-mail business model was; it certainly played a role in disrupting the big-box video-rental model of companies like the now-defunct Blockbuster. However, Netflix's next movements were perhaps its most impressive, demonstrating how its unique culture allowed it to skate where the metaphorical media puck was headed. Foreseeing the end of DVDs, Netflix moved headlong into streaming media at a time when few other such services existed online. Then, when competitors like Amazon, Hulu, and others had followed suit, Netflix out-innovated its rivals by moving into original content.
Today, Netflix is running full steam ahead in its global land grab for streaming subscribers. The service is available nearly worldwide -- other than in China and a handful of failed states -- and it appears the company will become highly profitable over the long term. Netflix stock certainly isn't cheap; its shares currently trade at 332 times last year's earnings and 72 times this year's expected earnings. However, with a total addressable market of some 6 billion potential customers, the evidence seems to suggest that Netflix can indeed continue to produce stellar returns, even as it grows in size.
Image source: NVIDIA.
NVIDIA
Regardless of whether the graphics-chip maker arrived in its current position out of impeccable foresight or sheer luck -- or some combination of the two -- NVIDIA finds itself today in the driver's seat for some of the most important coming trends in tech, including self-driving cars.
NVIDIA's rise parallels that of Netflix in a few ways. The company's original innovation was the graphics processing unit (GPU), which the company and its CEO and founder Jen-Hsun Huang played a seminal role in developing. The company originally focused its efforts on producing discrete GPUs -- an industry term for a GPU that is not integrated with a computer's microprocessors (CPU) -- for the computer gaming industry. This segment remains by far NVIDIA's largest revenue contributor today.
In coming years, though, the adoption of commercial artificial intelligence software and the advent of self-driving cars should jointly support the company's long-term revenue growth. Researcher IDC believes that continued adoption of artificial intelligence (AI) applications will result in a $47 billion industry for cognitive systems and AI software, to which NVIDIA will be arguably the go-to supplier of GPU chips. AI chips sales totaled just $830 million in NVIDIA's past four quarters. As far as estimates for self-driving cars go, Intel CEO Brian Krzanich recently estimated that autonomous vehicles represent a potential $110 billion total addressable market by 2030.
Like Netflix, NVIDIA stock is undeniably pricey at its current valuations: P/E of 39 and forward P/E of 30.
However, the multidecade nature of its growth markets should easily allow the chipmaker to grow into and beyond its current valuation. For these reasons and many more, NVIDIA, like Netflix, is a growth stock to hold for the long term, even after accounting for its incredible returns in recent years.
10 stocks we like better than NetflixWhen investing geniuses David and Tom Gardner have a stock tip, it can pay to listen. After all, the newsletter they have run for over a decade, Motley Fool Stock Advisor, has tripled the market.*
David and Tom just revealed what they believe are the 10 best stocks for investors to buy right now... and Netflix wasn't one of them! That's right -- they think these 10 stocks are even better buys.
Click here to learn about these picks!
*Stock Advisor returns as of February 6, 2017
Andrew Tonner has no position in any stocks mentioned. The Motley Fool owns shares of and recommends Amazon, Netflix, and Nvidia. The Motley Fool recommends Intel. The Motley Fool has a disclosure policy.