These 2 Casinos Are Making Very Different Bets on Millennials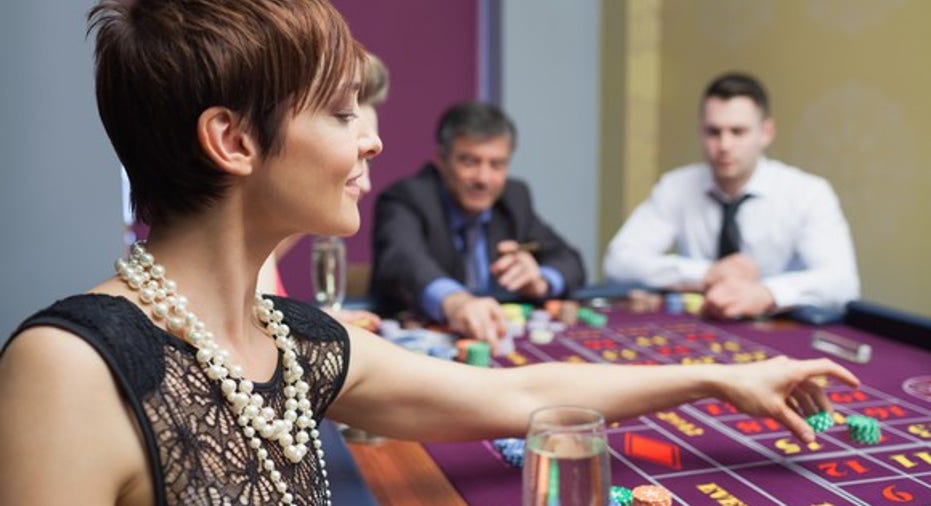 Slot machines account for most casino revenue, but they're bringing in less and less every year. Image source: Getty Images.
Casinos understand that while baby boomers may be their core customer, accounting for half or more of their revenue each year, they're a graying demographic that almost a decade after the financial crisis no longer has as much in retirement savings to make gambling the fun diversion it once was.
A dying breed
Slot machines are the game of choice for these gamblers, making up 75% of the $60 billion in annual U.S. gambling revenue, so casinos would be loath to give them up or even reduce their numbers appreciably. Yet over time, the take from slot machines has steadily fallen.
According to a study conducted by Applied Analysis for the Association of Gaming Equipment Manufacturers, since 2007, the national hold percentage from slot machines -- or the portion of money of money gambled that the casino retains -- has increased 6.2%, but the amount of money players bet has fallen by 18% and the amount casinos won from slot players dropped 13%.
Image source: Association of Gaming and Equipment Manufacturers, slot market assessment study, February 2015.
Casinos also understand they need to do something to appeal to the next generation of gamblers who will come to their resorts. Where gambling used to account for virtually all of a casino's revenues, non-gambling revenues, particularly in Las Vegas, now comprise the greater portion of the total.
Ratings agency Moody's Investors Service says on the Las Vegas Strip, non-gambling revenue represents between 55% and 65% of total revenue, mostly coming from hotel, food, and beverage sales. Entertainment is also seen as a potential draw, whether it's musical shows, aerobatics such as those performed by Cirque du Soleil, or magic acts. More recently, professional sports are being counted on to increase tourism. Las Vegas Sands is trying to get a brand-new stadium built to attract the NFL's Oakland Raiders to the desert.
Gambling on the future
Two casinos think they have an idea who that future gambler will be, though they're completely different from one another.
Caesars Entertainment (NASDAQ: CZR) is the first to capitalize on new technology that's being billed as appealing to millennial gamblers, as it introduces a measure of skill into the equation.
Traditional one-armed bandits hold little appeal to the millennial, because they're a relatively boring exercise of pulling a handle or pressing a button, regardless of the potential payout. While video lottery terminals were once seen as a means of attracting younger gamblers because -- video! -- they're still every bit as much a game of chance with no hope of having the player influence the outcome.
Image source: GameCo.
That's why Caesars has begun adding new video-game machines that are based on skill similar to the types of first-person games millennials grew up playing. Developers GameCo and Gamblit Gaming just started installing new machines at Caesars properties that create an immersive experience and give players a chance to win big payouts for using their skills to essentially play a casino version of Call of Duty, Grand Theft Auto, and Tetris.
Older is better
But Penn National Gaming (NASDAQ: PENN) doesn't see the percentage in going after millennials, at least not yet. On the regional casino operator's last earnings conference call, CEO Tim Wilmott said that "focusing on millennials is not going to produce good economic results" over the next five or 10 years.
There may be something to that. After all, between the popularity of poker and the explosion of online and mobile gambling opportunities,millennials may be among the most savvy gambling generation around. They're an educated gambling demographic, and despite showing up in places like Las Vegas in record numbers, they still choose not to gamble in casinos.
Scientific Games (NASDAQ: SGMS) says that's because millennials are heading to Vegas "for the weekend party; you see that at the day clubs, you see the proliferation of night club activity, large amounts spent more on food and beverage than you have typically in the past."
Image source: Getty Images.
Penn's Wilmott is more interested in the 50 million people that comprise Generation X, the cohort that came after the baby boomers. Over the next decade, he says the casino's focus on them will be especially keen, because "those are the ones that are going to fall into the sweet spot of who likes to be entertained with our offerings."
After the boom
Penn COO Jay Snowden doesn't think the games that will attract Gen-Xers have been invented yet, letalone ones that will appeal to millennials. He's seen the consoles and arcade games that supposedly appeal to the next generation of gamblers but didn't believe they're really disruptive for the industry. The industry needs a gradual shift, not a sea change in direction.
These two casinos see the same problem -- the aging baby boomer generation -- but have identified different solutions for tackling it. Caesars Entertainment is going after millennials with exciting new next-gen video gambling opportunities, while Penn National Gaming says it doesn't make sense to ignore the massive demographic cohort that is only now "moving into the period of when they become more interested in casino entertainment" and has the money to drop at the resorts.
Competing visions for a common problem whose players acknowledge that what's currently available to take casinos into the future is not what is needed.
10 stocks we like better than Penn National Gaming When investing geniuses David and Tom Gardner have a stock tip, it can pay to listen. After all, the newsletter they have run for over a decade, Motley Fool Stock Advisor, has tripled the market.*
David and Tom just revealed what they believe are the 10 best stocks for investors to buy right now... and Penn National Gaming wasn't one of them! That's right -- they think these 10 stocks are even better buys.
Click here to learn about these picks!
*Stock Advisor returns as of November 7, 2016
Rich Duprey has no position in any stocks mentioned. The Motley Fool is short Caesars Entertainment. Try any of our Foolish newsletter services free for 30 days. We Fools may not all hold the same opinions, but we all believe that considering a diverse range of insights makes us better investors. The Motley Fool has a disclosure policy.