These 2 Bank Stocks Missed Earnings: Buy the Dips?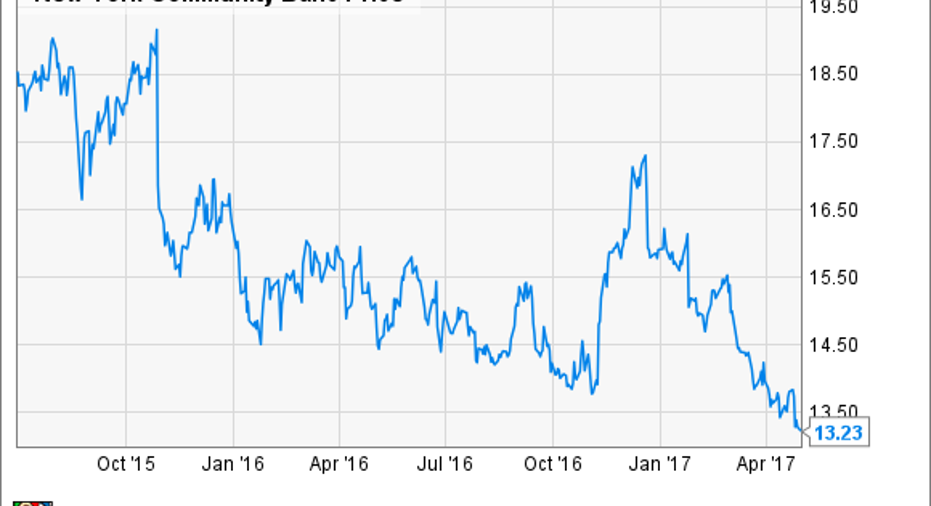 We're now halfway through earnings season, and for the most part, bank earnings have looked pretty strong. Two notable exceptions are investment bank Goldman Sachs (NYSE: GS), which reported disappointing trading revenue compared with the rest of the industry, and regional bank New York Community Bancorp (NYSE: NYCB), which missed earnings estimates for the quarter.
Here's a rundown of the results that led to their recent price declines and whether investors should consider adding these stocks to their portfolios.
Image source: Getty Images.
Don't take this investment bank's earnings miss as a sign of things to come
Goldman Sachs has beaten expectations 90% of the time in its nearly two-decade history as a publicly traded company, so investors were understandably spooked when the bank missed first-quarter estimates by a wide margin.
Revenue of $8.026 billion was far short of the $8.446 billion analysts had been looking for, and Goldman's earnings of $5.15 per share fell $0.16 short of expectations. The major culprit was trading revenue, as Goldman's equities trading revenue fell 6% year over year and bond trading revenue was flat, despite strong performance from peers.
However, the news wasn't all bad. Even though merger and acquisition activity has been weak, Goldman ranked first in announced M&A so far this year, and also had the top market share in equity and common stock offerings. In addition, Goldman's investing and lending revenue reached its highest level in nearly four years, and the company is doing a solid job of managing expenses.
The bottom line is that while the first quarter was certainly disappointing, it's important to not extrapolate these results too much. In other words, don't assume that Goldman has a problem -- just that it had a bad first quarter. With shares down about 6% year to date, now may be a second chance to add the "smartest guys on Wall Street" to your portfolio.
A regional niche lender that's been beaten down for months
New York Community Bancorp reported first-quarter earnings of $0.21 per share, which was $0.02 less than analysts had been expecting. The bank's net interest income of $294.9 million came in nearly $15 million below forecast.
It isn't just the latest results that have caused a downward move in NYCB's stock price. The bank had entered a merger agreement with Astoria Financial, which caused a dividend cut and the share price to drop. The agreement was cancelled as of the end 2016, which again alarmed investors, sending the price down further. Plus, the bank has been on the verge of hitting the $50 billion asset level, which would make New York Community a "systemically important" bank and would probably increase regulatory costs. In all, it's been a rough couple of years for New York Community Bank's shareholders.
However, remember to consider that NYCB pays a 5% dividend yield and has one of the best efficiency ratios in the banking industry. It also has an extremely low delinquency rate and a dominant position in its niche market. The past few years haven't been kind to NYCB or its shareholders, but I still believe in the bank for the long run, and I'm considering adding shares to my position.
10 stocks we like better than Goldman SachsWhen investing geniuses David and Tom Gardner have a stock tip, it can pay to listen. After all, the newsletter they have run for over a decade, Motley Fool Stock Advisor, has tripled the market.*
David and Tom just revealed what they believe are the 10 best stocks for investors to buy right now... and Goldman Sachs wasn't one of them! That's right -- they think these 10 stocks are even better buys.
Click here to learn about these picks!
*Stock Advisor returns as of May 1, 2017
Matthew Frankel owns shares of Goldman Sachs and New York Community Bancorp. The Motley Fool has no position in any of the stocks mentioned. The Motley Fool has a disclosure policy.