There's More Than Meets the Eye to Tupperware Brands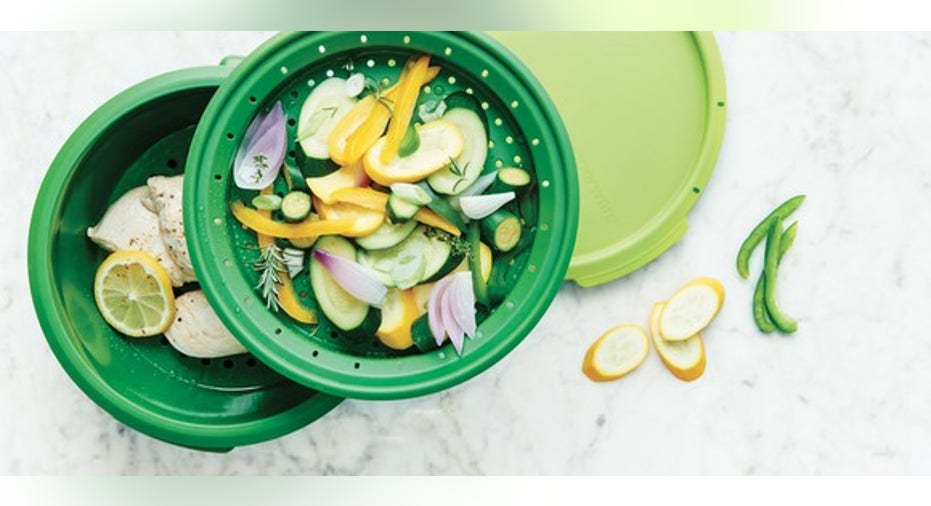 When people think of portable food-storage containers, they probably think "Tupperware." Even if another company makes the product, they call it Tupperware. What many people might not know, however, is that Tupperware Brands(NYSE: TUP) is the parent company of many products that are not food-storage containers, including makeup products.
This diverse company is now more than 70 years old and has grown into more than a $3 billion company by market cap. Even more interesting, only a fraction ofTupperware Brands'sales come from its home U.S. market.
So let's look at Tupperware Brands and see why, sometimes, there's more than meets the eye to seemingly boring companies.
More than just storage containers
Tupperware Brands changed its name from Tupperware Corp. in 2005, after a series of acquisitions outside its classic storage products. Now the company's portfolio has seven brands: the namesake Tupperware line as well as beauty and personal care linesAvroy Shlain, BeautiControl, Fuller, NaturCare, Nutrimetics, and Nuvo. The company says it has 100 new concepts in its product-development pipeline, and so far, the new product strategy seems to be working, as about a quarter of its most recent annual sales were from products introduced in the past two years.
Image source: Tupperware Brands
Many of the company's acquisitions and new products are focused on markets outside the U.S., such as Fuller cosmetics, which is headquartered in Mexico. In 2016, only about 9% of the company's total sales came from the U.S., while 66% came from emerging markets. Tupperware Brands CEO Rick Goings said during the most recent earnings call that the company has seen success with "demonstration studios" in China and is using these and other lessons from what's working in emerging markets to grow sales even faster.
What has remained as a cornerstone of the company, which helped to make the Tupperware brand a household name, is the business model of "relationship-based" selling -- i.e., Tupperware parties in people's homes to sell product to friends and family. That remains a model the company is following worldwide, and the company's 3.1 millionindependent salespeople as of the end of 2016 are helping global sales to continue growing.
Why this could be an attractive stock
For the full year 2016, Tupperware Brands sales fell 3% year over year, though adjusted for currency fluctuations they would have been up 2%. Regardless, earnings per share beat previous guidance and rose 20% over 2015 to $4.41, and that's not adjusted for currency changes. Yet even with that impressive growth, the stock is trading at less than 14 times earnings and just 12 times forward earnings estimates. In an expensive market -- the S&P 500 average P/E is nearly 27 after its recent run-up -- Tupperware looks especially attractive.
The stock also pays outa nice 4.5% dividend yield. The dividend looks plenty safe going forward, as Tupperware Brands' payout ratio is just 68%, andearnings are on the rise. Management said during the 2016 earnings call that "we're very committed to our dividend," and even though management has guided for the same dividend in 2017 as it offered in 2016, the company has raised its dividend five times in the past seven years, so there could be more growth in the years ahead.
The brand does face some headwinds, such as increased pressure from a strengthened U.S. dollar when translating foreign sales -- again, the majority of sales -- back to their U.S. headquarters. In addition, while established markets make up only a third of revenue, those sales are slowing, which could spell trouble if there's a hiccup in emerging-market growth.
Still, overall, the company seems to be executing well on its diversified portfolio and regional growth, and its valuation speaks for itself. This seemingly boring company is a lot more interesting than initially meets the eye -- and it could be a great long-term holding.
10 stocks we like better than Tupperware BrandsWhen investing geniuses David and Tom Gardner have a stock tip, it can pay to listen. After all, the newsletter they have run for over a decade, Motley Fool Stock Advisor, has tripled the market.*
David and Tom just revealed what they believe are the 10 best stocks for investors to buy right now... and Tupperware Brands wasn't one of them! That's right -- they think these 10 stocks are even better buys.
Click here to learn about these picks!
*Stock Advisor returns as of February 6, 2017
Seth McNew has no position in any stocks mentioned. The Motley Fool has no position in any of the stocks mentioned. The Motley Fool has a disclosure policy.