There's More Than Meets the Eye to Alliance Resource Partners, L.P.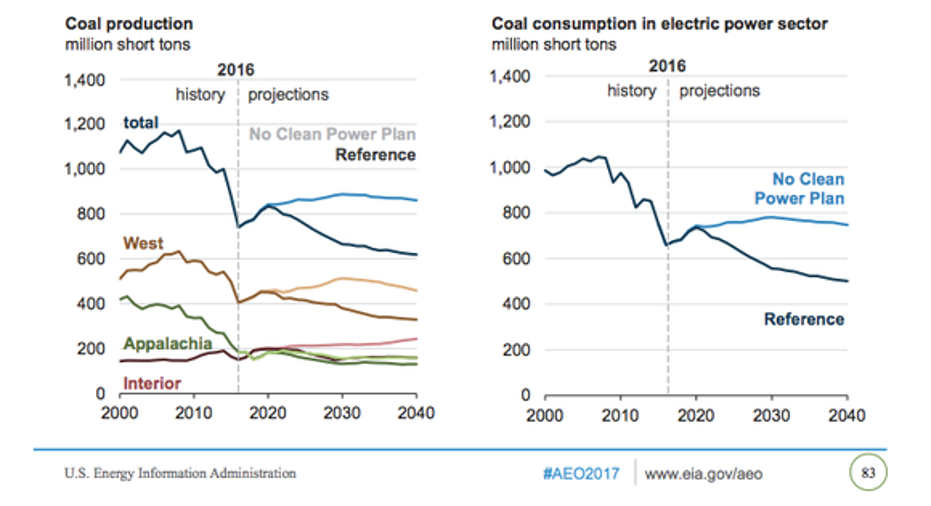 Giant global coal miner Peabody Energyjust emerged from bankruptcy. It was one of many coal industry names that faltered over the last few years, including Arch Coal and Alpha Natural Resources. However,Alliance Resource Partners, L.P. (NASDAQ: ARLP)was never close to that unfortunate tipping point. In fact, while other miners were bleeding red ink, Alliance managed to remain profitable throughout the downturn. Sure, Alliance is a coal miner...but there's more than meets the eye, here.
Solid balance sheet
When companies are going under, one of the first places you want to look is the balance sheet. How much debt does the company have? For Peabody, the answer was way too much. But that's not the case with Alliance.
Image source: Peabody Energy.
Alliance ended 2016 with long-term debt at roughly 25% of the capital structure. The company's long-term debt load actually fell around 30% year over year. The miner's cash balance, meanwhile, increased nearly 20% in 2016. That was lower than the cash increase of about 35% in 2015, when coal was really getting hammered.
There are a lot of moving parts on a balance sheet, of course, but it's pretty clear that Alliance is conservatively financed. And that allowed it to withstand a period that competitors couldn't -- at least not without the help of a bankruptcy judge. More importantly, a solid balance sheet means Alliance remains well positioned for the future, whatever it may bring.
The right region
Another key part of Alliance's success, both past and future, is where it mines for coal. The Illinois Coal Basin, where the vast majority of the miner's business is located, has been holding up better than other regions. In fact, while other miners were seeing steep drops in shipments, Alliance was gaining ground.
For example, Cloud Peak Energy's (NYSE: CLD) shipments were 90.6 million tons in 2010 and just 59.1 million tons in 2016. That miner operates exclusively out of the Powder River Basin. Alliance's coal sales, meanwhile, increased from 30.3 million tons in 2010 to 36.7 million tons last year. To be fair, the company's sales peaked in 2015, at 40.2 million tons, but the longer-term trend is much more positive than what competitors like Cloud Peak have faced.
If the U.S. Energy Information Administration is correct, the future will remain relatively good for the Interior region (see the chart below), which is where the Illinois Basin is located. So, Alliance is well positioned for the future here, too.
The major U.S. coal regions have seen vastly different results. Image source: U.S. Energy Information Administration.
Distributions!
One of the most important things that differentiates Alliance from its peers is the partnership's 8% distribution yield. The payout was trimmed last year, but it clearly remains sizable. Most other coal miners that paid distributions no longer do today, including partnerships Foresight Energyand Rhino Resource Partners. The companies that went through bankruptcy court obviously stopped paying dividends.
ARLP Dividend Per Share (Quarterly) data by YCharts.
Here's the thing, though: Alliance covered its distribution by roughly 2 times last year. That's a huge amount of distribution coverage and a clear testament to the partnership's conservative nature. It also means that another distribution cut is unlikely, since there's ample protection from further coal industry weakness.
The full picture
Add it all up, and miner Alliance Resource Partners is easily one of the best investment options in the coal industry. It has a conservative financial structure, well-located assets, and ample capacity to keep rewarding unitholders with distributions even if the coal market continues to face headwinds. It's unlikely to see huge business growth from here because of the changes taking place in the electricity industry, the main customer for thermal coal, but income investors would do well to look past the coal issue and see that there's more to this 8% yielder than meets the eye.
10 stocks we like better than Alliance Resource PartnersWhen investing geniuses David and Tom Gardner have a stock tip, it can pay to listen. After all, the newsletter they have run for over a decade, Motley Fool Stock Advisor, has tripled the market.*
David and Tom just revealed what they believe are the 10 best stocks for investors to buy right now...and Alliance Resource Partners wasn't one of them! That's right -- they think these 10 stocks are even better buys.
Click here to learn about these picks!
*Stock Advisor returns as of April 3, 2017.
Reuben Brewer has no position in any stocks mentioned. The Motley Fool recommends Alliance Resource Partners. The Motley Fool has a disclosure policy.