There's an App For That: How Mobile Changed the Investing World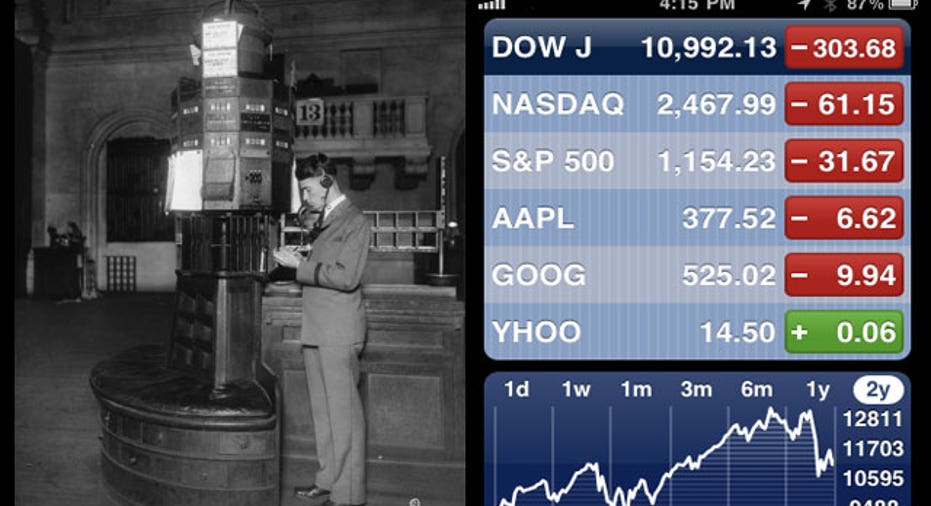 Market turmoil is a headache for many investors who have seen their nest eggs balloon and dive on a whim.  However, the volatility may have produced an unlikely result: mobile trading.
Investors' level of access to their portfolios, and desire to trade in a flash, has grown rapidly in recent decades and completely reshaped the world of retail investing.  Whereas, in the late-19th century investors watched the markets from a distance, they now need only pull a phone out of their pocket, or peer at a computer screen to have total access to the financial world.
"It seems when you're riding in subways now everyone has a smartphone out – they are interested in staying connected to the markets, to their portfolios" said Eric Johnson, a manager in product management at E*Trade, who is responsible for overseeing mobile product development.
There are literally a litany of companies that provide clients with access through mobile apps:  E*Trade Mobile Pro, Vanguard, TD Ameritrade Mobile, Thinkorswim Mobile, Merrill Edge, International Brokers' MobileTrader and Fidelity Investments— allow traders to do just about anything they can on the actually web site, from viewing charts and real-time quotes to making trades.
And the recent volatility has only accelerated the mobile trading trend. On Aug. 8, when the Dow plunged 5.5%, Ameritrade saw record 5,000 new users on its mobile platform -- five times the daily average -- as investors raced to check their portfolios.
"The more volatile markets are the more usage we see in mobile devices," said Nicole Sherrod, managing director of TD Ameritrade's trader group. "Retail investors are very anxious about what's been happening and they want to check into [their portfolios]."
Similarly, financial spread and betting site City Index said recently that the number of trades coming from its mobile app jumped to one-in-four from just 2% in 2009, which it attributed largely on economic headwinds, the euro zone sovereign debt crises and rising interest rates.
The Growing Detachment Between Clients and Brokers
The migration to app-based investing may have been inevitable, but its rapid evolution over the past year highlights the growing detachment between modern trading methods and the seemingly ancient broker-client relationship that has prevailed for decades.
It wasn't until the late 19th century following the invention of the telegraph and ticker tape that allowed traders to start communicating transactions with brokers on the exchange floor.
As trading progressed through the 1900s, the National Association of Securities Dealers eventually formed its own electronic communication network it called a quotation system to process trades outside of exchange floors: now known as the NASDAQ.
Even with the new system, though, most trades were still conducted over the phone in the traditional manner, and through pagers, until the late 1990's when the dot-com boom exploded and the Internet became more widely accessible.
Big online brokerage companies like E*Trade (NASDAQ:ETFC) and Ameritrade (NASDAQ:AMTD) were highly successful in the first few years of the web frenzy as they created basic mobile web sites that investors could use to keep tabs on their portfolios.
The increasing capabilities of smartphones, mostly speed and design, have also been a major factor in pushing mobile-trading into the spotlight, according to Richard Blunck, Fidelity executive vice president and head of the company's' web strategy for personal investing.
"It's the ease of interaction and the ability to have super high resolution displays," he said. "I really believe we're going to have as much volume on mobile as we do online within five years."
E*Trade saw mobile daily average revenue trades last month nearly double to more than 5%, compared with 2.8% a year ago. Almost $1.5 billion has been transacted through E*Trade Mobile since its launch.
As technology advanced over the last decade, and analysts at those companies realized the sharp rise in visits to their sites through mobile devices, development was finally under way for an app-based trading platform.
"Around 2006, we noticed more mobile-savvy customers using the (E*Trade) program," Johnson said. "A large amount of users were using Blackberrys, and that's when we started to connect the dots."
About two years later amid a "tidal wave of interest," E*Trade made a "strategic bet" and launched E*Trade Mobile Pro, he said.
Just under half of the logins to Fidelity Mobile came from the iPhone in September 2009, leading the company to launch its app five months later in February.
A Look Toward the Future
Those numbers will likely increase industry-wide as technology becomes more advanced and smartphones become more affordable. With volumes set to grow at a compound annual growth rate of 30% in the long term, Credit Suisse (NYSE:CS) sees smartphone penetration reaching 1.11 billion units by 2015.
And the Swiss investment banking giant said its long-term volume estimates could actually prove to be conservative."In terms of growth metrics I've looked at, I've never seen anything as fast growing as mobile," Sherrod said.
Mobile investing is still in its infancy when compared to the centuries-old world of financial trade, and if the last decade is any indication, it still has plenty of room to grow.
Ameritrade plans to launch soon another feature on its mobile app that will allow investors to scan a product's bar code, revealing whether the item is attached to a publicly-traded company.
The other web trading heavyweights were tight lipped about future mobile innovations, but they all pledged their commitment to change, and claimed they'd be ready when the "next big thing" rolls around.
Johnson predicts the "next big thing" will emerge within the next few years, and once that happens, the industry will once against be rattled and retail trading remolded.