The Worst Tobacco Stocks of 2016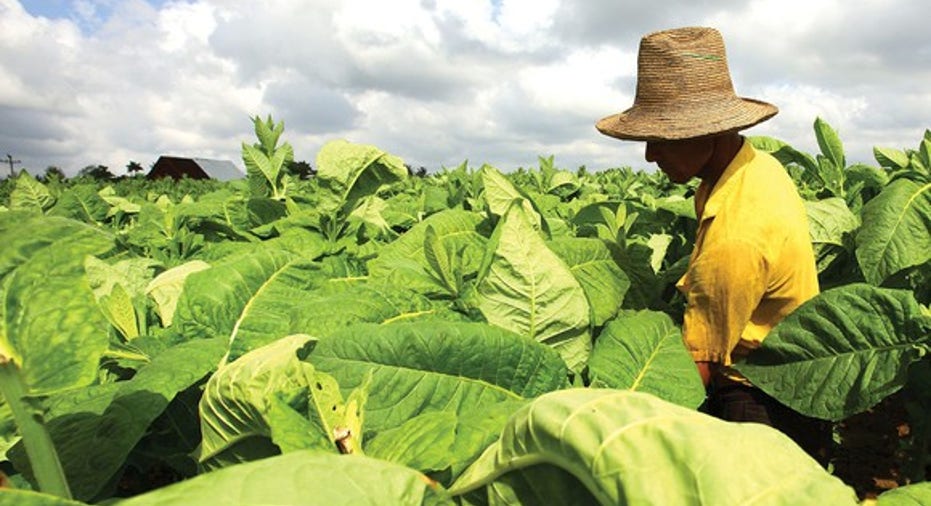 Long-term investors have seen strong returns from many stocks in the tobacco industry over time. Even though many have steered clear of the sector because of worries about legal disputes and regulatory limits, many tobacco companies have managed to navigate successfully through potential difficulties and produce big profits. Yet in 2016, the line in the sand in tobacco was between U.S. companies and foreign rivals. Among the worst performers of the year were Imperial Brands (LSE: IMB) and Japan Tobacco (NASDAQOTH: JAPAF). Let's take a look at why Imperial and Japan Tobacco didn't keep up with some of their peers.
Image source: Imperial Brands.
Handling a tough year in the U.K.
Imperial Brands didn't deliver the returns that investors wanted to see, as its stock fell 15% in U.S. dollar terms. Some of the declines stemmed solely from the plunge in the British pound that followed the U.K. electorate's decision to vote to leave the European Union at mid-year. Indeed, the stock managed to post a slight gain when you look at its London-listed shares in pound terms, and full-year revenue climbed almost 10% to produce a 16% rise in adjusted operating profit.
Imperial Brands faces some fundamental difficulties that have investors nervous about the future. Within Europe, countries such as France, the U.K., and Ireland are all looking hard at imposing regulations requiring plain packaging of cigarettes. If that happens, it will be harder for Imperial to reap the benefits of the marketing it has done to establish the Kool, Salem, and Winston brands that it acquired from Reynolds American (NYSE: RAI) in 2015 when Reynolds merged with Lorillard.
Moreover, higher taxes could also eat into profits. Most tobacco companies have found ways to boost prices in such a way as to preserve profits in the face of falling demand from rising tax levels. However, at some point, smokers will reach the limits of their ability to afford cigarettes, and if regulators hit that level, it will leave Imperial and its peers without the means to sustain their profitability.
Strong yen hurts Japan Tobacco
For Japan Tobacco, which suffered a 6% decline in U.S. dollar terms, the situation was different but equally difficult. The company's core Japanese market has been aging, and a rising awareness of health impacts from smoking has taken its toll on demand. That has pushed the company to seek ways to expand internationally, but the strength of the Japanese yen compared to many currencies around the world has also put a damper on Japan Tobacco's growth. In the first nine months of 2016, sales have fallen 4% from year-earlier levels, and the strong yen has been a big component of that decline.
The big question for Japan Tobacco is whether it can defend its turf from foreign competition. Philip Morris International (NYSE: PM) has done an extraordinarily good job of building up market share in the Japanese market for its iQOS heat-not-burn alternative to traditional cigarettes. For its part, Japan Tobacco has already identified the need to compete in e-cigarettes and other reduced-risk products, as it cut its guidance for total cigarette sales volume within Japan by 1 billion units due to the rising popularity of alternatives like e-cigarettes. In the long run, better margins from vapor-based products could help Japan Tobacco recover, but the company will also have to find ways to expand geographically in order to reach its full potential.
Shareholders in these companies won't be happy with their performance in 2016, especially given how well some of their industry peers did. However, in the long run, both Imperial Brands and Japan Tobacco have the potential to rebound convincingly from their 2016 swoons and find new ways to tap into the growth opportunities both in the core cigarette market and in alternatives.
10 stocks we like better than JAPAN TOBACCO When investing geniuses David and Tom Gardner have a stock tip, it can pay to listen. After all, the newsletter they have run for over a decade, Motley Fool Stock Advisor, has tripled the market.*
David and Tom just revealed what they believe are the 10 best stocks for investors to buy right now... and JAPAN TOBACCO wasn't one of them! That's right -- they think these 10 stocks are even better buys.
Click here to learn about these picks!
*Stock Advisor returns as of Nov. 7, 2016
Dan Caplinger has no position in any stocks mentioned. The Motley Fool recommends Imperial Brands. Try any of our Foolish newsletter services free for 30 days. We Fools may not all hold the same opinions, but we all believe that considering a diverse range of insights makes us better investors. The Motley Fool has a disclosure policy.