The Worst-Performing Big Bank Stock in 2016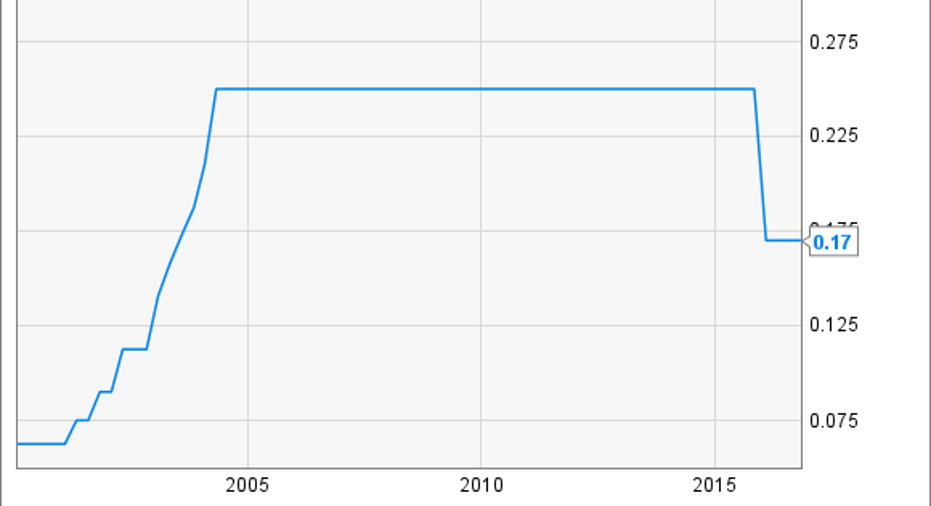 Image source: iStock/Thinkstock.
Most big bank stocks had a stellar year in 2016, with the average blue-chip bank stock up 27% last year. But not ever bank stock ended the year higher. New York Community Bancorp (NYSE: NYCB) fell around 3%, qualifying it as the worst-performing big bank stock in 2016.
There's nothing wrong with New York Community Bancorp. It's still the same safe and profitable bank it's always been. But there was one issue that weighed on its stock over the past year.
An aborted merger
The issue surrounded its proposed merger with Astoria Financial (NYSE: AF), a $14.8 billion bank based in New York. New York Community Bancorp had been making noise for two years about a transformative merger that would catapult its balance sheet well beyond the $50 billion threshold that qualifies banks for stricter regulatory oversight.
The merger with Astoria Financial, announced at the end of 2015, seemed to fit the bill. Not only was it in New York Community Bancorp's backyard in terms of its geographic presence, but it also offered around $7 billion worth of inexpensive deposits that could lower New York Community Bancorp's otherwise high cost of funds.
"We are truly excited to be announcing this merger with our neighbor and friendly competitor, Astoria Financial, the parent of 127-year old Astoria Bank," said New York Community Bancorp CEO Joseph Ficalora at the time. "We've been prepping for a large merger since the end of 2011 and, now that all the stars have aligned, I have to say: It certainly looks and feels right."
An unintended consequence
But an important catch to the deal was that it all but required New York Community Bancorp to cut its once-resplendent quarterly dividend, which it hadn't done in more than a decade. This was a consequence of becoming a systemically important bank by crossing the $50 billion asset threshold, above which the Federal Reserve exercises veto power over bank dividend policies.
It was thus no coincidence that New York Community Bancorp slashed its dividend by a third on the same day that it announced its merger with Astoria Financial. As Ficalora noted:
Cutting its dividend to finance growth and buoy its capital doesn't seem like something that should raise alarm bells among investors. But New York Community Bancorp is unique, as it's long been a favorite among dividend investors for both the size and the consistency of its quarterly payout.
NYCB dividend data by YCharts.
Prior to the cut, the bank distributed 90% or more of its earnings to shareholders each year. By reducing that to only 50%, which is still high compared to other large banks, New York Community Bancorp thereby materially changed the investment characteristics of its stock.
Moreover, following a year in which its stock headed lower in response to the merger, but just as investors seemed to be coming to terms with it, the deal was abruptly called off in December after regulators made it clear that the deal wouldn't close by the end of the year, as stipulated by the terms of the merger agreement. The sudden and unexpected reversal extinguished the gains that New York Community Bancorp's stock had eked out in the wake of the presidential election.
Shareholders in New York Community Bancorp are thus left wondering whether the bank will soon announce another merger or perhaps, now that the deal with Astoria Financial is off the table, whether it'll restore its dividend payout. It's this uncertainty, I believe, that caused New York Community Bancorp to be the worst-performing big bank stock in 2016.
10 stocks we like better than New York Community Bancorp When investing geniuses David and Tom Gardner have a stock tip, it can pay to listen. After all, the newsletter they have run for over a decade, Motley Fool Stock Advisor, has tripled the market.*
David and Tom just revealed what they believe are the 10 best stocks for investors to buy right now... and New York Community Bancorp wasn't one of them! That's right -- they think these 10 stocks are even better buys.
Click here to learn about these picks!
*Stock Advisor returns as of Nov. 7, 2016
John Maxfield has no position in any stocks mentioned. The Motley Fool has no position in any of the stocks mentioned. The Motley Fool has a disclosure policy.