The Worst NVIDIA Corporation Headlines in 2015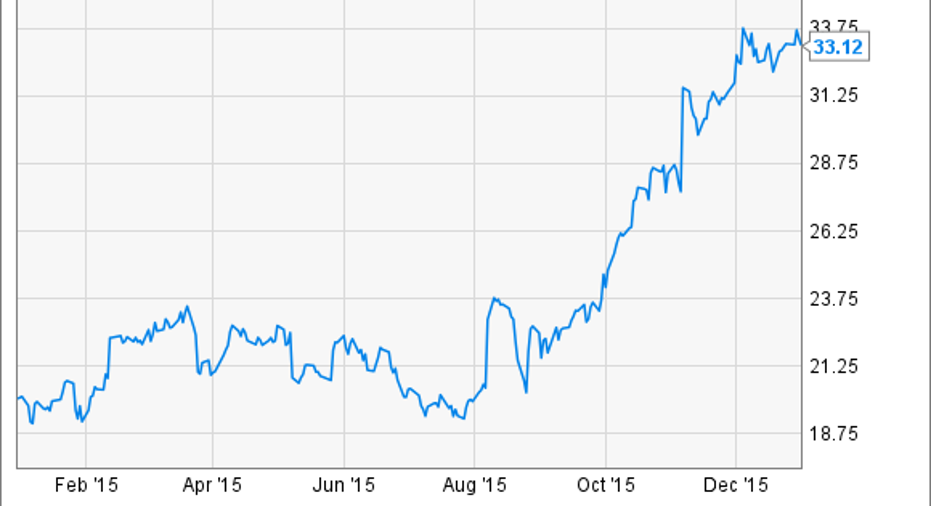 Graphics chip company NVIDIA had a stellar 2015. The company solidified its position as the leading GPU company, stealing market share from rival Advanced Micro Devices. Despite persistent weakness in the PC market, NVIDIA managed to grow revenue throughout 2015. Unsurprisingly, the stock has soared over the past year.
But it wasn't all good news for NVIDIA in 2015. Here's a look at some of the worst headlines for the company.
March 24: A downgrade that raised a good pointIn March, an analyst at Goldman Sachs downgraded NVIDIA to sell, cutting his price target to $20 per share. The stock currently sits around $33 per share, but the point Goldman's analyst raised was an important one. NVIDIA currently enjoys payments from Intel stemming from a licensing deal, and that licensing deal is set to expire in early 2017.
NVIDIA's last payment of $200 million will arrive in early 2016, and the loss of this revenue would reduce NVIDIA's earnings substantially. Over the past 12 months, NVIDIA's operating profit was $726 million, so the loss of $200 million of high-margin royalty income is not good news for the company. It's unclear whether the agreement will be renewed, or if a renewal would involve additional payments to NVIDIA.
May 5: Giving up on modemsNVIDIA acquired Icera, a baseband processor designer, in 2011, with plans to become a major force in the mobile app processor market. NVIDIA integrated Icera's baseband processor into the Tegra 4i in 2013, a version of its Tegra 4 SoC, but the product saw limited success. In May, NVIDIA announced that it planned to wind down Icera, officially abandoning its efforts to compete in the mainstream mobile device market.
NVIDIA's Tegra business is now focused mostly on the automotive industry and the company's own gaming-orientated devices. Ultimately, leaving the competitive mainstream app processor market behind was the right move for NVIDIA, but the $367 million the company spent on Icera is money wasted.
Oct. 9: ITC rules against NVIDIANVIDIA filed patent infringement suits against both Qualcomm and Samsung in late 2014, accusing the companies' processors of infringing on NVIDIA's GPU patents. With a significant chunk of NVIDIA's profits coming from licensing payments from Intel, these lawsuits had the potential to bring in even more royalty income for NVIDIA.
Unfortunately for the company, an International Trade Commission judge ruled against NVIDIA in October, stating that neither Samsung nor Qualcomm infringed on two of NVIDIA's patents. A third NVIDIA patent was infringed, but that patent was found invalid by the judge. In December, the ITC commission upheld the judge's decision.
Nov. 16: Intel details Knights LandingOne major success story for NVIDIA over the past few years has been its Tesla GPUs aimed at supercomputing and high-performance computing applications. During fiscal 2015, NVIDIA generated $279 million from its HPC and cloud segment, with revenue growth clocking in at 52% year over year.
Intel has been present in the accelerator market for years, but its previous products haven't made much of an impact. NVIDIA claimed an 84% share of the accelerator market as of February 2015, making the company the overwhelming leader.
However, Intel isn't giving up. In November, the company provided more details on its upcoming Knights Landing accelerator, featuring 72 x86 cores manufactured on Intel's 14nm process. The accelerator is set to launch during the first quarter of 2016, and with big performance gains over Intel's previous accelerators, Intel could give NVIDIA a run for its money.
Dec. 22: A patent twistSamsung countersued NVIDIA after the company launched its infringement suits, and in December, an ITC administrative law judge ruled that NVIDIA had infringed upon three Samsung patents. NVIDIA claims these patents cover old technology that is no longer used, and the case will now go before the full ITC commission. A decision will likely come sometime in the next few months.
The article The Worst NVIDIA Corporation Headlines in 2015 originally appeared on Fool.com.
Timothy Green owns shares of NVIDIA. The Motley Fool owns shares of and recommends Qualcomm. The Motley Fool recommends Intel and NVIDIA. Try any of our Foolish newsletter services free for 30 days. We Fools may not all hold the same opinions, but we all believe that considering a diverse range of insights makes us better investors. The Motley Fool has a disclosure policy.
Copyright 1995 - 2016 The Motley Fool, LLC. All rights reserved. The Motley Fool has a disclosure policy.