The Worst Mistake Nucor Investors Can Make Right Now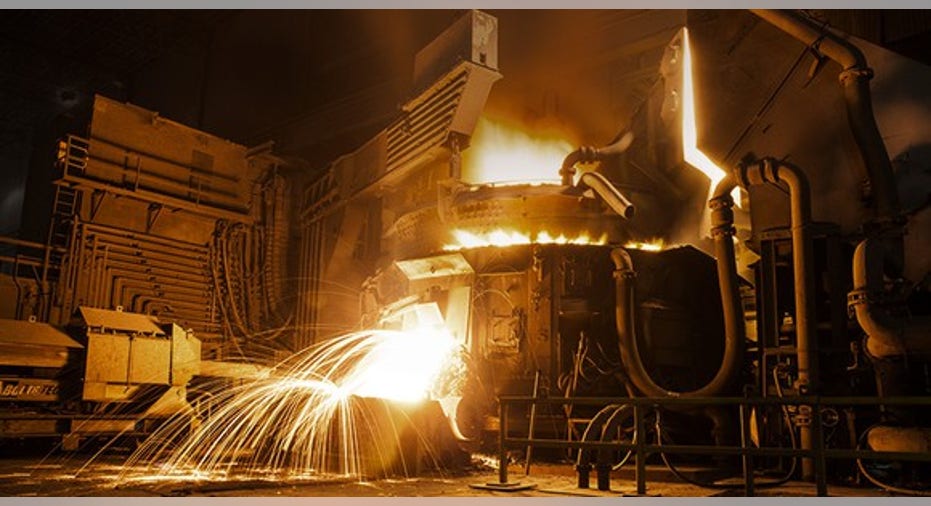 There's no question that investors were displeased by Nucor's (NYSE: NUE) third-quarter earnings. And, perhaps, rightly so. But if you're a shareholder in this steel giant, one quarter shouldn't be enough to spook you. Not after Nucor has so deftly weathered a long industry downturn that's hammered peers such as AK Steel (NYSE: AKS) and United States Steel (NYSE: X). Here are some reasons that selling now would be a big mistake for investors.
Nucor steel mill in operation. Image source: Nucor
A tough quarter?
In the recently ended third quarter, Nucor posted revenue of roughly $4.3 billion, a little below the $4.5 billion analysts had been expecting. Earnings per share, excluding inventory adjustment charges, came in at $0.96, slightly above the $0.95 analyst target. On the whole, it wasn't a bad quarter.
The problem for investors was in the outlook. The company's news release included this little gem: "Earnings in the fourth quarter of 2016 are expected to decrease notably compared to the third quarter of 2016." It went on to explain why there would be weakness at Nucor's sheet mills, in its raw-materials segment, and at its steel-products division. With that backdrop, it's not exactly surprising that investors pushed the shares lower by 3% on the earnings news.
If you're a long-term investor, though, this alone shouldn't be enough for you to push the "sell" button. In fact, that could turn out to be a rather larger mistake.
Better than average
The reason goes back to the 2007-to-2009 recession, which also happens to be when the current steel industry downturn began. Only one major steel company managed to turn a profit in 2009, ArcelorMittal SA (NYSE: MT).But since that time, Nucor has been the standout performer, staying in the black each year since. No other steel mill can lay claim to that.
NUE EPS Diluted (Annual) data by YCharts
And while hinting at future weakness is clearly a bad thing, it's a far cry from suggesting that the bottom has fallen out at Nucor's highly diversified and flexible business. In fact, in the steel industry, Nucor is really one of the best-run companies around and, thus, one of the stocks you probably want to hold on to through good times and bad.
But don't just take my word on it. Here are some other key reasons you shouldn't make the mistake of selling this leading steel name.
Why investors should stick it out
Nucor has a rock-solid balance sheet. At the end of the third quarter, cash stood at $1.7 billion, with an untapped line of credit of $1.5 billion. Debt made up just about 36% of the company's capital structure. Compare that with its peers, and you'll see that Nucor is at the head of the pack. For example, Steel Dynamics (NASDAQ: STLD), one of the best-performing stocks in the steel group, also warned of weaker performance ahead in the fourth quarter and counts long-term debt at about half of its capital structure. ArcelorMittal, meanwhile, has $2.4 billion of cash, but that's down 40% since the start of the year. (By comparison, Nucor's cash balance was down just 10%.) AK Steel and US Steel, meanwhile, are really just struggling to survive right now. To sum it up, Nucor is going to survive a tough quarter or two.
NUE EBIT Margin (TTM) data by YCharts
Nucor also has some of the best assets in the business. For example, the backbone of Nucor's business is its electric-arc steel mills. Such mills tend to be smaller and easier to turn on and off, to simplify the issue, than the blast furnaces that underpin struggling AK Steel and US Steel. Meanwhile, Nucor also has a large scrap business and has been investing in its direct reduced iron assets, all of which give it flexibility on the cost side. Speaking of costs, Nucor also employs a profit-sharing model that rewards employees when times are good but asks them to share in the pain when times are bad -- helping to keep costs in check. And it has one of the most diversified product lineups, with a key focus on growing higher-margin product lines. All this plays into Nucor's industry-leading margins.
Put that sale order away
Put it all together, and there's no reason to panic because Nucor is hinting at a weaker fourth quarter. In fact, that could be one of the worst things you could do, particularly if you're a long-term investor. With a dividend yield of more than 3%, a solid industry position, a solid financial position, and a long history of success; Nucor is the kind of company you'll want to own for a very long time.
A secret billion-dollar stock opportunity The world's biggest tech company forgot to show you something, but a few Wall Street analysts and the Fool didn't miss a beat: There's a small company that's powering their brand-new gadgets and the coming revolution in technology. And we think its stock price has nearly unlimited room to run for early in-the-know investors! To be one of them, just click here.
Reuben Brewer owns shares of Nucor. The Motley Fool recommends Nucor. Try any of our Foolish newsletter services free for 30 days. We Fools may not all hold the same opinions, but we all believe that considering a diverse range of insights makes us better investors. The Motley Fool has a disclosure policy.