The Worst Mistake BP Prudhoe Bay Royalty Trust Investors Can Make Right Now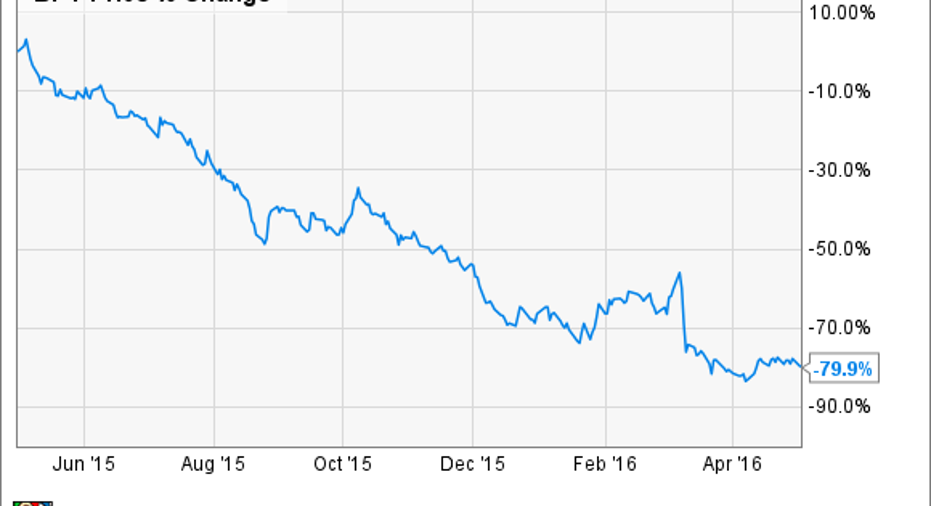 The past year has not been kind to investors inBP Prudhoe Bay Royalty Trust , whichhas fallen by nearly 80%:
While most investors see this as a bad omen, others might consider it a sign that it could be selling for a bargain basement price. In fact, some current investors might be tempted to double down on their investment and buy more at these levels in hopes of making a huge windfall when BP Prudhoe Bay Trust recovers. Doubling down, however, would be the worst mistake investors could make right now because there's a very real possibility this investment goes to zero by the end of the decade.
Slowly running dryBP Prudhoe Bay Royalty Trust isn't like a typical oil stock. As a royalty trust, its value is completely dependent on the volume and price of oil produced in the future based on the current proved reserves where it receives royalties, which in this case is Alaska's North Slope. In other words, unlike its namesake BP , it can't go out and explore for more oil outside of the North Slope because it is locked into the royalties it earns from oil produced in that one field. That's a big problem because royalties from the production out of that field are projected to run dry in 2020 based on the current oil price.
That date is much sooner that prior estimates, with the Trust previously estimating that its income stream wouldn't run dry until 2029. However, that was when oil was over triple digits. Now, its estimates are based on last year's average oil price of $50.28 per barrel, which incidentally is well below the average oil price this year, suggesting that the Trust's income could even run dry before 2020.
There are better bets to makeAn investment in BP Prudhoe Bay Trust is a bet that oil prices will be much higher in the future in order to keep its income stream from running dry by the end of the decade. While there's ample reason to believe oil could rebound, there are safer bets that could be made instead of doubling down on BP Prudhoe Bay Royalty Trust.
Image source: ConocoPhillips.
Other Alaskan oil drillers like BP or ConocoPhillips , for example, offer very compelling upside if oil prices rebound, without the downside to zero by the end of the decade if they do not. That's because both companies have the freedom to pursue oil projects beyond the North Slope to keep their production going for decades. In fact, ConocoPhillips has 16 billion barrels of oil equivalent resources that can be developed and produced at just a $60 oil price, which is enough to support its current production rate for 30 years. Meanwhile, if oil were to go back above $75 a barrel, it has a total of 44 billion barrels of captured resources that it can tap into, keeping it's cash flowing for decades to come.
Meanwhile, BP is currently constructing a number of major projects that are expected to deliver over half of its production by 2020. Beyond that, it has another 50 project options to choose from to keep its production flowing and growing. These are options BP Prudhoe Bay will never have because it's unable to explore for or develop its own reserves because it is a royalty trust.
Investor takeawayAn investment in BP Prudhoe Bay Trust is a bet on higher oil prices, because without them, the trust's income stream could potentially run dry by the end of the decade. It's that type of binary outcome that most investors want to avoid, which is why the worst thing an investor can do is double down on BP Prudhoe Bay if they already own it. Buying an exploration and production company like BP or ConocoPhillips would be a much better idea because they have similar upside if oil recovers, but won't bottom out at zero if it doesn't because they have the ability to continue to explore for and develop oil projects around the globe while BP Prudhoe Bay cannot.
The article The Worst Mistake BP Prudhoe Bay Royalty Trust Investors Can Make Right Now originally appeared on Fool.com.
Matt DiLallo owns shares of ConocoPhillips. The Motley Fool has no position in any of the stocks mentioned. Try any of our Foolish newsletter services free for 30 days. We Fools may not all hold the same opinions, but we all believe that considering a diverse range of insights makes us better investors. The Motley Fool has a disclosure policy.
Copyright 1995 - 2016 The Motley Fool, LLC. All rights reserved. The Motley Fool has a disclosure policy.