The Worst Las Vegas Sands Corp. Headlines in 2015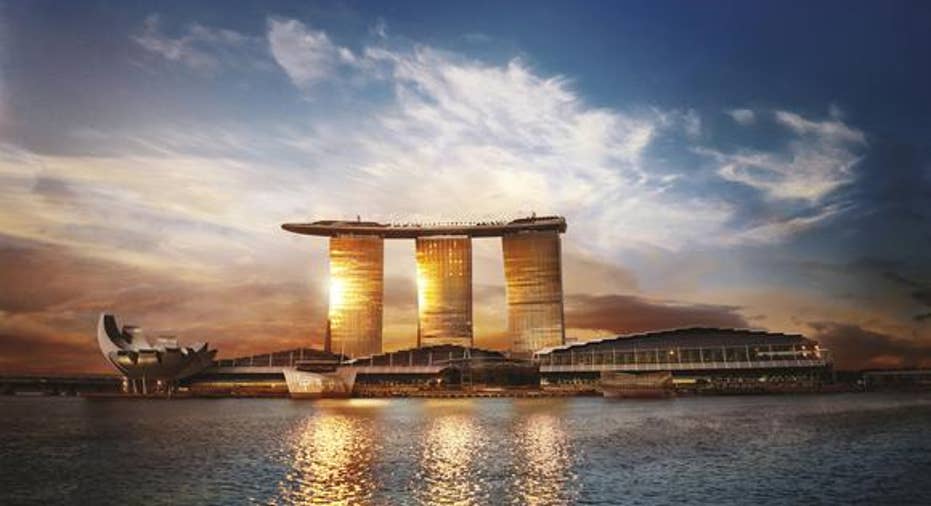 Artist rendering of Parisian Macao. Image source: Las Vegas Sands.
Las Vegas Sands is the largest gaming company in the world and, in many ways, a bellwether for many of its competitors. In a rough year for gaming stocks, that didn't lead to a lot of positive headlines in 2015. As we look back on the year, these are the three headlines that stand out to me, some of which tell us a lot about where the company and the gaming industry are headed in the next few years.
Macau falls off a cliff I'm not sure anyone saw the extent of Macau's collapse coming when 2015 started. By the end of 2014, the region's gaming revenue was in decline, but through November, total revenue had plunged a whopping 35% during 2015. As a result, all gaming companies with exposure to Macau have been crushed on the stock market.
There were a number of drivers of the decline, but the biggest two were a crackdown on corruption in China and the collapse of Macau's junket market. These factors were out of the hands of gaming operators, but they affected the business in a big way.
If there's one headline to watch every month in 2016, it's the trajectory of Macau's gaming revenue. The government releases a report showing each month's gaming revenue just a few days after each month ends, and if the trend continues downward, it'll lead to another tough year for gaming stocks. If revenue turns around and we start seeing growth, there could be a turnaround in gaming stocks in 2016. It's really as simple as that.
Marina Bay Sands in Singapore. Image source: Las Vegas Sands.
China's trouble bleeds around the world The fallout from Macau's gaming decline has been seen in gaming markets around the world, too. That's maybe the biggest thing investors can take away from 2015: There's no escaping China's gambling trends.
The closest place China's gaming decline bled to was Singapore. Marina Bay Sands' rolling chip volume (a measure of VIP play) was down 4.5% in the first three quartersof the year. In the U.S., Las Vegas Strip baccarat and mini-baccarat volume was down 19.7% and 8%, respectively as it also felt the effects.
Melco Crown's lost table games Adding to the uncertainty gaming investors felt in 2015 was the allocation of just 200 gaming tables to Melco Crown's Studio City when it opened in Macau, a figure that will rise to 250 tables in 2016, versus the 400 or more expected by the company.
This was a negative headline for Las Vegas Sands because the company is planning to open its new Parisian resort next door to Studio City in late 2016. Plus, there are three additional new resorts expected to open in the area in the next couple of years. If gaming tables are in short supply, it could be a problem for Las Vegas Sands.
The Macau government has said it wants to limit table game growth, but it's not clear exactly how it's going to handle limiting growth with the new resorts coming online. If the government reverses course and The Parisian gets 500 table games, it'll be a non-issue. But if it's given 200 tables like Studio City, it could make it tough for the resort to make money.
Studio City's table headlines were a negative for Las Vegas Sands by proxy in 2015. In 2016, we'll see if this was really something to worry about long term.
2016 depends a lot on China's gaming growth Las Vegas Sands held up much better than many competitors in 2015 because it had a lot of exposure to gaming outside of Macau. But in 2016, it'll see new resorts in the Cotai region of Macau siphon off business, which could put a lot of pressure on resorts there. Unless Macau's gaming market starts to grow, we could see another year of declining revenue and profits. And that could overshadow any positive headlines we see from Las Vegas Sands in 2016. This is a stock to watch closely for both good signs and in the new year.
The article The Worst Las Vegas Sands Corp. Headlines in 2015 originally appeared on Fool.com.
Travis Hoium has no position in any stocks mentioned. The Motley Fool has no position in any of the stocks mentioned. Try any of our Foolish newsletter services free for 30 days. We Fools may not all hold the same opinions, but we all believe that considering a diverse range of insights makes us better investors. The Motley Fool has a disclosure policy.
Copyright 1995 - 2016 The Motley Fool, LLC. All rights reserved. The Motley Fool has a disclosure policy.