The Worst Internet of Things Stocks of 2016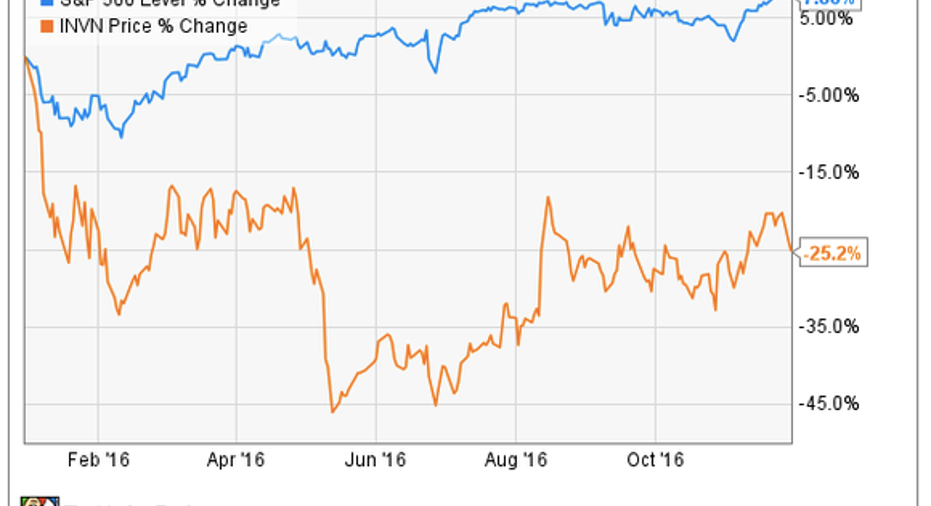 Image source: Getty Images.
The Internet of Things (IoT) gets quite a lot of buzz these days, which is probably due to the fact that the market is expected to reach up to $7.1 trillion by 2020 and to connect 50 billion devices to the internet.
The IoT is already transforming agriculture, health, and the industrial sector, but despite all of its disruption, some IoT companies still haven't benefited. Sierra Wireless (NASDAQ: SWIR), InvenSense (NYSE: INVN), and Skyworks Solutions (NASDAQ: SWKS) all took stock-price hits this year or remained flat, and left investors disappointed.
So let's take a brief look at what happened with these companies in 2016, and whether things might turn around next year.
Sierra Wireless: Down 2% year to date
Sierra Wirelessmakes wireless modules that connect all kinds of things (Tesla'sand BMW's cars, for example) to the internet. The company's embedded wireless modules allow Tesla to bring its customers over-the-air updates and enable cities to wirelessly control their street lighting.
Sierra's big advantage is that it holds a dominant position in this machine-to-machine connectivity space, a growing market. Marketers Media estimates that the wireless embedded module market will hit $196 billion by 2020 and grow at a compound annual growth rate of 25%.
Data source: YCharts.
The problem is that with all of Sierra's potential, its stock price is down by more than 2% this year. That's not horrible, but it came after the company's stock price fell 65% in 2015. Two years of a falling stock price is sure to test even the most patient of long-term investors. But there is still reason to be optimistic about Sierra's future.
The company is beginning to build its more important enterprise and cloud servicessales, which bring important recurring-revenue opportunities. Enterprise revenue grew by 6.8% year over year in the third quarter, and part of it came from the recent purchase of GenX Mobile. In addition, Sierra also managed to increase its cloud and connectivity revenue by 10.7% year over year in the third quarter, to $6.9 million.
That's great news for the company, and investors should continue to look for more growth from these important business segments. Sierra expects revenue to increase in Q4 by 11.5%, at the midpoint of its estimates.
While Sierra's stock price hasn't given investors much to be happy about this year, the company is slowly moving in the right direction with its enterprise and cloud services revenue. If this continues and Sierra hangs on to its position in the wireless embedded market, then 2017 may finally be the year long-term Sierra investors have been waiting for.
InvenSense: Down 25% year to date
Like Sierra stock, InvenSense stock has fallen for the second year in a row. Themicroelectro-mechanical systems (MEMS) maker's stock price toppled 25% this year, after falling 39% in 2015.
InvenSense has continued to disappoint not just with its stock price but also with its failure to make substantial moves away from its dependence on Apple and other major tech players. InvenSense makesgyroscopes, accelerometers, compasses, and microphones for mobile and IoT devices, but the majority of its revenue -- a whopping 58% in fiscal Q2 2017 -- comes from component sales to Apple.
Data source: YCharts.
That relationship was good for a while, but it has eventually resulted in Apple putting pricing pressure on InvenSense and driving down the company's average selling prices and profits. InvenSense has recently started to improve its situation by selling more of its MEMS into IoT devices, and brought in about 22% of its revenue from its IoT segment in Q2.But the company is still overly exposed to Apple and is facing increased competition in the space, which means it's likely that it will continue to struggle going forward.
Skyworks Solutions: No gains this year
Skyworks Solutionshas seen a few dips and pops in 2016, but its stock price is currently up just less than 1%since the beginning of the year.
Most of the company's revenue comes from sales of its analog and mixed-signal semiconductorsin the mobile market, but Skyworks has built out a robust IoT business as well, which now accounts for about 25% of the company's total revenue.
Image source: YCharts.
The company's sales and profits have been hurt due to exposure to Apple (and the slowing iPhone sales), and that's understandably spooked some investors this year.
But there are already signs of life for Skyworks. The company recently reported earnings for its full fiscal year 2016 and posted hit record revenue of $3.3 billion. Skyworks' management also remains optimistic heading into the next fiscal year and said recently that it expectsrevenue to be up 7% to 9% sequentially in fiscal Q1 2017.
While investors are no doubt disappointed with Skyworks' stock performance this year, now isn't the time to give up on this company. Skyworks is returning to growth mode and still has a long runway left to see its IoT ambitions take off.
All of the companies above have failed to live up to investor expectations in some way or another this year. But the long-term potential of the IoT still remains intact, and it appears that the moves Sierra Wireless and Skyworks Solutions are making are positioning both to benefit.
10 stocks we like better than Sierra Wireless When investing geniuses David and Tom Gardner have a stock tip, it can pay to listen. After all, the newsletter they have run for over a decade, Motley Fool Stock Advisor, has tripled the market.*
David and Tom just revealed what they believe are the 10 best stocks for investors to buy right now... and Sierra Wireless wasn't one of them! That's right -- they think these 10 stocks are even better buys.
Click here to learn about these picks!
*Stock Advisor returns as of November 7, 2016
Chris Neiger has no position in any stocks mentioned. The Motley Fool owns shares of and recommends Apple, Sierra Wireless, Skyworks Solutions, and Tesla Motors. The Motley Fool owns shares of InvenSense and has the following options: long January 2018 $90 calls on Apple, short January 2018 $95 calls on Apple, and short January 2017 $75 calls on Skyworks Solutions. The Motley Fool recommends BMW. Try any of our Foolish newsletter services free for 30 days. We Fools may not all hold the same opinions, but we all believe that considering a diverse range of insights makes us better investors. The Motley Fool has a disclosure policy.