The Worst Energy Stocks of 2016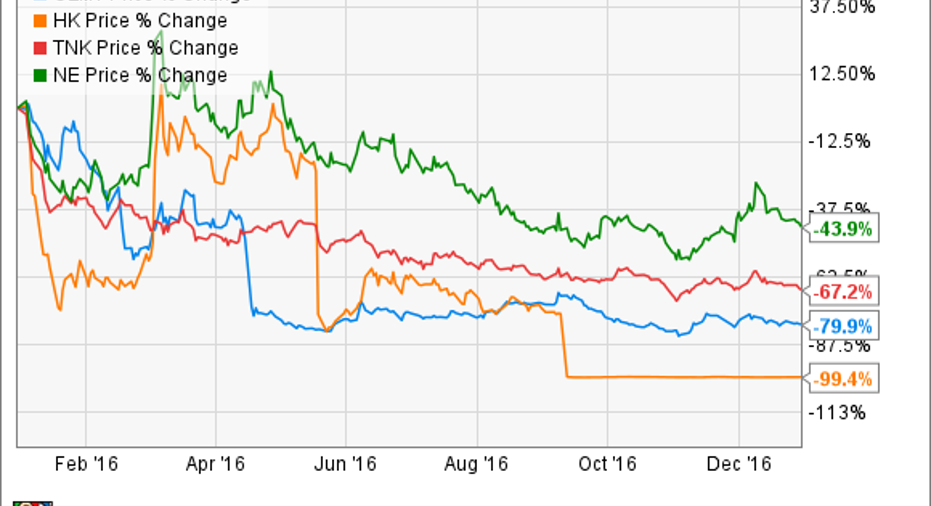 2016 had some bright spots for some energy investors. After bottoming out at decade-plus lows in February, oil prices finished the year up more than 40%, lifting the prospects for a lot of companies across the oil and gas industry.
Investing in these five companies was like burning money in 2016. Image source: Getty Images.
But if you bought shares of Calumet Specialty Products Partners, L.P. (NASDAQ: CLMT), Halcon Resources Corporation (NYSE: HK), Noble Corporation Ordinary Shares (U.K.) (NYSE: NE), orTeekay Tankers Ltd. (NYSE: TNK),you almost assuredly lost money in 2016, and maybe a lot of it.
Let's take a closer look at what happened with these companies in 2016 and how investors should view them going forward. While there is some value in a couple of companies in this group, there's also undeniable risk.
What happened offshore
In the case of offshore driller Noble Corp. and oil tanker operator Teekay Tankers, supply and demand played a big role, driving down prices for their services while increasing competition for the available work. In short, oil companies don't want to pay as much for drilling or shipping oil when the price of oil has fallen so sharply.
Teekay Tankers was primarily negatively affected by the severe drop in crude oil prices sending tanker rates to the lowest levels in more than three years, as well as some temporary oil production outages in markets the company's tankers serve. At the same time, the global fleet of vessels grew by about 5%, increasing competition in a tightening market.
Image source: Getty Images.
And while there is pressure on pricing in the industry, global oil consumption has continued to grow and the oil must move from production to refining operations.At the same time, Teekay Tankers has been generally profitable. While the partnership did lose about $5 million on a GAAP basis in the most recently reported third quarter (Q4 results won't be out for another month or so), its cash flows have been positive.
Noble Corp., on the other hand, is in a different predicament. Beyond its backlog of long-term contracts, there is very little new work to be had as offshore oil-field producers continue to cut spending. After seeing offshore capital spending fall by more than 25% in both 2015 and 2016, the expectations are for another double-digit drop in 2017, putting offshore drilling activity at potentially the lowest levels in decades. It's looking like it could be another year -- or late 2017 at the soonest -- before oil companies are ready to increase spending offshore again. Noble has a contracted backlog of $4.7 billion and more than $2 billion available on its line of credit, positioning it to ride out the downturn.
But if offshore investment doesn't start recovering by late this year, Noble could be in serious trouble. About half of its currently active vessels are under contracts that expire before year-end.
What happened onshore
If you owned or bought shares of Halcon Resources at the start of 2016, you got slaughtered, as the company went bankrupt, emerging in a "prepackaged" plan that it negotiated with its debt holders. While this meant that the company survived, it also meant well over 90% losses for common shareholders. And since emerging from bankruptcy in September, its share price has been volatile, but has generally fallen even farther, down about 14% at this writing.
Is the worst in the past for Halcon Resources? Likely. It doesn't get much worse than outright bankruptcy. However, it's hard to call Halcon a buy at this stage. The company does expect to finish 2016 cash flow positive and cash flow neutral in 2017, and there is upside if oil prices continue to climb, as many expect with OPEC and several non-OPEC oil countries committed to cutting output to drive crude prices up.
But there still remains downside with Halcon, which must collect more $17 per barrel of oil equivalent it produces just to cover operating expenses, before spending a single penny on capital costs or production maintenance. As with nearly every independent producer, an investment in Halcon is a bullish bet on oil prices climbing from here.
Calumet Specialty Products Partners is interesting in that some of its assets have promise, but are burdened by other cash-burning segments of its business and the massive debt that costs it more than double its operating cash flows:
CLMT cash from operations (TTM) data by YCharts.
The challenges that Calumet faces are not small. Management is working to improve the cost structure, but rising oil prices could actually hinder the company's progress, driving up its costs and cutting its profit margins in its fuel products and specialty products segments. Add it all up and right now the risks and challenges Calumet Specialty Products' management faces keep it from being a worthy investment yet.
If management can continue improving its costs and find a way to generate better returns (instead of cash consumption) across its segments, the story could change. But with its big debt load and increasing input costs (read: higher oil prices), that's easier said than done.
10 stocks we like better than Teekay Tankers When investing geniuses David and Tom Gardner have a stock tip, it can pay to listen. After all, the newsletter they have run for over a decade, Motley Fool Stock Advisor, has tripled the market.*
David and Tom just revealed what they believe are the 10 best stocks for investors to buy right now... and Teekay Tankers wasn't one of them! That's right -- they think these 10 stocks are even better buys.
Click here to learn about these picks!
*Stock Advisor returns as of January 4, 2017
Jason Hall owns shares of Noble. The Motley Fool has no position in any of the stocks mentioned. The Motley Fool has a disclosure policy.