The Worst Biotech Stocks of 2016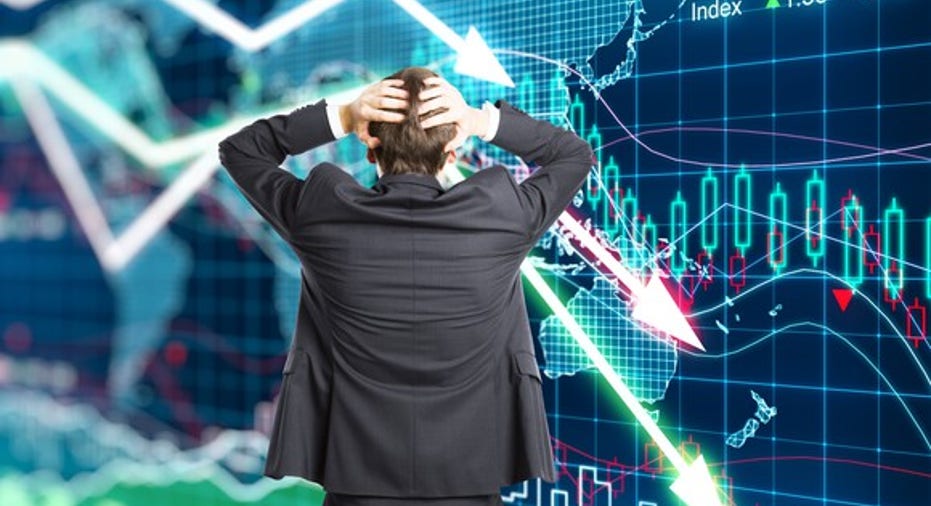 Many biotech stocks posted underwhelming performances in 2016. None, however, lost as badly as Novavax (NASDAQ: NVAX), Celldex Therapeutics (NASDAQ: CLDX), and Seres Therapeutics (NASDAQ: MCRB). Here are the negatives that made them the worst biotech stocks of the year.
Image source: Getty Images.
Novavax vaccine hopes dissolved with Resolve trial
With one month left in the year, Novavax claims the dubious distinction of being the worst-performing biotech stock in 2016. Shares of the company plunged over 80% after a crushing clinical setback.
In September, it announced the results from the late-stage Resolve trial for its experimentalRSV F (respiratory syncytial virus fusion) vaccine. The vaccine failed to meet the primary endpoint of the study (presence of multiple lower respiratory tract symptoms) or secondary efficacy objectives when administered to older adults.
While Novavax has another late-stage study of the RSV F vaccine for infants (via maternal immunization) underway, the more promising market had been in older adults. The company hasn't given up on this market yet. Novavax plans to evaluate the RSV F vaccine for older adults in a mid-stage dose-ranging study.
The pipeline looks pretty bare for Novavax outside of the RSV F vaccine. Its only other clinical-stage candidate is its Ebola vaccine combined with Matrix-M adjuvant, which is in an early stage study.
Celldex left reeling from Rintega flop
Shares of Celldex Therapeutics have fallen nearly 75% thus far in 2016. Like Novavax, Celldex experienced a painful clinical failure.
In March, the biotech announced that its independent data safety and monitoring board for a late-stage study of Rintega in treating newly diagnosedglioblastoma recommended that the study be discontinued after the drug proved even less effective than a placebo. Celldex's stock crashed on the news.
The company does have several other pipeline candidates in mid-stage clinical studies, though. Leading the way is glembatumumab vedotin ("glemba"), whichis in a registrational study targeting treatment of breast cancer.Varlilumab ("varli")is in a trial in combination with Opdivo as a treatment for several types of cancer.And a combintion regimen of two other Celldex pipeline candidates, CDX-1401 and CDX-301, is being evaluated as a treatment for metastatic melanoma.
Aside from these mid-stage studies, Celldex's pipeline includes six early stage studies. While Celldex continues to reel from the after-effects of Rintega's failure, it has more other options than many clinical-stage biotechs.
Seres Therapeutics' C. diff whiff
Seres Therapeutics' stock has plummeted by around 70% in 2016. The drop, as you might expect, stemmed from bad news with a clinical study.
The biotech in July announced disappointinginterim resultsfromits mid-stage study of SER-109 in preventing recurrent clostridium difficile infection(also known as CDI or C. diff). This study's primary endpoint of reducingrelative risk of CDI recurrence at up to eight weeks wasn't achieved.Seres continued the study through 24 weeks. The company plans to announce results in early 2017.
Seres doesn't have much pipeline depth beyond SER-109. Another candidate targeting prevention of primary C. diff, SER-262, is in an early-stage study. The biotech also has an early-stage study in progress for SER-287, an experimental treatment forulcerative colitis.
Best chance of rebounding
Which of these biotech stocks has the best shot at making a comeback? I'd go with Celldex.
Novavax has its hopes pinned on an RSV F vaccine that has already disappointed, and has no significant backup plans. While it's possible that Seres Therapeutics could see better results from the longer study of SER-109, I wouldn't necessarily count on good news.
Celldex probably has the best chance at rising from the ashes simply because of its multiple pipeline candidates. Of course, there's no guarantee that glemba, varli, or the biotech's other potentials will succeed. Rintega seemed like close to a sure thing -- until it wasn't. However, there is an opportunity for positive clinical results to return Celldex to the winner's column in 2017.
10 stocks we like better than Celldex Therapeutics When investing geniuses David and Tom Gardner have a stock tip, it can pay to listen. After all, the newsletter they have run for over a decade, Motley Fool Stock Advisor, has tripled the market.*
David and Tom just revealed what they believe are the 10 best stocks for investors to buy right now... and Celldex Therapeutics wasn't one of them! That's right -- they think these 10 stocks are even better buys.
Click here to learn about these picks!
*Stock Advisor returns as of November 7, 2016
Keith Speights has no position in any stocks mentioned. The Motley Fool recommends Celldex Therapeutics. Try any of our Foolish newsletter services free for 30 days. We Fools may not all hold the same opinions, but we all believe that considering a diverse range of insights makes us better investors. The Motley Fool has a disclosure policy.