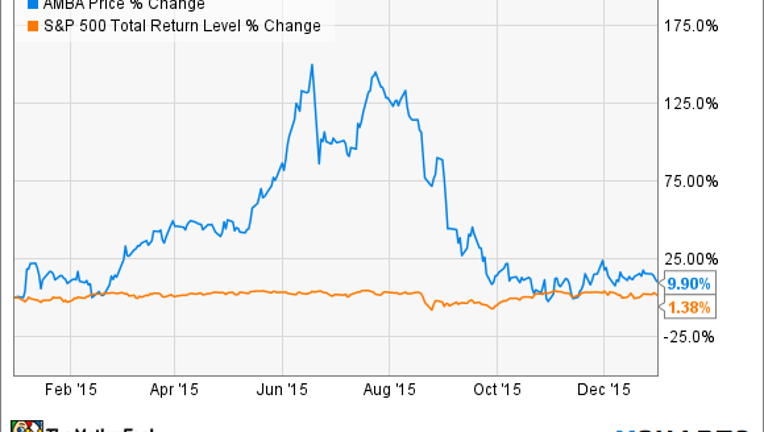 Ambarella stock managed to climb almost 10% in 2015, but investors who held shares of the video chip specialist throughout the year know those gains didn't come easy. In fact, those who bought Ambarella stock around the middle of the year are currently sitting on big losses, as shares have fallen nearly 60% from their all-time high set in July:
So, what happened?
Ambarella started the year on several high notes, first announcing its promising new H1 camera system-on-a-chip at CES 2015 last January, then following up with stellar fiscalfourth-quarter 2015and first-quarter 2016earnings reports in March and June, respectively.
But as bullish analysts piled on and continued to drive the stock price higher, the first cracks in Ambarella's armor began to appear. Here's what happened after that:
June 19: Sharp wordsFirst, noted short-seller Citron Research took advantage of Ambarella shares trading near all-time highs in the third week of June, issuing a sensational-sounding bearish report that caused shares to plunge more than 21%in a matter of days. Specifically, Citron called Ambarella's valuation "ridiculous," assigned a $60 price target on shares -- or less than half its price at the time -- and mused a "parabolic frenzy has now launched it into a realm that can't possibly be supported by reality."
Citron further expressed concerns over risks of commoditization of Ambarella's products. That would mean supporting multiples more on par with its chip-making peers, and much lower than the 52 times trailing earnings at which it traded at the time.
Thanks in part to several analysts coming to Ambarella's defense in the following days, however, the stock had all but rebounded by the following month.
September 2: A painful pullbackBut the fun didn't last when the time came for another report in September. Though Ambarella did manage to significantly exceed analysts' expectations on both revenue and earnings in its fiscal second-quarter 2016, impending weakness in the wearable camera segment forced management to issue conservative forward guidance.
Ambarella CFO George Laplante noted that the earlier timing of large product releases from key customers -- notably including GoPro and Xiaomi -- in the second quarter meant shipments into the wearable camera segment would decrease both sequentially and on a year-over-year basis in Q3. At the same time, Laplant notedaveraging Q2 and Q3 wearable chip shipments showed the troublesome segment was technically still in line with expectations, whileAmbarella's remaining segments were performing as expected.
Nonetheless,Ambarella stock dropped more than 16% that day as a result.
October 8, October 30: Guilty by associationThings only got worse from there as GoPro's business showed signs of slipping. On October 8, 2015, Ambarella suffered a sympathetic 11% decline when Morgan Stanley analyst James Facuette ominously predicted GoPro would have a difficult holiday season. Then Ambarella plunged another 11% at the end of the month, when GoPro effectively confirmed that prediction with weaker-than-expected third-quarter results and light forward guidance.
December 3: Another hurtful quarterFinally, Ambarella capped its difficult end to the year with its own disappointing report in early December. Though quarterly revenue still managed to increase 42% year over year, fellow Fool Rick Munarriz astutely pointed out that the figure represented Ambarella's slowest growth in more than a year. In addition, even the high end of Ambarella's guidance for the current holiday quarter calls for modest 4% top-line growth. According to Ambarella's earnings press release, the blame unsurprisingly sits with "headwinds in the wearable sports market" that will almost entirely negate supplemental growth from Ambarella's burgeoning IP security camera, automotive, and drone-centric product lines.
Of course, that's not to say Ambarella can't reclaim its former status as a Wall Street darling, especially as its emerging market verticals continue to reduce its reliance on the wearable camera space. In the end, despite its near-term challenges to sustaining the heady growth investors have come to expect, I think Ambarella's long-term story remains as compelling as ever.
The article The Worst Ambarella Headlines in 2015 originally appeared on Fool.com.
Steve Symington has no position in any stocks mentioned. The Motley Fool owns shares of and recommends Ambarella and GoPro. Try any of our Foolish newsletter services free for 30 days. We Fools may not all hold the same opinions, but we all believe that considering a diverse range of insights makes us better investors. The Motley Fool has a disclosure policy.
Copyright 1995 - 2016 The Motley Fool, LLC. All rights reserved. The Motley Fool has a disclosure policy.