The Worst Advanced Micro Devices, Inc. Headlines in 2015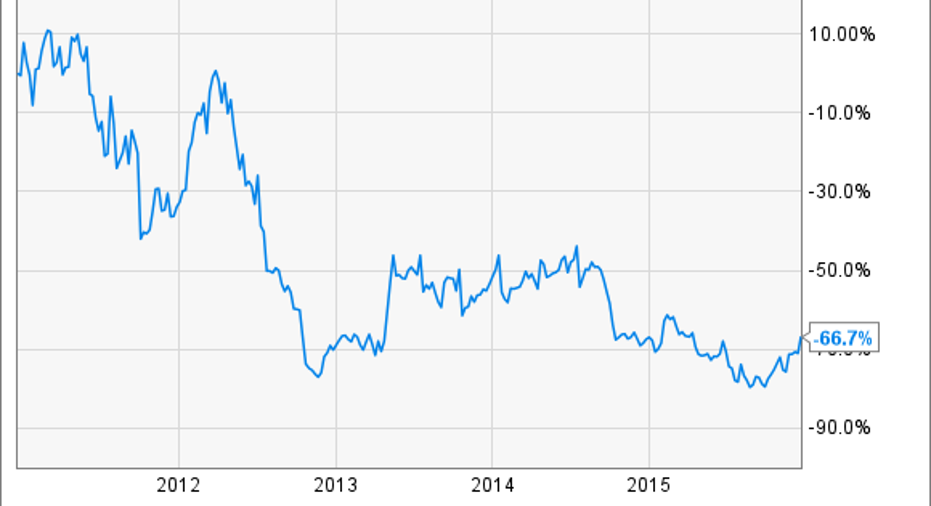 There was a lot of bad news surrounding Advanced Micro Devices in 2015. The company's stock is roughly flat year to date, but during the past five years, shares of AMD have lost about two-thirds of their value. The various problems that the company is facing got much worse in 2015, but extreme pessimism was already baked into the stock.
AMD competes against Intel in the CPU market, and NVIDIA in the GPU market. The company lost considerable ground on both fronts in 2015. Here's a look at some of the worst headlines for AMD this year.
Graphics card market share collapsesNVIDIA's launch of the GTX 970 and GTX 980 in late 2014 set the stage for a dramatic shift in the dynamics of the graphics-card industry. For years, AMD had been a strong No. 2, claiming a unit market share of about 40%. But in the third quarter of 2014, NVIDIA began to steal market share.
Data from Jon Peddie Research.
Following the first half of 2015, it became clear that this loss of market share wasn't just a typical fluctuation. AMD's lineup was disrupted by NVIDIA in late 2014, and the company was largely uncompetitive in the high-end of the market until it finally launched new products at the end of the second quarter of this year. As you can see from the chart above, this launch stabilized AMD's market share, but the damage had been done.
A disappointing launchThere was a lot of hype surrounding the graphics cards that AMD launched in late June. The Fury and the Fury X both featured high-bandwidth memory, something that NVIDIA cards won't have until sometime in 2016. This was supposed to give AMD an advantage in the high-end portion of the market. Instead, AMD's high-end offerings failed to be disruptive, with the Fury X essentially matching the performance of NVIDIA's flagship graphics card.
The rest of AMD's lineup, the Radeon 300 series, were all rebranded versions of the previous 200 series of graphics cards. Rebranding is common in the graphics-card industry, but a name change and tweaked performance wasn't going to compel PC gamers to switch back to AMD. This launch stopped the bleeding, but it will take something far more impressive in 2016 for AMD to claw back some meaningful market share.
Things change fastOn May 6, AMD held its 2015 Financial Analyst Day, where the company provided an optimistic outlook for the second half of 2015. At the time, AMD expected revenue to grow by about 15% in the second half compared to the first half, and for non-GAAP net income and free cash flow to turn positive.
Just two months later, AMD abandoned this rosy outlook, citing a deteriorating market for PCs. The return to non-GAAP profitability was pushed out, and both revenue growth and gross-margin guidance fell well short of what AMD originally expected. AMD reported a non-GAAP net loss of $136 million during the third quarter, and with analysts expecting a loss during the fourth quarter, as well, AMD is set to miss its goal of second-half profitability by a wide margin.
Can AMD mount a comeback?While 2015 was a disappointing year for AMD, 2016 has the potential to be better. In the graphics-card market, both AMD and NVIDIA are set to move to a 14nm manufacturing process. With both companies expected to launch new graphics cards in 2016, AMD has an opportunity to put out some disruptive products.
On the CPU side, AMD is expected to launch a new microarchitecture, Zen, in late 2016. Zen will be built on a 14nm process, and AMD is promising a 40% gain in instructions per second, fixing a major problem with its current CPU lineup. For the first time in quite a while, AMD and Intel will be on the same node at the same time, assuming AMD launches on time. If AMD can close the performance gap, the company could win back some market share, both in the PC market and in the server market.
All of this is easier said than done, and it's very possible that AMD's major initiatives in 2016 fall short. The company has a history of over promising and under delivering. Given the rate that AMD is burning through cash -- posting a free-cash-flow loss of about $350 million through the first nine months of 2015 -- time is not on the company's side.
The article The Worst Advanced Micro Devices, Inc. Headlines in 2015 originally appeared on Fool.com.
Timothy Green owns shares of Nvidia. The Motley Fool recommends Intel and Nvidia. Try any of our Foolish newsletter services free for 30 days. We Fools may not all hold the same opinions, but we all believe that considering a diverse range of insights makes us better investors. The Motley Fool has a disclosure policy.
Copyright 1995 - 2015 The Motley Fool, LLC. All rights reserved. The Motley Fool has a disclosure policy.