The World's Largest Investing Firm Bought These 2 Biotech Stocks: Should You?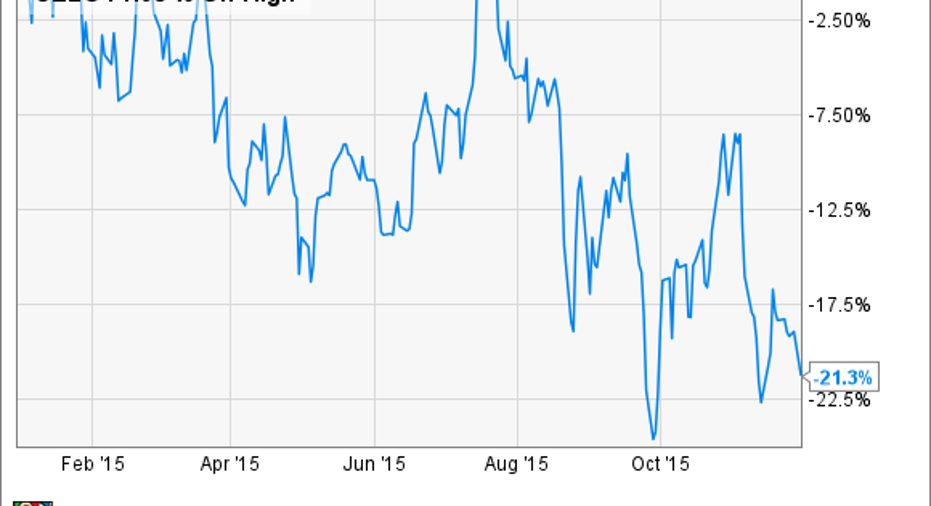 With a reported $4.5 trillion in assets under its roof,BlackRock Investment Management is currently the world's largest investing firm. And as a natural consequence of that sheer size, it's also one of the most influential financial institutions in the world.
Given the firm's ability to drive trends within the market, investors big and small would be wise to keep a close eye on BlackRock's quarterly activity. During the third quarter, for instance, the company's 13F filings with the SEC showed that the firm didn't shy away from volatile healthcare stocks, despite the sector's rocky quarter due to the political storm brewing over sky-high drug prices within the United States. Instead, BlackRock gobbled up shares of top biotechs likeBiogen Idec andCelgene .
Should retail investors throw caution to the wind and take a page from BlackRock's book on these top healthcare names? Let's dig deeper to find out.
Biogen's slump may not be over quite yetAccording to S&P Captial IQ, Biogen's stock is nearly 40% off its 52-week high:
The biotech's lengthy downward spiral started after safety concerns dampened sales of its flagship multiple sclerosis drug, Tecfidera, in the first quarter. Since then, Biogen's problems have only worsened in light of the fact that Tecfidera is facing a slew of competitive threats from branded and generic drugs alike, suggesting that Biogen's double-digit earnings and revenue growth may not be sustainable much longer.
Source: Biogen
To counter these headwinds, Biogen is counting on its deep and diverse clinical pipeline to deliver innovative new medicines. Unfortunately, the biotech's experimental pipeline is largely composed of products indicated for conditions that are notoriously difficult to treat, such asAlzheimer's and Parkinson's diseases. Therefore, Biogen will probably need to engage in a relatively large merger or acquisition soon to stave off the looming threats to its bottom and top lines.
Celgene's premium has been dropping but its growth rate remains unperturbedOver the last few years, investors have been willing to pay staggering premiums to own Celgene shares -- as demonstrated by its hefty 12-month trailing P/E ratio of 54.9. The market's enthusiasm for this biotech presumably stems from the company's history of repeatedly posting 20% plus annual revenue growth, driven by its top cancer drugs, Revlimid and Abraxane, along with newcomer Otezla, an anti-inflammatory treatment.
This year has been a somewhat different story, however. Although Celgene is barreling toward another year of 20% revenue growth and analysts think it'll accomplish the same in 2016, the biotech has seen its premium slowly erode of late, with shares down by more than 20% from their high:
The concern seems to be that Revlimid's revenues could start to fall if payers are able to install a value-based reimbursement scheme for cancer drugs with multiple indications. In a nutshell, Revlimid's growth has been fueled by its numerous label expansions, but as you might expect, the drug's effectiveness varies among its various indications.
Source: Celgene
Under the value-based system that has been proposed, Revlimid would only garner its full price for the indications where it works best. That's why the market is becoming increasingly worried that Celgene's eye-popping growth trajectory will get cut short.
Should investors follow BlackRock's lead on these 2 top biotech stocks?BlackRock's interest in Biogen and Celgene in the third quarter could be taken as a vote of confidence. After all, these two companies are still generating industry-leading levels of growth, and the concerns over their respective revenue streams may be overblown. That said, the industry hasn't been doing itself any favors in the court of public opinion of late, and momentum seems to building toward a major shift in a political landscape that has, until now, allowed drug makers to enjoy 80%-plus gross margins. Biotechs in general, and these two industry stalwarts in particular, therefore might best be viewed with a cautious eye for the time being -- at least until the political headwinds start to die down.
The article The World's Largest Investing Firm Bought These 2 Biotech Stocks: Should You? originally appeared on Fool.com.
George Budwell owns shares of Celgene. The Motley Fool owns shares of and recommends Celgene. The Motley Fool recommends Biogen. Try any of our Foolish newsletter services free for 30 days. We Fools may not all hold the same opinions, but we all believe that considering a diverse range of insights makes us better investors. The Motley Fool has a disclosure policy.
Copyright 1995 - 2015 The Motley Fool, LLC. All rights reserved. The Motley Fool has a disclosure policy.