The Way These Offshore Oil Services Stocks Moved in December Shows Why You Shouldn't Always Follow Wall Street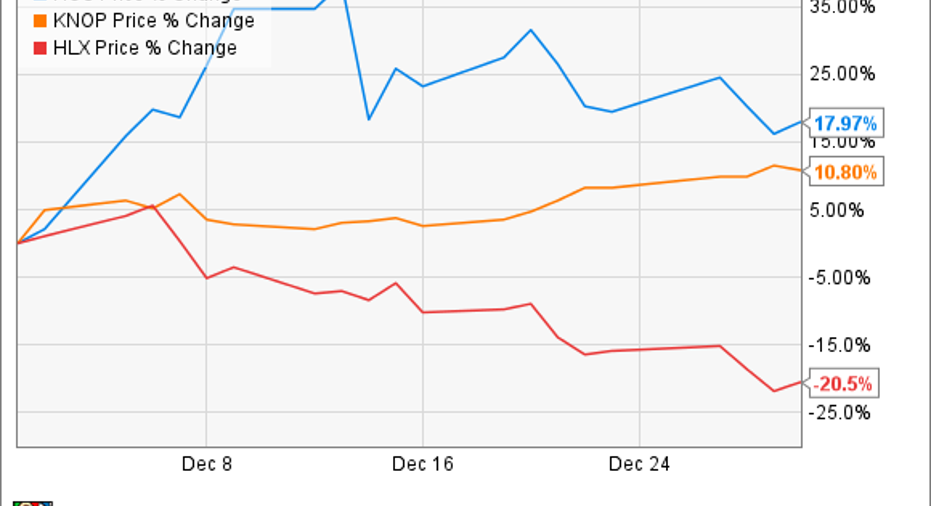 Image source: Hornbeck Offshore Services.
What happened
Last month, two offshore oil services companies -- Hornbeck Offshore Services (NYSE: HOS) and KNOT Offshore Partners (NYSE: KNOP) -- posted double-digit gains. At the same time, though, shares of Helix Energy Solutions (NYSE: HLX) a company that will benefit from the same market drivers for Hornbeck and KNOT, fell more than 20%.
So what
This is one of those cases of stock price movements that really questions efficient market theory. For the most part, these companies are in a similar subset of the oil and gas equipment and services industry. Hornbeck owns and leases a fleet of vessels needed to support offshore drilling operations, KNOT Offshore Partners owns and leases a fleet of shuttle tankers that move crude from harsh environment rigs that don't have connections to pipelines, and Helix Energy Solutions provides offshore support services that maintain and enhance production from existing offshore wells.
All three of these companies are going to benefit to a certain degree from the same catalyst: increased spending from oil and gas producers. Those that have curbed capital spending will likely look to quick-hit work to improve production such as well intervention, something that would benefit both Helix and Hornbeck Offshore. KNOT is unique in this regard as its fleet of tankers is fully contracted for the next several years, but new projects in places like the North Sea and off the coast of Brazil could require more vessels that KNOT could receive from its parent organization in the form of asset drop downs.
What makes this an even stranger stock price movement is that of the three companies here, Helix looks to be in the best financial shape. The company has the best debt-to-capital ratio and net debt-to-EBITDA ratio of the three, which suggests that improving results will flow to the bottom line and not have to go into paying off debts.
| Company | Total Debt to Capital | Net Debt to EBITDA |
| --- | --- | --- |
| Helix Energy Solutions | 31% | 2.09 |
| Hornbeck Offshore Services | 38% | 10.6 |
| KNOT Offshore Partners | 55% | 4.59 |
Data source: S&P Global Market Intelligence.
Now what
Another thing that all of these companies have in common is that their stock prices have taken an absolute hammering over the past couple of years. The one saving grace for KNOT has been its locked-in revenue base and its rather generous distribution yield of 8.6%.
An increase in offshore oil and gas activity will certainly have a decent impact on the bottom lines for these companies, and their stock prices as well. One thing that is of concern here is that the decline in oil and gas prices has also resulted in much lower service contract rates. This suggests that profitability levels won't get back to pre-crash days for quite some time.
Still, these recent market moves don't make a whole lot of sense when evaluating the prospects of these various companies for the future. It's a reminder that investors should really take a deeper look at the fundamentals of each business in which they invest and separate the business from the noise that is the market.
10 stocks we like better than Hornbeck Offshore Services When investing geniuses David and Tom Gardner have a stock tip, it can pay to listen. After all, the newsletter they have run for over a decade, Motley Fool Stock Advisor, has tripled the market.*
David and Tom just revealed what they believe are the 10 best stocks for investors to buy right now... and Hornbeck Offshore Services wasn't one of them! That's right -- they think these 10 stocks are even better buys.
Click here to learn about these picks!
*Stock Advisor returns as of January 4, 2017
Tyler Crowe has no position in any stocks mentioned. The Motley Fool has no position in any of the stocks mentioned. The Motley Fool has a disclosure policy.