The Trio of Reasons Behind Pan American Silver Corp.'s 30% Rise in January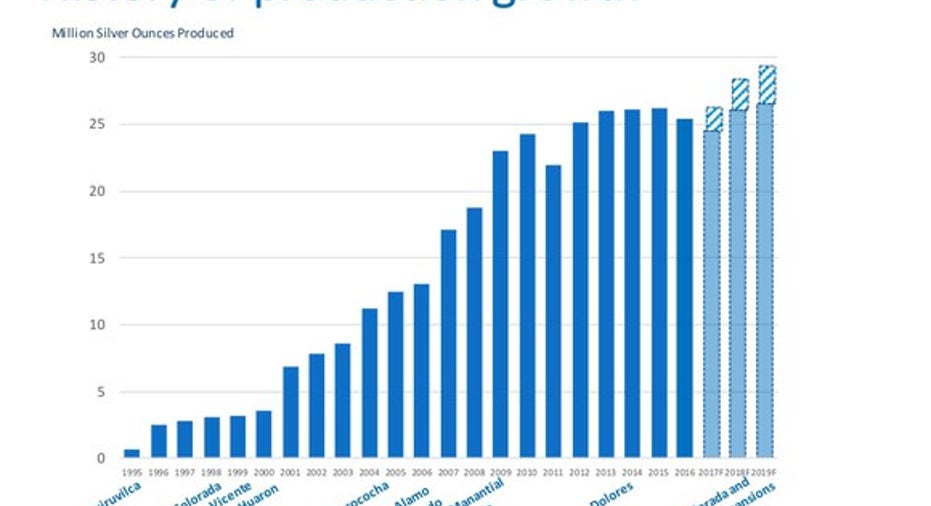 What happened
Shares of Pan American Silver (NASDAQ: PAAS), a gold and silver mining company with assets located in North and South America, rose by 30% in January, according to data from S&P Global Market Intelligence. A confluence of three factors appears to have lit a fire under Pan American Silver's shares last month.
So what
Of the factors providing a boost to Pan American Silver's stock in January, none was likely a bigger contributor than the release of the company's 2016 production results and 2017 production and cash cost guidance. As was the case throughout much of the silver industry, Wall Street and investors seemed pleased with both aspects of the results.
In terms of production, Pan American produced 25.42 million ounces of silver, which surpassed its original forecast of 24 million to 25 million ounces of silver in January 2016, and was within the range of its revised forecast from mid-November. Record production at La Colorada and San Vicente were credited with the company's record annual silver production. Gold production of 183,920 ounces was within range of the company's prior forecast, but the Dolores mine wound up kicking out record gold production.
Image source: Getty Images.
Looking ahead, Pan American Silver is forecasting 24.5 million to 26 million ounces of silver production in 2017, with gold production of 155,000 to 165,000 ounces. Cash costs are expected to range between $6.45 per silver equivalent ounce (SEO) and $7.45 per SEO after coming in at $6.29 per SEO in 2016, which was 37% below the midpoint of the company's original forecast.
Second, Pan American Silver wound up agreeing to a deal to acquire the Joaquin Project from Coeur Mining (NYSE: CDE). The deal includes $15 million in cash and $10 million in Pan American Silver stock up front to Coeur Mining, as well as a 2% net smelter returns royalty. For Pan American Silver, the proximity of the Joaquin Project to its Manantial Espejo mine made sense, and it should have enough capacity at its milling plant to take on mined minerals at the Joaquin Project.
Finally, physical silver prices rose slightly more than 10% during January on the heels of weakness in the U.S. dollar. Silver and the dollar typically move opposite of each other. Uncertainty caused by the election of Donald Trump, as well as the reality that Trump's tax reforms could take longer to implement than expected, have weighed on the dollar and given silver back its luster.
Now what
The big question moving forward is whether Pan American Silver can continue to grow its production while keeping its costs under control. If its 2016 performance is any indication, all signs point to yes.
Image source: Pan American Silver investor presentation.
Pan American Silver has two ways of approaching production expansion. First, it's focusing on developing its existing mines to increase production capacity. In particular, Pan American Silver has lucrative expansion opportunities and La Colorada and Dolores. After hovering around 25 million to 26 million ounces of silver produced since 2012, these expansion opportunities are expected to bring annual silver production up to an estimated 29 million ounces by 2019.
What's more, La Colorada's proven and probable silver reserves have tripled since 2010, offering plenty of reason for Pan American Silver to dive in feet first. According to the company, it expects a 69% increase in annual silver production to 7.7 million ounces by 2018, as well as a triple-digit percentage boost in byproduct metal (zinc and lead) production.
There are also a number of development projects on Pan American's plate, which now includes the Joaquin Project.
Pan American Silver might seem fairly valued here with $1.55 in cash flow per share expected in 2017 (based on Wall Street's estimates), but that figure is expected to grow to an estimated $2.19 per share by 2019. If the company keeps surpassing estimates, then its share price could still have modest upside.
10 stocks we like better than Pan American SilverWhen investing geniuses David and Tom Gardner have a stock tip, it can pay to listen. After all, the newsletter they have run for over a decade, Motley Fool Stock Advisor, has tripled the market.*
David and Tom just revealed what they believe are the 10 best stocks for investors to buy right now... and Pan American Silver wasn't one of them! That's right -- they think these 10 stocks are even better buys.
Click here to learn about these picks!
*Stock Advisor returns as of February 6, 2017
Sean Williams has no position in any stocks mentioned. The Motley Fool has no position in any of the stocks mentioned. The Motley Fool has a disclosure policy.