The Top Performing Healthcare ETF of The Week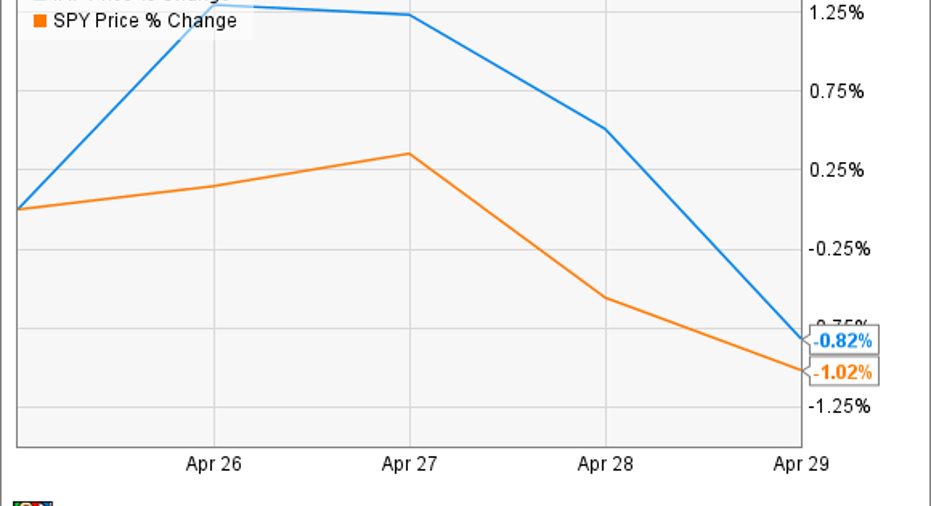 It was a rough week to be a healthcare-focused investor, as every single one of the most popular exchange-traded funds that focus on the space ended the week in the red. It was such a rotten week that the many of these ETFs lost 3% or more of their value during the period and drastically underperformed the S&P 500.
However, one healthcare ETF-- theiShares Dow Jones US Healthcare Provider -- dipped by only 0.82% this week. That might not sound like much of an achievement, but it was good enough to allow the ETF to outperform the index and claim the title of best performing healthcare ETF of the week.
This marks the fifth time since the start of the year that this ETF has been able to make that claim. So what is this fund's secret to success? (Acknowledging that "success" in this case is relative.)
IHF key statistics
| | |
| --- | --- |
| Inception Year | 2006 |
| Number of Holdings | 49 |
| Net Assets | $729 million |
| Average P/E Ratio | 21.25 |
| Yield | 0.21% |
| Expense Ratio | 0.45% |
DATA SOURCE: ISHARES.
With an equity beta of only 0.62, this ETF is living proof that you don't always have to be willing to stomach huge volatility if you want to invest in the healthcare sector.
What makes that low beta number even more impressive is that the vast majority of this fund's assets are held in just a handful of equities. A look at its top 10 holdings shows just how concentrated it is:
| Company | Symbol | % Assets |
| --- | --- | --- |
| UnitedHealth Group | UNH | 12.97% |
| Express Scripts Holding Company | ESRX | 6.98% |
| Aetna | AET | 6.37% |
| Anthem | ANTM | 6.17% |
| Cigna | CI | 5.83% |
| HCA Holdings | HCA | 4.93% |
| Humana | HUM | 4.77% |
| Centene | CNC | 3.32% |
| Laboratory Corporation of American | LH | 3.26% |
| Universal Health Services | UHS | 3.24% |
TABLE SOURCE: ISHARES.
Adding these positions together produces a concentration of more than 57% in just its 10 biggest stocks. You'd think that would spell volatility, but since the fund's biggest positions are in large, stable health insurance and hospital stocks, volatility remains quite low.
What worked right this week?As you'd expect from a rotten week of trading, most of the fund's top holdings ended the week in the red. However, one company -- Universal Health Services -- did manage to post a big weekly gain of more than 4%, making it by far the biggest winner of the group.
The stock popped after the company posted a better-than-expected first-quarter earnings report. Net revenues jumped more than 10% to $2.45 billion, and net income rose by nearly 8% to $190.8 million. That performance allowed the company to post $1.93 in earnings per share, up 11% over the previous year and nicely ahead of the $1.87 analysts were expecting.
And that wasn't the end of the good news. Believing there's a lot of value left in the stock, management added another another $400 million to its share-repurchase program, doubling the buyback ceiling to $800 million of common stock. Management didn't waste any time getting started, having repurchased 1.3 million shares during the quarter.
If the company continues to post solid results like this, those buybacks could prove to be a wise use of shareholder capital.
What's next for IHF?The ETF is having a remarkable year. It's outperforming the market year to date, which is quite an achievement when you consider that some healthcare funds are losing to the market by more than 25%.Add in the fund's modest expense ratio and low volatility, and I continue to think this ETF is a solid choice for any investor looking for a low-risk way to put money to work in the healthcare sector.
The article The Top Performing Healthcare ETF of The Week originally appeared on Fool.com.
Brian Feroldi has no position in any stocks mentioned.Like this article? Follow him onTwitter where he goes by the handle@Longtermmind-setor connect with him on LinkedIn to see more articles like this.The Motley Fool owns shares of and recommends Express Scripts. The Motley Fool recommends Anthem and UnitedHealth Group. Try any of our Foolish newsletter services free for 30 days. We Fools may not all hold the same opinions, but we all believe that considering a diverse range of insights makes us better investors. The Motley Fool has a disclosure policy.
Copyright 1995 - 2016 The Motley Fool, LLC. All rights reserved. The Motley Fool has a disclosure policy.