The Tesla Motors Short Squeeze Still Hasn't Happened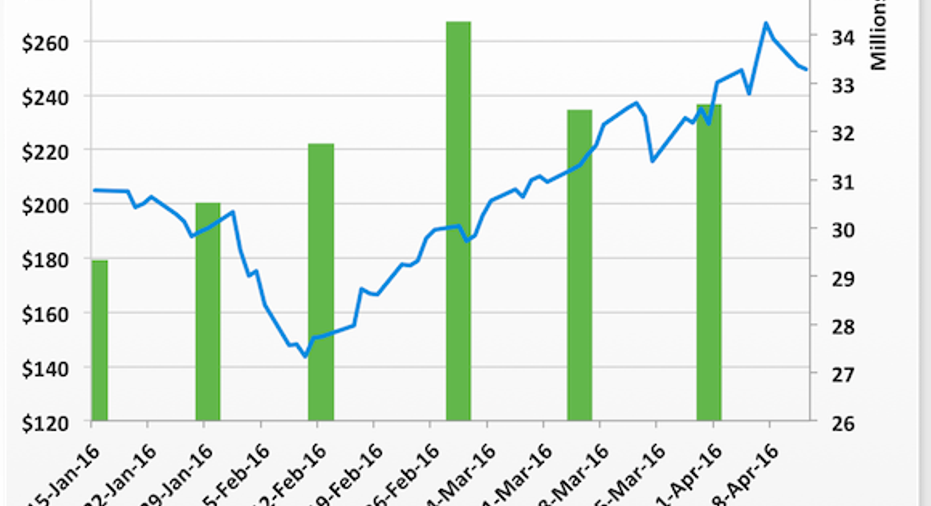 Refreshed Model S. Image source: Tesla.
I've been waiting over a month now for the other shoe to drop. The "other shoe" being the Tesla Motors short squeeze.
After bottoming out around $140 in February, Tesla shares have been on a mean recovery, and it's important to distinguish whether or not this rally is the result of shorts covering their bearish bets or if it's bullish investors taking or increasing positions. One has short-term implications that the rally might not last, since if the rally was driven by short covering, those shorts often come back in by re-shorting at a later time. The other is potentially a long-term vote of confidence in Tesla's prospects.
The exchange has posted its latest short interest figures, and we now know that this short squeeze still hasn't happened.
Still waitingAs of the March 31 settlement date, there were still 32.3 million shares held short, effectively unchanged from the March 15 settlement date. Those settlement dates correspond with trade dates of March 28, and March 10. Tesla shares gained 10% during that time frame with no meaningful change in short interest, closing at over $231 on March 28.
Data source: Nasdaq.
But since the data only covers up until a trade date of March 28, it's unclear yet how the subsequent Model 3 announcements may have affected short interest. Some prominent shorts like Citron research have cited a "balanced" news flow as part of the short thesis, although I'm not sure how "balanced" translates into bearish. But the news flow for Model 3 was almost always destined to be positive. If Tesla is going to miss on any of the key Model 3 targets, like price or range, it wouldn't even know quite yet since it's too early. It would have been incredibly brazen to hold a short position heading into the Model 3 unveiling.
Shares have gained an additional 10% since March 28 though, and it's quite possible that the subsequent news that Model 3 grabbed 325,000 reservations in its first week squeezed some shorts out. Then Tesla refreshed the Model S design and opened up the Model X configurator, two events that should likely stimulate demand.
Elon Musk's warningOn a few occasions in the past, Elon Musk has commented on market conditions and Tesla's share price, and not always in a positive fashion. Quite the contrary, Musk has gone as far as to call share prices "far too high" before. That was after saying in 2012 that shorts were in store for a "tsunami of hurt."
More recently, Musk issued a warning to shorts, responding to a question on social media:
That being said, Tesla shares have recovered and are now back within spitting distance of all-time highs set last year. The rally stretches Tesla's valuation, even enough to make bulls like myself anxious that a pullback is coming. Model X continues to present production challenges, and the implied order conversion rate doesn't seem too inspiring quite yet.
There are plenty of execution risks in the months leading up to Model 3. Hopefully Musk is right again about the shorts.
The article The Tesla Motors Short Squeeze Still Hasn't Happened originally appeared on Fool.com.
Evan Niu, CFA owns shares of Tesla Motors, andhas the following options: long January 2018 $180 calls on Tesla Motors. The Motley Fool owns shares of and recommends Tesla Motors. Try any of our Foolish newsletter services free for 30 days. We Fools may not all hold the same opinions, but we all believe that considering a diverse range of insights makes us better investors. The Motley Fool has a disclosure policy.
Copyright 1995 - 2016 The Motley Fool, LLC. All rights reserved. The Motley Fool has a disclosure policy.