The Tech Industry's 2 Biggest Surprise Winners of 2016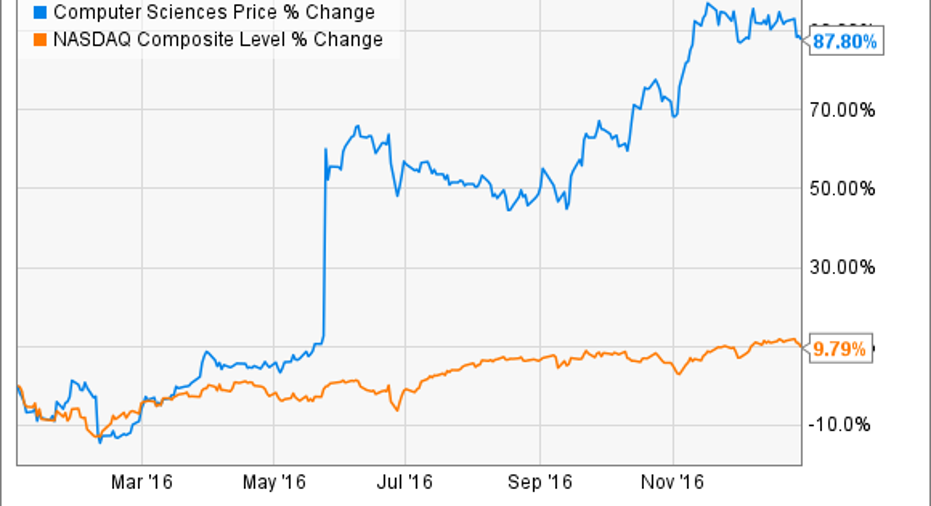 After a soft start to 2016, the Nasdaq Composite rallied strongly from mid-February through the year's end, finishing with a slightly above-average 9.8% gain. However, 2016 was anything but average for two large-cap tech companies whose shares dramatically outperformed the market averages on the year. The names:
NVIDIA (NASDAQ: NVDA): up 229%.
Computer Sciences Corp. (NYSE: CSC): up 88%.
Moving large-cap stocks like these requires an impressive catalyst. So let's examine what triggered the rallies in NVIDIA and Computer Sciences shares in 2016 and consider how investors should think about their shares in 2017 and beyond.
Image source: NVIDIA.
NVIDIA
Investors continued to awaken to NVIDIA's enviable long-term growth potential in 2016, continuing the extended rally in its shares. In fact, its shares are up nearly 500% since the start of 2015.
More than any other company, NVIDIA pioneered the field of graphics computing, inventing the semiconductor known as the graphics processing unit. Though NVIDIA benefited from the rise of the computer gaming industry, among other areas, few expected that NVIDIA's unique specialization in graphics processing would place it at the center of some of tech's biggest growth markets. In the future, hardware such as self-driving cars and software such as artificial intelligence and deep learning neural networks will increasingly rely on interpreting real-world images to operate, and allowing computers to translate images into code is NVIDIA's bread and butter.
Thanks to the generational nature of some of its end markets -- mass-market autonomous-vehicle adoption is still five to 10 years away -- NVIDIA should enjoy above-average growth for years to come. It won't come cheap, at 78 times earnings,but NVIDIA's status as a best-of-breed growth stock shone through in its performance last year.
Computer Sciences Corp.
One event drove much of the investing narrative -- and the share-price gains -- for Computer Sciences in 2016.
Late last May, Computer Sciences agreed to merge with the enterprise-services arm of Hewlett-Packard Enterprise (NYSE: HPE). The resultant entity will then be spun off from HP Enterprise in a deal that should create a global IT service company to rival industry leaders such asAccenture.
Though the deal should help expand the new company's already broad product offerings, its primary benefit appears to be based on the potential to reduce costs at the new company. According to the press release announcing the deal, management expects to realize $1 billion in synergies upon closing, a figure that should reach $1.5 billion in annual savings by the deal's one-year anniversary.
The deal will also be a boon for shares of HP Enterprise's non-enterprise operations that will remain after the spinoff. As part of the transaction, shareholders of the non-enterprise business will receive a one-time $1.5 billion dividend, roughly 5 times the company's 2016 cash dividend payments. If the leftover non-services entity sees its market cap shrink as a result of the spinoff -- enterprise services accounted for 37% of 2016 revenue -- this one-time dividend payment could make for an interesting catalyst for the original non-services company's stock in the year ahead. The deal is expected to close by March, so those interested may want to dig further into HP Enterprise in the coming weeks.
As for the new, combined company, the cost savings should help, but it's still hard to get excited about the coming spinoff. Both Computer Sciences and HP's enterprise-services segment sport single-digit profit margins and declining, though still sizable, revenue bases. So the powerful rally Computer Sciences shares enjoyed in 2016 seems more likely to be fueled by the excitement surrounding the merger, rather than by the favorable long-term outlook for its business.
10 stocks we like better than NvidiaWhen investing geniuses David and Tom Gardner have a stock tip, it can pay to listen. After all, the newsletter they have run for over a decade, Motley Fool Stock Advisor, has tripled the market.*
David and Tom just revealed what they believe are the 10 best stocks for investors to buy right now... and Nvidia wasn't one of them! That's right -- they think these 10 stocks are even better buys.
Click here to learn about these picks!
*Stock Advisor returns as of February 6, 2017
Andrew Tonner has no position in any stocks mentioned. The Motley Fool owns shares of and recommends Nvidia. The Motley Fool recommends Accenture. The Motley Fool has a disclosure policy.